If Jackie Stewart didn't exist it would be impossible to invent him. Champion trap shooter, three-time champion driver, racing safety campaigner, successful businessman, and most recently team owner of arguably the hottest new team to enter Formula One in the last twenty years.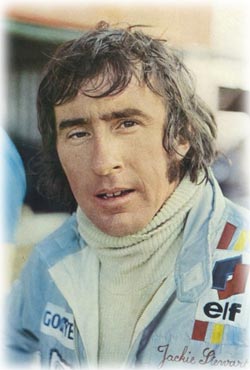 The news therefore that he was stepping down from his post as chairman of Jaguar Racing to spend more time with his family caught the racing establishment by surprise. He strongly refuted any suggestion that he had been 'pushed out' by Ford, who purchased the team he founded last year and recently renamed it as Jaguar. "I'm staying on the board and I'll be in the factory every week," Stewart recently explained. "I'm not going away. I'll still be very much involved in the team but not with the same number of hours. I need to move over and allow the people who are really doing the job the space to do so."
None the less, the timing of his resignation raised questions, coming as it did during the high-profile launch of the re-born Jaguar name to the racetracks of the world. It effectively stole the headlines away from the main business of the day, something he must have been very aware of as he made his announcement.
Perhaps in knowing just when to step aside from the corporate roller coaster ride, Stewart was showing rather less than the shrewd timing apparent when he announced his retirement from the cockpit at the end of the '73 season. Back then, still grieving from the loss of his teammate and friend Francois Cevert, who was killed in Stewart's last scheduled race, he simply announced, "From today I am no longer a racing driver. I'm retired and I am very happy."
He had also survived in an age when safety was never an important concern for race organizers, something which so many of his contemporaries did not. From a distance of over thirty years it is now almost impossible to believe the mindless ignorance that so gripped the racing fraternities approach to dealing with the consequences of racing accidents. For Jackie Stewart, the quest for change started with his crash at the 1966 Belgian Grand Prix at the original Spa-Francorchamps circuit, when he crashed in his BRM. Imagine the outcry now, if Michael Schumacher's recent accident had been handled by the standards of the 1960's.
The fact that Michael Schumacher and his fellow drivers now receive the best medical care that money can buy, is due in no small part to the stand that Jackie Stewart took all those years ago, to say that this senseless waste of life could no longer go on. Sure, racing was always going to be dangerous, but it didn't have to be needlessly dangerous. He was accused by his detractors of being a 'milk-and-water' Nancy-boy, but it didn't deter him. Most of his fellow drivers supported him but lacked his courage to speak out.
As a sign of those times even RAC MSA in 1968 refused to direct that Brands Hatch should put up a crash barrier to protect the drivers from hitting some trees by the side of the circuit, explaining that those were only small trees. The fact that Jim Clark had so recently ended his life against a small German tree had apparently slipped their minds.
Despite his concerns about safety he was an artist on the track. He drove so smoothly he eased the speed from the car, using its momentum to produce lap times that sometimes defied logic. Like all great drivers he was a 'natural' from the start. In his first test in Ken Tyrrell's F3 Cooper at Goodwood in early '64 he drove so fast that in typical Hollywood fashion team boss John Cooper came running to the pits yelling to everyone within earshot to "get that boy signed up quick." Earlier in the test Cooper's number one driver Bruce McLaren had set a target time, which Stewart promptly bettered. Pride-ruffled McLaren resumed the circuit and lowered his time, only for Stewart to repeat the dose. A shooting star was born and his progress was rapid, the F3 championship in '64, F1 with BRM and a maiden win in '65. He won his first world championship in '69, and two more in '71 and '73.
Some of his best races were ones that he didn't win. At Monza in '73 he fought back from 20th position after suffering a puncture to finish fourth, good enough to secure his title, or at Spa in '67 where he was forced to hold his car in gear for most of the race. Despite the handicap of steering the car one-handed he brought his H16 BRM home in a close second place, on a circuit that had nearly claimed his life the year before and in a car that was a handful to drive at the best of times.
Like many F1 drivers of the sixties he tried his hand at the Indianapolis 500, finishing second in '66 behind his BRM teammate Graham Hill. The trophy that he won as 'Rookie of the year' is one of the few trophies he kept for himself and it still has pride of place in the study of his Swiss home.
Once retired from driving he filled his life with his business interest and putting something back into the sport that had given him so much. He founded the Mechanics' Trust, a charity to aid those at the lower echelons of motor racing should they be injured whilst performing their sometimes-hazardous jobs in the pits. For many years he was a TV commentator, bringing his ex-driver insights to modern races. He conducted one of the most riveting motor racing TV interviews ever in late 1990, locked in a verbal battle over right and wrong with Ayrton Senna on the subject of his driving etiquette. Senna just clinched his second title by the simple expedience of driving his rival Alain Prost off the road, something that Stewart would never have done and could never condone. So incensed was Senna that he refused to be interviewed by Stewart ever again.
Along the way he was diagnosed as being dyslexic (as is his son Paul), finally explaining the reason for his academic shortcomings, and now in typical Jackie Stewart style he works to assist with the early detection of others so afflicted around the world.
In 1988 Paul Stewart Racing was formed with Jackie as chairman, the team created for the main purpose of furthering Paul Stewart's career. The younger Stewart moved up through the racing ranks from Formula Ford to F3000 until he decided at the end of '93 to give up driving and move his talents into managing the team.
In '96 Jackie announced his Formula One plans and the Stewart-Ford team hit the tracks a year later. Always careful to underline that his F1 hopes were based around a five year game plan, he struggled through the initial two years scoring a total of just 11 championship points, a 2nd place finish at Monaco in '97 being the team's only highlight.