---
The Piranha Club
---
By Timothy Collings, England
Atlas F1 Associate Writer
Some ten years ago, on the eve of the 1991 Italian Grand Prix, the Benetton Formula One team snatched Michael Schumacher away from Jordan Grand Prix, in what was to become one of the most complex and perhaps most sinister coups in the history of the sport to that day. It changed Formula One for good: that was the end of the Golden Age; it was the start of the Money era. "Welcome to the Piranha Club," Ron Dennis said back then to Eddie Jordan.

Since then, Formula One has been full of intrigues and politics, heavily involved in commercial interests and legal battles. Timothy Collings brings out the bare and ever so interesting truth about the current age of F1 in his new book, The Piranha Club. Atlas F1 is honoured to publish the opening chapter of the book, in two parts, telling the gripping story behind the 'Schumacher Affair' of 1991

Part 1: Welcome to the Piranha Club
No-one outside those who were present knows what happened at the Villa d'Este on the night of 5 September 1991. Few of those who were there have been prepared to reveal the whole truth as the drama surrounding a complex 'transfer deal', which saw Michael Schumacher leave Jordan for Benetton and Roberto Moreno move in the opposite direction, albeit reluctantly, and despite winning a court action against the Anglo-Italian team. But it was there, in the imperial foyer of one of the most spectacular and famous hotels in northern Italy, on the edge of Lake Como, that their clandestine wheeling and dealing earned Formula One's business operations a new and sinister-sounding soubriquet: the Piranha Club.
That night, said many long-standing observers and critics of the sport, something about Formula One changed forever. The once-Corinthian world of Grand Prix racing, a world of pleasure and danger fuelled by adventure and funded by private means, crossed an invisible and barely-perceptible line, shifting irretrievably from sport to business, from competitive rivalry to something more Machiavellian. It was the end of the last vestiges of the golden age, of gladiators in cockpits, of mortality, parties and fun, and the start of a new era of money, politics and intrigue.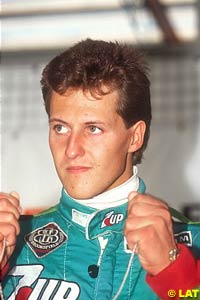 Schumacher had driven in just one Grand Prix meeting for the Jordan team after being hired as an emergency replacement for Bertrand Gachot, a temperamental 'pilote' who was sent to jail for assaulting a taxi driver by using a gas canister in London after a traffic altercation. Moreno was a journeyman, but, he had a contract; a source of scant protection, it turned out, once the lawyers and power-brokers set to work on that hot night late in the Italian summer. It was a night that left many unwritten codes trampled in the dust and dew of a magnificent September morning and a night that confirmed that Formula One's future was in the hands of ruthless businessmen and ambitious competitors.
The story of Schumacher's switch from green to blue, from the blarney boys to the knitwear family, stunned the paddock the following day at Monza, where Milan's beautiful people, including many models, several racing enthusiasts and soccer stars, had gathered with the regular circus of drivers, owners, engineers, mechanics, reporters, friends, cooks and motorhome staff to prepare for the annual Italian Grand Prix at the Autodromo Nazionale. The late Ayrton Senna, heading towards his third drivers' World Championship in four years, was so aggrieved he spoke out with passion at the way in which his friend Moreno, a fellow Brazilian, was treated - like a pawn in a grandmasters' game of high-octane chess with stakes to match.
But throughout the night before, as persuasive talking and financial offers were filling the hours downstairs, Senna slept above it all in his bedroom. Amid a flow of smoked sandwiches and fine wine, men like Flavio Briatore, Tom Walkinshaw, Eddie Jordan and Bernie Ecclestone, not to mention the Schumacher entourage - including lawyers from International Management Group (IMG) - argued with other legal representatives and agents, including those working for Moreno, as Schumacher, then just a new tyro from Germany, barely ready to accept his mantle as the 'wunderkind', still growing accustomed to the place settings of his cutlery, and its purpose, at formal dinners, was moved from one team to another, after just one weekend as a Grand Prix driver.
It was cloak and dagger stuff, sparked by his sensational form at the previous meeting at the Spa-Francorchamps circuit, in Belgium, amplified by two applications for court injunctions, one in London and one in Milan, accompanied by many dire threats and wild reports of extraordinary behaviour and completed by a late night agreement, manipulated by many deft hands, that ensured the outcome was that which the sport's controlling interests had sought. The Piranha Club was born and won the day.
Despite every effort they could muster for the fight to retain Schumacher, who had been nothing less than sensational in practice and qualifying at Spa-Francorchamps, Eddie Jordan and his men were unable to hang on to the best young driver of his generation. Their application for an injunction, in London, preventing Schumacher from driving for Benetton, had been heard in the High Court the previous day, but had failed. Yet they fought on, supporting Moreno in his case to retain his seat by taking protective action in court in Milan. Moreno won. He had, it seemed, and thanks to the Italian legal system, kept his seat.
Benetton were thus informed that they had to keep him in their car, alongside his compatriot and friend Nelson Piquet, for the Italian Grand Prix and, furthermore, were warned that they faced possible expulsion from the Championship if they failed to do so. Indeed, on Thursday afternoon, Italian bailiffs visited their garage in order that the cars were impounded and law, and with it Moreno's right to a chassis, was upheld. But, by power of attrition, the weight of pressure and the lure of money, Moreno was weakened and overcome and Jordan's scrap for Schumacher was defeated.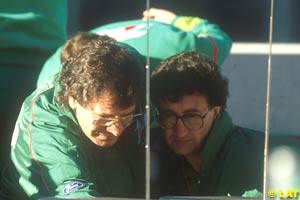 "To begin with, when Bernie advised me to see Flavio, we were not moving," said Jordan. "At that stage our position was strengthened by Moreno. He said he was driving and Piquet said he was driving. He had a legitimate case. We were happy to discuss Schumacher driving for us for the rest of the season. But then the whole thing became unreasonable and fell apart. We wouldn't move. We are not a team which is going to be bought. We were not going to prostitute ourselves on an issue we felt so strongly about. In the end, though, we went …"
Benetton, with Briatore, Ecclestone and Walkinshaw, working for a mutual interest, negotiated their way into creating the vacancy they needed in order to hire Schumacher. By three in the morning, after a week of legal attrition, days of tension and hours of argument, Eddie Jordan's powers were so weakened that he was unable to stop a deal taking place which put Schumacher into a Benetton and ensured that the Italians, with all their multivarious international marketing interests, were able to exploit the young German's burgeoning popularity in his fatherland.
The television broadcast rights for coverage of Formula One in central Europe also leapt in value overnight. Jordan was outmanoeuvred; Moreno was forced to leave the job he loved and his contract was dissolved; Schumacher had switched to a richer and better-supported team; Benetton had a driver for the future and an entry into the German market; and Ecclestone had seen his television rights' values soar as another part of his masterplan was executed. And the Schumacher era had begun.
It was a decisive move in the creation of the so-called Piranha Club's reputation, one act in a drama that was part of a far grander play that many felt was a scheme to develop Formula One into a global television spectacular. Significantly, for Jordan, a man of natural intelligence, warmth and sharp instincts, it was also a bitter learning process as he discovered that, in his first season as a team owner, it was wise to move with alacrity and, to borrow a phrase from professional football, get your retaliation in first for the sake of self-protection.
"There was a lot of shouting and roaring," he recalled. "There was a problem between the lawyers representing Moreno, and Benetton. Something silly was said that was interpreted by the lawyer as something quite unethical … The meeting went on for hours."
The old days of friendly deals done with a handshake, honoured by gentlemen and confirmed with a happy toast over dinner in the evening were gone. Long gone. This was the night when the lawyers and moneymen took utter control of the sport. The rich men won. The men with helicopters to convey them above the morning mist and dew the following day to Monza were the winners. Those, like Eddie Jordan and his right-hand man Ian Phillips, who stood and watched as the helicopters clattered and rose into the sky, who were to drive down the valley in a hired road car - in their case a Fiat 126 - were the losers. It was a lesson they heeded. Like the rest, they knew the Piranha Club would be running the sport from that morning onwards. And they knew that, as in the old phrase, if you can't beat 'em, join 'em.
Eddie Jordan is one of the most infectious and likeable characters in Formula One, if not British sport. He has played drums on stage all over the world, he has been featured in the popular British television show This Is Your Life and he has dodged, ducked and dived his way through a chequered career from early days as a bank employee in Dublin to becoming one of the richest men in the land. He has done it all with a smile and a joke, never losing his sense of humour or his ability to talk himself in and out of trouble with consummate skill.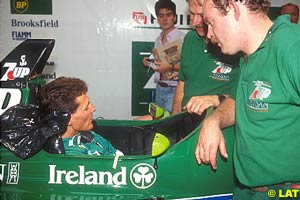 As a Formula One team owner, he has stamped his brand on the paddock, the sport and the public imagination. As a survivor, he has demonstrated that anyone can do it - climb, that is to say, from the army of those who live outside the paddock fences, peering in, to become one of the chosen and lucky few whose professional lives carry them from continent to continent as part of the Formula One road show. Jordan rubs shoulders with rock stars, actors, film stars, sportsmen, models and statesmen in his life as a popular public figure, but he has never forgotten what happened to him at the Villa d'Este. Nor has he ever lost touch with his humble beginnings.
Born in Dublin on 30 March 1948, Jordan was expected by his family to become a dentist when, in his late teens, he was enjoying life in his native city. His wit and gift of the gab made him a popular man and the promised comforts of life as a professional fixer of teeth seemed, in some ways, suited to his generous nature. But it was not to be. Jordan wanted something else out of life. So in 1967, instead of sticking to the path towards oral hygiene, he took a different turn and steered instead towards the acquisition of knowledge and wealth.
He joined the Bank of Ireland as a clerk. It was a wise decision, an inspired change of direction and it left him well prepared for what lay ahead later in his life as a mogul of the pitlane and paddock. For three years, he worked happily in the bank, gaining more and more insights into how the world of money operates and how businesses succeed. He was a quick learner, especially where making a deal was concerned. It is, of course, a family trait that he had inherited and one that he has passed on to his own children. Self-confidence, after all, has never been lacking in such talkative Irishmen.
In 1970, however, luck played a part in the life of young Jordan. Due to a strike in the capital, he was posted from Dublin to Jersey, the famous tax-haven island off the French coast. There he came into contact with motor racing for the first time and it left him stunned as he watched racers in karts fighting it out on the Bouley Bay hill-climb. Inspired, Jordan returned to Dublin and bought himself a kart. He taught himself, went on to win the Irish championship and, in 1974, moved into single-seater racing in Formula Ford 1600 cars. That proved satisfactory enough and, with the racing bug biting hard, he decided to uproot from Ireland and move to Britain to compete.
Alas, a major accident at the end of the year left him with two broken legs. He was ruled out of the 1976 season, a blow of almost equal severity to his personal morale as the fractured legs were to him physically. But he remained determined to race and, in 1977, after much wheeling and dealing, he was in Formula Atlantic racing.
The next year, he won the Irish title, a success that prompted him to move on and partner Stefan Johansson in the British Formula Three championship, racing under a banner of Team Ireland. Johansson, of Sweden, was to remain close to Jordan, as, significantly, did most of his early colleagues, drivers and friends. In 1979, Jordan tried racing a Formula Two car, at Donington, and also tested a McLaren Formula One car, recognising, by the time he reached this pinnacle in his personal racing career, that he was unlikely to go much further. At the end of that year, he created Eddie Jordan Racing.
This was the start of the real thing for this ebullient, funny Irishman. His true personality, his business acumen and his sheer enthusiasm for life in general, and racing in particular, came to the fore in a blend of qualities perfectly suited to the world of motor sport. By 1983 he had established himself and he ran Martin Brundle in the British Formula Three championship. Brundle finished second to Ayrton Senna. Competitive and driven by his ambitions, Jordan pressed on. Finally, in 1987, he won the British Formula Three title, with Johnny Herbert driving.
Successes followed in the European Formula 3000 series the next year with Herbert and Martin Donnelly paving the way before Jean Alesi lifted the title in 1989 en route to his own long and spectacular Formula One career. The Frenchman's arrival at the top was the final stimulus to Jordan himself and, in 1990, to a chorus of warnings and some disapproval from those who regarded themselves as more prudent, he established Jordan Grand Prix.
The headquarters were a lock-up unit on the industrial estate at Silverstone, within the circuit and close to the track. It was a small beginning. When his first car was built and ready for a public testing, Jordan asked the former British Grand Prix winner John Watson, an Ulsterman, to perform the ceremonies on a cold, damp and foggy day at the old Northamptonshire circuit. A small group of reporters were invited to this inaugural occasion and were served tea, instant coffee in polystyrene cups and sandwiches to mark the day.
The car ran in black, unpainted and unsponsored. It was a far cry from the glittering splendour of a hot day by the Mediterranean at the Monaco Grand Prix, but for Jordan it was a first important step towards fulfilling his dream and the relative modesty of his hospitality was in stark contrast to the warmth and sincerity of his welcome as he revealed himself to be an enthusiast fired by a perfectly simple ambition.
In 1991 he entered the FIA Formula One World Championship with Gachot and Andrea de Cesaris as his drivers, one the Luxembourg-born son of a Brussels-based Eurocrat, the other a veteran Italian with a reputation for unpredictability and extraordinary eyes. At the same time, in Formula 3000, he ran Damon Hill, having had Eddie Irvine, Heinz-Harald Frentzen and Emanuele Naspetti the previous year. The names are important because, as time went by, they would recur in the Jordan story, usually to argue the toss after being traded from one team to another, but more often to chew the fat and enjoy his friendship. Jordan, of course, was not only their employer, but for many of them also their personal manager and so, by virtue of controlling their careers, he was able to dictate what they did, for whom they raced and how much of a cut he could take from their contracts.
His penchant for management spread far and wide, his flair for making money equally. Like Flavio Briatore, at Benetton, Jordan could see that running a Formula One team was not the only avenue of business open to him through which he could make a decent profit in the early 1990s. Formula One, after all, as he was discovering, was a very, very expensive business and it needed very expansive funding.
But Jordan was no quitter. Nor did he lack personal resources in terms of energy, determination and imagination. As a younger man, as he would frequently recount, he had sold woollen carpets and out-of-date smoked salmon in the Dandelion Market in Dublin. He could sell snow to an Eskimo. When his son, Zac, was at preparatory school, several years ago, Jordan received a telephone call from the headmaster. He was told that boys had been caught smoking. Jordan, a fitness enthusiast, was very upset. But he was less distraught when he heard what the headmaster had to say. "Mr Jordan," he told him. "Zac was not smoking. He was selling Benson and Hedges cigarettes to the boys at £3.50 a packet. Do you have any idea where he may have got them?"
As his team was sponsored by Benson and Hedges, at the time, it was not difficult to solve the puzzle. He was delighted. Zac, like his father, was a natural wheeler-dealer, a chip off the old block. And his improvisational business skills were a further inspiration to his father to survive as he began hacking his way through the intensifying financial jungles towards secure membership of the 'Piranha Club'.
In 1991, his first full year as a team owner in the competitive and ruthless world of Formula One, Jordan experienced a wide range of blows and surprises. His car - the nimble, pretty, sleek, green Cosworth-powered and 7Up-sponsored Jordan 191 - was the envy of many in the pitlane and frequently out-qualified and out-performed Cosworth's chosen factory-supplied team, Benetton. His drivers also performed with an élan unexpected by many seasoned observers. It seemed they reacted well to Jordan's unique form of man-management, a personal approach that included generous rations of fun and games mixed among the serious preparations. The team often, for example, wore shorts - including Eddie Jordan himself - and treated its sponsors with a refreshing sense of candour and mischief.
Jokes and japes, a shortage of cash and a team spirit unmatched by any other team in the Championship were the strongest features as Jordan's happy voyage survived one financial knock after another and just about stayed afloat. When they finished fourth and fifth, thus scoring their first points, in the Canadian Grand Prix in June, the team celebrated raucously and Jordan let it slip that, using a financial arrangement he had discovered in Belgium, he had 'bet' against his own success, through a form of insurance, in order to enjoy a payout which would allow him to cover the bonuses for success. The financial house in Brussels was not delighted to read this news. It had agreed a confidentiality clause with Jordan, in advance.
By the time of the late days of the English summer, when Gachot was arrested for assaulting a London taxi driver, the bills were piling up and the budget was exhausted. Financially, Jordan knew his team was on its knees. Debts were all around him, including a mounting and worrying amount owed to Cosworth for their engines. If ever he needed to wheel and deal, to duck and to dive, to borrow and beg and find some cash, this was the time. Cosworth were pressing for their money and threatening legal action. Without Cosworth, Jordan could not continue and, even if they managed to struggle through, he needed engines for 1992. It was a grim scenario, made worse by Gachot's idiotic arrest and the attendant bad publicity.
The likelihood of this Irishman, with his hard-working, fun-loving team of men in green, developing an outfit to challenge the likes of McLaren-Honda, for whom Ayrton Senna was on his way to the drivers' title, or Williams-Renault, for whom Nigel Mansell and Riccardo Patrese were heading towards second and third places, seemed remote. But, remarkably, he did. And he survived not only the threats of his creditors and the wiles of the Piranha Club to do so.
"When we arrived at Spa, the cars were sealed away," he explained, referring to the Belgian Grand Prix at Francorchamps in 1991, when Schumacher made his debut. "The local bailiff had taken action. Well, we had just had a torrid two weeks. We had Gachot go to jail. We needed to find another driver and when Michael Schumacher and Ian (Phillips) were trying to get the contract finished, on the Thursday night, we went to the track to find that local Belgian bailiffs had locked up the trucks and the cars. So, we couldn't get them out. They claimed we owed some money …"
Jordan's memory of the sequence of events, he admitted, was hazy. But, according to Phillips, money was owed to a Belgian driver, Philippe Adams, and his claim resulted in the local courts approving an order to prevent the team from using their cars or trucks for fear that they would be leaving the country without clearing the debt. Action was taken by the bailiffs, said Phillips, on Saturday afternoon after qualifying. "We found a way of clearing it up, so we could race," he added.
By this time, both Jordan and Phillips were deeply entangled in a desperate bid to keep the team going, to hang on to the dazzling talent of Schumacher - who qualified seventh at Spa-Francorchamps before destroying his clutch at the start of the race - and to try to find an engine supplier for 1992. It was a juggling act, in terms of energy and resources available, every day for each one of them.
It had started when Schumacher tested for the first time, immediately before the Belgian race, and it continued through the following two weeks to the Italian weekend at Monza. Phillips was busy trying to tie down Schumacher while Jordan was seeking engines and Cosworth, fed up with waiting for their bills to be paid, issued a winding-up order on Jordan Grand Prix. To make matters worse, Schumacher's management team were suspicious of Jordan's plans for the future. They were being fed information, suggesting the team was in a perilous state, which was designed, deliberately, to persuade them to avoid signing any long-term contract.
Schumacher, happy enough to have stayed in a breezy holiday chalet that he shared with his new team chiefs in Belgium, was also reminded that other teams had higher standards of hotel accommodation on offer. Few leading outfits, after all, would have considered asking one of their Grand Prix drivers to share quarters, including the bathroom, with commercial or marketing staff. To his credit, Schumacher was never troubled by this and always said, later, how much he had enjoyed his brief time with the Jordan outfit.
But Schumacher, like Moreno, was a mere pawn in the moves made by the major players at the time. His value was not only in his talent, but also in the fact he was German. Formula One needed a good German driver, but in a successful team with real prospects for the following season, not a team facing a winding-up order from its engine suppliers with little prospect for real sustained success. Furthermore, Benetton, owned by the Italian fashion chain, were looking for ways of using Formula One for marketing their products, their image and the services of the other companies in their group. It was obvious, in hindsight, that Benetton had wanted Schumacher immediately as they saw how fast he was at Spa-Francorchamps on the opening day of practice in the valleys of the Ardennes, if not long before.
Walkinshaw, who was then director of engineering at Benetton, where he worked in alliance with Briatore, knew all about Schumacher. Having run Jaguar in the Group C world sports-car championship, he had enjoyed close quarters experience of him. He had seen him racing for Mercedes-Benz in the same series and knew he was an exceptional talent. He was, also, in close contact with Jochen Neerpasch, an agent working on behalf of Mercedes-Benz as their competitions chief, as well as for International Management Group (IMG), and their drivers, particularly Schumacher, who remained under contract to Mercedes-Benz, where he had been developed as a junior driver.
"Neerpasch had been canvassing several teams to see if they were interested in Michael and, of course, I had been impressed with his performances in the Mercedes sports-car and I was keeping an eye on him," Walkinshaw admitted. "I said I was interested in running him [at Benetton], but understood he had a prior commitment to Jordan. I was only interested if the Mercedes lawyers could give me clear legal advice that he was not committed elsewhere. I would want my head examined if I didn't go after a driver of his obvious calibre."
It was the beginning of the end for Jordan's interest in retaining Schumacher long-term. Walkinshaw, a resolute Scot with a reputation for winning at all costs, was not a man who wasted words. He was well-connected within the paddock and throughout the global automotive industry, entirely aware of who was approaching who for drivers and engines for the following year and, together with Briatore, he was building a team to win at Benetton.
He had recognised in Schumacher a driver he needed to help achieve his ambitions. Like Jordan, he was a proven entrepreneur, but a man also of widespread success throughout many parts of the motor industry. He had enjoyed success in many automotive programmes ranging from touring cars to sports cars to road cars. But success in Formula One had proved elusive until he caught sight of the potential of Michael Schumacher. With him, in a car packaged to provide the power and the performance he needed, Walkinshaw knew that he could direct Benetton to the World Championship.
He saw all he needed of Schumacher to confirm he could perform in Formula One, in just two days at the Belgian Grand Prix. Walkinshaw was unhappy with Moreno and he wanted to replace him. "I wanted someone in the second car who would liven things up a bit," he explained. With that in mind, he contacted Neerpasch, regarded by most of the players in this particular game as the man in control of Schumacher's future, alongside his manager Willi Weber, of course. When he telephoned Neerpasch, he interrupted the German while he was soaking in his bath. Walkinshaw laughed. But they talked.
"Jochen agreed to come over to London to discuss the possibility of Michael coming to Benetton for the next race at Monza," Walkinshaw recalled. "They came over with their lawyers and a contract and we examined it and satisfied ourselves that indeed, there was no agreement with Jordan. The only thing was that there was a block in the contract that if Mercedes Benz came back into F1 racing, in the following three years, then they would have the right to take him back. I thought that it was worth taking that risk and we signed him for Monza."
Briatore, like Walkinshaw, saw Schumacher as a key figure in Benetton's future.
"The first time I saw Michael was in Spa," said Briatore. "The first time I spoke to him was in London, a few days afterwards, in my house. He was with me, and Neerpasch, and we discussed Michael's position with Jordan and it was confirmed to me that there was no contract. It was only a one-race deal. I told Michael I was ready to put him in the car and that we didn't need any money from personal sponsorship and that was how we did the deal. It was very important for him to get into the car immediately. For me, that was no problem. I felt it was important to find someone for the future of the team. We all felt very strongly that he was our driver for the future.
"My only worry was that he would not have enough laps, but we did not expect instant miracles. We knew too that we did not have the best car, but we were working on it. We wanted a driver for the future. I knew my situation at the time was not a winning one, but we were looking ahead and Michael was the first really important step. Nelson [Piquet] and [Roberto] Moreno were our other drivers at the time. I had already decided what to do and two weeks before I met with Michael, I had told Moreno what I wanted to do in the future; that he would not be driving with us any more and that it was not our intention to renew his contract."
Next week: Jordan and Phillips tell it like it is...
"Ian and I shared a single bed," Jordan added, "And Flavio paid for it! He sent sandwiches to the room and they were mouldy old things! And he - Ian, he is not easy to sleep with!"
---
© Timothy Collings. Published by kind permission and provided under Atlas F1's
terms and conditions
.