Part 2: Money, Money, Money
Flavio Briatore and Tom Walkinshaw's matter-of-fact approach to the signing of Michael Schumacher in 1991 made it seem obvious that Eddie Jordan had no right to believe he had any hold on him. In this age of harsh legal realities, any notion that Jordan, having been the man to have run him first in a Formula One car, would have a moral first call on his services was treated as an irrelevance. A naive irrelevance.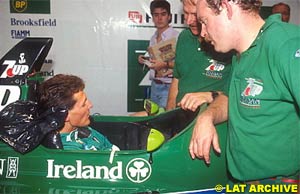 Walkinshaw said: "I had no problem with Eddie applying to the court [for an injunction to stop Schumacher signing for Benetton]. He tried on several counts and the judge dismissed every one of them. I think there's been a lot of nonsense on this. The fact is that Schumacher, for whatever reason, had no contract with Jordan. He was a free agent. How anyone can allow a talent like that to be walking around the paddock, I don't know. That's their business. When we were informed of that we went about the proper way of securing him."
To a tough, experienced operator like Walkinshaw, this manoeuvring was all in a day's work. To the struggling new boys at Jordan, fighting on all fronts, every hour was a scrap for survival. Having 'found' Schumacher, thanks to some help here and there, and having survived the legal and financial difficulties of racing at Spa-Francorchamps, they had become engulfed in other problems which distracted them from the more urgent need to sign Schumacher promptly, beyond agreeing a deal with heads of agreement in principle, and prevent him being charmed away in the night. And these distractions, together with the information exchanges that are all part and parcel of the dealers' market that is the paddock in Formula One, undermined them.
"I had a call from Weber on Friday afternoon," explained Phillips. "Michael was due to come for a seat fitting on the Monday (eight days after the Belgian race and three before the opening of the Italian Grand Prix). Then, instead of Michael, Neerpasch and Julian Jakobi turned up! We wouldn't let Jakobi near the place. He was working for IMG then."
As Phillips explained the story, running back through his mind to recall clearly these days now a distant decade away, Jordan interrupted to add his own recollections.
"I refused to let him in. I'd just come back, from Japan, with a deal for Yamaha engines and, at that stage, we were skint. Absolutely skint. And …"
"Neerpasch presented a contract to us," Phillips continued.
"Yes," interjected Jordan. "And Flavio [Briatore] was restricting us a little, too, because we were a bit embarrassing to Flavio's Benettons with our Jordan, with a customer engine, so he made sure that we got stung … He made sure we wouldn't get the [Ford Cosworth] engines the following year. But, it was worse than that. Cosworth, at that time, put a winding-up order on Jordan, so I had to run like hell to find an engine!
"I had heard - from Herbie [Blash] and Bernie [Ecclestone] that Walkinshaw, and a few others, were desperate to get this Yamaha engine and that if I didn't move quickly, I would never get it. So, I'm gone to Japan and Ian [Phillips] is looking after things - and all this is flying around the place when I come back on the Monday to find out that Weber had actually had the good manners to ring us and to say 'look, please, be careful'.
"And, by that stage, Bernie and Flavio and Tom had, I believe, concocted how they were going to get a German into Formula One their way. There had not been one for such a long time.
"It was a very big market that was sports-car orientated and this was their big opportunity. And, it was no secret. Bernie will tell you. He helped to cement the deal between Flavio and Benetton to get Michael Schumacher to join them. At that stage I could, possibly, understand because the chances of Jordan surviving were, in our view, quite good, but in anyone else's view, quite limited.
"He was probably aware that there was a winding-up order about. Flavio would have told him about that and about Cosworth's move, their petition. But we had a Yamaha engine, at that stage, untried and untested …"
The significance of the engines was one of the critical issues in the story.
"There was something else," Phillips explained. "Neerpasch, on Sunday morning in Spa, came to us and he said we had to run Ford the following year. We were all sworn to secrecy on Yamaha and so we said, 'Oh, yeah, we will be …'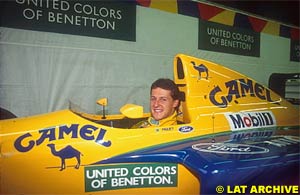 "But what we didn't know was that Tom Walkinshaw, who was the engineering director at Benetton, was so involved by then. He had run the Jaguar sports-cars against the Mercedes. He was the only other person in the world who knew how good, really, Michael was …
"And, at this time, we didn't know of Bernie's involvement in all of this. After Spa, Bernie disappeared to Sardinia, I think, where he was buying some land. He knew we had got the Yamaha deal because he had been instrumental …"
Ecclestone has helped Jordan by using old contacts and advising each to help the other to make the deal work.
"We had been lying about Yamaha, because we had to!" Phillips continued. "So they [Neerpasch and Weber] were using the big Ford angle and when they went to see Bernie and said, 'What shall we do?' he told them Jordan had got a deal with Yamaha … He squared that away. No problem."
Jordan joined in again, adding his own personal recollection. "So, then the fun starts! We said '**** this!' I knew it was happening. I had spies at Benetton. And they must have had spies at Jordan. So everyone seemed to know exactly what was going on. So, it went straight down to court injunctions. They fought it like crazy. We went in London. We knew what was happening. So, we collared Moreno. We paid Moreno to use the same injunction to save his arse, but in the Italian courts. He won. We lost."
As Jordan and Phillips recalled it, Moreno had the opportunity to stop the entire affair from happening at all. Having won his case in Monza to save his seat with Benetton, he was, it was claimed, offered half a million dollars to walk away. The court action in Italy was concluded on Thursday, a day of simmering drama and comings-and-goings in the Monza paddock as the affair unfolded gradually.
"At that stage, they were reconciled to losing him [Schumacher]," said Jordan. "The financial penalty for losing Piquet was so huge that they would have had to retain him. And they had to give a seat to Moreno. And, then, we were all invited up to the Villa d'Este."
"No, we were summoned. Summoned," said Phillips.
"I'd never seen so many lawyers coming in and out like that," said Jordan.
"And we didn't find our own hotel until Friday night," said Phillips.
"Ian and I shared a single bed," Jordan added, "And Flavio paid for it! He sent sandwiches to the room and they were mouldy old things! And he - Ian, he is not easy to sleep with!" At this point Jordan added descriptive reasons, relating to odours and habits, for this assertion. They are too colourful for publication. "To do this in a small, single bed in one of the staff out-houses at somewhere like the Villa d'Este is not very pleasant. On top of losing your driver."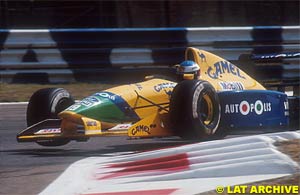 Phillips continued his version of the story. "We got summoned to the Villa d'Este. When I got to the circuit, I saw Bernie and I told him about the courts and what had been happening. He had got the plans for his house in Sardinia out and he said, 'This looks great,' and he pretended he knew nothing about it. Then he said, 'Leave it to me. I'll sort it out.' Then at seven o'clock that night he said, 'Get up to the Villa d'Este,' and we drove up to Lake Como in our little Fiat 126 rent-a-car … Bernie was there and we saw Michael."
Phillips was struck by the change in circumstances since the last race. "In Spa," he said, "we stayed in a holiday camp. Five-pounds-a-night. I shared a bathroom with Michael and Willi. It was a bit like a dormitory! And the next time I see Michael, he is in the Villa D'Este! And they are all sitting there, having dinner, and we were outside … and Bernie said, 'We might as well let you go, there's no money, Moreno's not going to get it and he's not going to get paid,' and it went on and on and on.
"Eventually, Bernie came out. I'll never forget it. Eddie, Bernie and I, we went round the side of the staircase and there was this lovely glass cabinet and I turned to Bernie. We had told Moreno, 'Don't settle, don't settle,' and Bernie told us he had to settle. He said there was no money. I told him that 'If nobody sits in that car by the time official qualifying comes on Saturday, at one o'clock, then Benetton will be excluded from the Championship. They cannot take force majeure. Moreno is going to sit it out. He isn't going to give in …' And, half an hour later, he came back and said they had offered Moreno half a million dollars."
"No," interjected Jordan. "They offered it to us first. And we said we wouldn't take it."
"And we told Moreno not to take it," said Phillips.
"And, to be fair, the lawyer believed he wouldn't take it," Jordan continued. "And Moreno needed to keep his seat, at the time, and we needed money. We weren't prepared to take the money. And we were so strong about not taking the money they then offered it to Moreno, who did take it."
Phillips said: "Yeah, at two-thirty in the morning, Moreno took the money …"
"That is correct," said Jordan. "And that is how the Piranha Club was formed. Word just got around the paddock."
So, it unfolded, Moreno accepted an offer to give up his rightful seat with Benetton for Schumacher. Jordan, without a second driver, then accepted an offer of $125,000 from Moreno to fill the vacancy.
"And we did the deal that night," Phillips said. "We had no idea where we were staying. Tom [Walkinshaw] had been wandering around like the wine waiter, spilling it on the carpet! And we still did not know where we were staying. No idea."
"And," said Jordan, "you just couldn't believe how many lawyers there were present there that night. There were waves of them coming in to that place. There were Benetton lawyers, Flav's people and Bernie's people. But they were all so shocked that the family was upset that, in Milan, we had won a case against Benetton!"
"Everyone had been looking for Moreno the whole of Thursday," Phillips added. "But he was there, actually, all the time, holed up in our motorhome. Nobody but us knew where he was. And, of course, the other thing was that we had Marlboro begging us to take [Alessandro] Zanardi. But Walkinshaw had told us, 'You can't have Zanardi because I've got him under an option.' He had given Zanardi a seat fitting …"
"Yes, but at three in the morning, we couldn't afford to take another risk," said Jordan.
"So, when we left at six-thirty, having had just three hours' sleep in that single bed, we had to go and tell Trevor [Foster, team manager of Jordan] what was happening and to get Moreno fixed up for the car and all the rest of it," said Phillips. "Then, we pull up at this set of traffic lights, on the way to Monza, and there's the old Marlboro man there. And he pulled up and said, 'Why don't you take Zanardi?'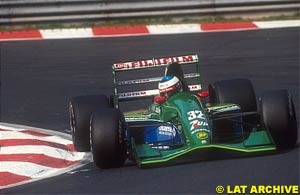 "We told him he had an option with Walkinshaw. And he said, 'No, he doesn't,' and we go on then, the first time we meet Zanardi, he turns up at our motorhome at half past eight in tears. 'I really want to drive this car,' he said. But it was too late then. Walkinshaw had told us what he did to stop us having Zanardi."
"And then Ron [Dennis] came out with this thing about the Piranha Club, just as we were walking across the paddock at Monza," recalled Jordan again. "He said, 'Welcome to the Piranha Club.' I can remember the moment."
Phillips went on. "Everybody was agog. Bernie pretended he knew nothing about it, when he had orchestrated the whole thing. He was able to say we had Yamaha."
And Ecclestone, it appeared, also had the vision to see how valuable Schumacher was to become to the show as a whole. His talent, in a successful team, would open up a vast new German market. According to one German source, Schumacher, at the time, was under contract to RTL, the big German broadcaster, whose arrangement with Formula One dictated that if a German driver entered the sport it would double the fee to be paid and if a second entered, it would increase again.
In short, Ecclestone knew that his television business would profit from the arrival of Schumacher and Germany in the Formula One paddock. Of course, the same would apply, in principle, for Jordan as for Benetton, but the latter were considered a more powerful and successful operation with a stronger brand image.
This manoeuvring, furthermore, affected the careers of other men. The Swedish driver, Stefan Johansson, for example, was in Monza during the Italian Grand Prix build-up waiting for a call from Jordan. As a Marlboro-backed driver, he hoped that the fact Jordan were a Marlboro-sponsored team would help assist him in taking the chance to slip into the vacant seat created by Schumacher's departure to Benetton. He never received the call.
Zanardi, the runaway leader of the International F3000 championship, was also waiting for a chance to step into a Formula One car and had pinned his hopes on Jordan. But, on Thursday afternoon, Benetton having decided to dismiss Moreno anyway, they gave Zanardi a seat-fitting. Clearly, Zanardi was being lined up as first reserve if the team failed to land Schumacher cleanly.
Having received £150,000 from Mercedes-Benz to give Schumacher a drive in Belgium, knowing that they were prepared to pay £3 million the next year to keep him there, Jordan had built up high hopes for the future. In theory, they had secured, he thought, a driver of huge potential and the backing of a dependable supporter. But even before this arrangement had begun to form in his mind, he confronted problems. Prompted by various sources, Neerpasch had started to "move the goalposts" and make life difficult, as Phillips explained.
"When Neerpasch turned up at the factory on the Monday before Monza, he presented a contract and he said, 'These are the conditions for Michael' and he had, basically, taken the space on the whole car! So, we worked all night on doing a version of the contract that we could sign. And then, in the morning, we were sitting around waiting for them to turn up when a fax came through from the lawyers with two lines, from Michael. 'Dear Eddie, I am sorry I am unable to take up your offer of a drive. Yours sincerely, Michael.' And, at that very time, Michael was at Benetton, having a seat-fitting. We knew because someone phoned somebody at Benetton."
By the end of Tuesday, on the basis that they could prove he was having a seat fitting at Benetton, after having agreed heads of agreement with Jordan, Jordan had requested his lawyers to apply for an injunction against Schumacher driving for Benetton. The case was heard in London the following day, Wednesday, 24 hours before they were due to arrive in Monza.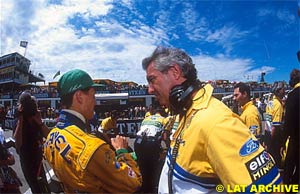 "We had heads of agreement, which under normal law would have been good enough," said Jordan. "But what happened was that the judge said he could not restrict someone's right to work unless we had signed that other contract, which was unsignable. 'On the basis that that contract is flawed, I cannot give you the injunction to stop him driving for another team until this contract is settled and signed', the judge said. But they had no intention of signing that contract. So, it was a mistake I will always remember. But, in the heat of the moment, no-one was at fault."
Neerpasch recalled it all, at the time, with some detachment: "Michael Schumacher signed an agreement with Eddie Jordan on the Thursday before Spa. It was an agreement to talk about an agreement. What he signed was a letter of intent. Eddie Jordan offered him the drive, but he needed money. Mercedes-Benz agreed to pay that money and asked for sponsors' space. We talked with Eddie about the rest of the season and also the future, but only on the condition that our money would guarantee a certain space on the car.
"I went to see Eddie Jordan on the Monday and we could not agree. A number of teams were interested in Michael and we went to Benetton. They wanted him and it was a straightforward deal. He is paid as a driver. I think the Jordan was a very good car for this year. There was no need to change. Michael wanted to stay with Jordan, but Eddie would not agree with our requirements for sponsor space and he wasn't prepared to discuss our contract. He wanted Michael to sign before Monza. Michael was still a Mercedes-Benz driver, but we released him for F1. At the end of it all, I think it is very important for Germany to have a competitive driver in F1."
Neerpasch also said that Mercedes-Benz wanted to have Schumacher back for their planned re-entry to Formula One in 1993 with Sauber.
"It would have been against our strategy to release him," he explained. "We built up the drivers and we wanted them for our own team. It was sensational, of course, for the F1 people to see Michael at Spa. Everyone was interested in him. We discussed a lot of things. In the end, though, Eddie said he was using Yamaha engines and we discussed this and we decided that Yamaha were not going to be reliable or victorious. We wanted Michael to have a season in F1 and we wanted to finance the season for him. We wanted him ready for the following year, for the new Mercedes team for 1993.
"At that time, we saw 1992 as a preparation year. We wanted both Michael and Karl [Wendlinger] to get F1 experience. We discussed this with Michael and he decided to stay at Jordan. They were a very nice team and made him feel welcome. He did not want to change. But we discussed it for a long time and, finally, decided to change."
The whole episode, known at the time as the 'Schumacher Affair', threw a shaft of stark light into one of the dark corners of Formula One and contributed towards the creation of the Contract Recognitions Board, an organisation to formalise the legitimacy of drivers' contracts with teams. But that came later, a long time after Moreno was manipulated and paid off amid rumours of threats and retribution among the various lawyers and participants at the Villa d'Este.
Ayrton Senna, the great and glorious champion of the time, was disgusted at the events. At the hotel, when he learned of what had happened, he told Briatore what he felt of his treatment of his compatriot and friend Moreno. On Saturday afternoon, he claimed pole position. At the subsequent news conference, looking serious and thoughtful, he took the opportunity to give vent to his feelings. He spoke with controlled passion.
"It's difficult to comment in a clean and fair manner, without knowing all the clauses in the contracts, but, as you know, even the best contract in the world, drawn up by the best lawyers, is only worth anything if both sides are really working for it," he then said. "What has happened was not correct. It's always the people in the top teams who are written about the most. So, I feel, that unless one of us speaks about it, something like this just goes by and people get away with it.
"Moreno is a good driver. He's dedicated. He's a professional. And he had a contract for the whole season. But people just push others who are maybe not in a strong position and they threaten, use their apparently strong position to get a driver to change his mind and to accept things. As a principle, I don't think this was a good move. There were commercial interests involved and future prospects which made certain people do these things."
Moreno, the fall guy, the man pushed out of Benetton to make way for the new wunderkind's arrival, deserves the final word. Upset, threatened, cajoled to take money and give up the seat he had proved was his through legal action, he turned to God for support.
"I think everyone in the paddock was surprised by what happened," he said. "Unluckily, for me, I was alone at the time I was told, as my wife and my daughter were in Brazil. I didn't even tell my wife afterwards because I thought it would hurt her too much. It is very difficult for a person to go through all that alone. Fortunately, I am a religious person. I believe in God. I opened the Bible and I asked God to put me in the right direction and it opened at a good page. That gave me self-confidence and I kept myself together. It was very stressful.
"My only problem was that I caught a virus before the race in France, in July. I went to the doctor and took some penicillin. It upset my stomach and I was not recovered for the race. I think it is the only problem I had this year. I took legal action because I just wanted to defend myself. I had to defend my rights on the contract I had for this year. On the Thursday night, I slept for only two hours and had my seat fitting at seven in the morning. I got in the car, I concentrated and I tried to do my best."