---
The Weekly Grapevine
---
This week's Grapevine brings you
information fresh from the paddock on:

Ferrari Enter the Fray
Counting the Cost

Ferrari Enter the Fray
When Ferrari finally launched their new challenger, it was not much of a surprise to discover the car looks like an evolution of the 2001 model - after all, last year's best of breed was clearly an excellent starting point!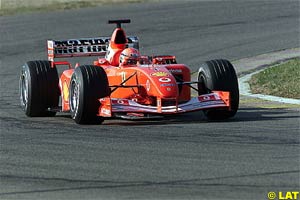 The launch had few surprises: speculation on the new Ferrari gearbox has been rife since the end of last season, though it is not integrated into the engine block as some had envisaged. It is, however, clearly a remarkable piece of engineering, judging by the space it isn't taking up. Assuming it continues working as designed, that is. The new engine and gearbox linkup is working well, and suffered surprisingly few problems. Over a number of short outings, it has demonstrated excellent balance and handling, resulting in solid pace. Work to date has shown that the car is operating at its designed limits, responding well in line with expectations to setup changes, and proving be as reliable as its predecessors under the same circumstances.
And there's the crux of the matter. So far, whilst the F2002 has been exceptionally well behaved as it goes through its paces, it has not been working at race distances. Most of the components have been individually tested on the F2001 - but that is not the same, and it does not include the new gearbox. If there's an Achilles heel to the new car, that is going to be it. And even then, whilst it is unlikely the team would actually start the season with last year's car, Ferrari have clearly demonstrated in tests so far this year it is near enough the pace to score points, if push came to shove.
In comparison, McLaren launched far earlier than usual, and have been pounding out the laps, getting to grips with tuning and evolving their car for Australia. Reliability is better than any new McLaren has offered since '98, and testing performances have been solid, and improving. Kimi Raikkonen clearly does not need too much time in the car to get the hang of it, whilst David Coulthard is in good form, and already looking for more from the car in all departments. even though the engine is a good step forward, the chassis works well, and the car is faster than last year.
Similarly, Williams are making solid progress with their car. Initial testing showed it performing very nicely, and about on a par with last year's car. However, it soon became apparent that the performance was setup neutral: it was difficult to get from "generally well balanced" to "perfectly balanced," as each change to bring one aspect into focus drove something else out. Not quite what the doctor ordered, and frustrating for the drivers, but not something that a team of Williams calibre would take long to sort out. Indeed, judging by the times in Valencia, it's clear that things are pretty much back on track for the Grove outfit.
Much has been made of the tyre situation for the coming season. Many of the Michelin runners' best times so far have been set on experimental rubber, which is always a misleading indicator. As can be expected, most of the best performers for absolute lap times are not much use over a racing distance. Furthermore, at least one route under exploration has been withdrawn in expectation of the FIA banning it as "not in the spirit of the rules," as performance came from building the grooves asymmetrically.
Eddie Irvine has been widely quoted for saying that if Ferrari are in trouble this year, it will be down to running on the wrong rubber - and he believes they are. McLaren certainly agree, and think that Michelin is the way to go. After Coulthard first ran on the new rubber, he remarked on the narrow performance gap against the Bridgestone offering at the end of 2002, and there is little on show to the outside world that indicates either will gain a significant advantage for any period the season. Then again, it is no accident the work that McLaren's design team are putting into evolving their suspension: Michelin is planning a very aggressive program for the coming year.
Against that, Bridgestone's task has arguably become easier than last year's: they have only to fulfil the needs of one major player this year, and not worry about being pulled two ways. Some might argue that this is what was happening before, but the effort that went into McLaren was certainly not insubstantial. Removing that distraction and focussing on the needs of Ferrari alone will be a welcome relief.

Counting the Cost
The fate of Prost is of huge concern to Formula One, of course, and not just because the team owners don't like to see one of their number being used to remind them of their mortality. The impact is far reaching for a number of very practical, and from the team's perspective, personal, reasons.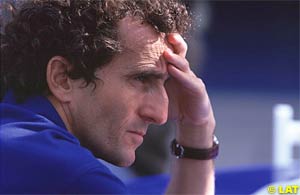 For instance, that extra spot on the grid, whilst it is unfilled, ensures that anyone wanting to get in to the sport can do so by paying Bernie a few millions - which they largely get back when they go racing. So, there is little incentive to buy in to, or take over, any existing team. Clearly, this lowers the worth of all the teams, and that it not a good thing at all.
The bad news doesn't stop there. For marketing purposes, one of the biggest claims for Formula One is that it represents the top notch in a glamorous market. Associating with an F1 team is an attempt to align a company with the qualities of that team, and the sport - high performance, winning attitude, professional approach, the works. Going bust is clearly not on the agenda, and whilst no-one believes for an instant that Ferrari are going the same way, all the bottom half of the order take an immediate hit on credibility until the story blows over. And it does not help that this time of year is when those who are tightest on budget - and suffer most for falling short - need to be pulling in new blood.
Claims from the front runners that a break-away series would probably have prevented the Prost situation are not exaggerating. The dissolution of a team would have prevented, if only because it would be more cost effective for the other players to keep them afloat, if not truly competitive, than for them to take the financial hit from the team going under.
Then again, the man who made that claim had already taken Prost's substantial deposit for their 2002 engines: only Prost will know what difference a fit of generosity could have made to the French team if, instead of taking the money up front, the payments had delayed and made on delivery instead. Of course, after following that plan, had things still gone pear shaped for Prost, Ferrari would be facing nearly a four percent hole in their budget, and that just doesn't make sound business sense, does it.
---
© 1995-2005 Kaizar.Com, Inc. . This service is provided under the Atlas F1
terms and conditions
.
Please
Contact Us
for permission to republish this or any other material from Atlas F1.