---
Monaco Facts, Stats and Memoirs
---
By Marcel Schot, Netherlands
Atlas F1 Magazine Writer
Pole position is important at Monaco, they say, but how many times have the pole-sitter actually won the race? What happened in Monte Carlo at the Grand Prix exactly 10 years ago? And how did the current drivers fair there in previous years? Marcel Schot brings the answers and more anecdotes on the Monaco Grand Prix

Ten years ago, in the 1992 season, the Monaco Grand Prix was the first race of the season that Nigel Mansell didn't win. In a heroic fight, Ayrton Senna won the race by the skin of his teeth. Qualifying had seen complete domination by Mansell, who put his Williams on pole with a time eight tenths quicker than his teammate Riccardo Patrese and 1.1 seconds faster than Ayrton Senna, who had been on pole in Monaco the previous four years.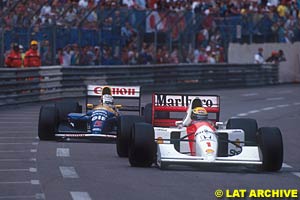 At the start of the race, Mansell held onto his lead, while Senna moved into second ahead of Patrese. Slowly the Briton opened up a gap, while Senna led a train of cars behind him. After about six laps, Mansell really stepped on it and after 25 laps he was 18 seconds ahead of Senna. After that, Senna was able to limit the damage, but the gap was large. However, with less than ten laps to go, Mansell limped out of the tunnel on three wheels after having a puncture.
The Williams driver made it back to the pits, but his lead disappeared like snow in the sun. Senna took the lead and when both cars crossed the line with six laps to go, the Brazilian was five seconds ahead. However, the Williams was just too dominant and in the space of two laps Mansell closed the gap. The four laps that followed were truly a nailbiting affair, with Mansell trying time and time again to squeeze past the McLaren and Senna countering every single attack and making himself as wide as possible. Even when the two came out of the final corner, it was unclear who would take the victory.
When the flag dropped, Senna was ahead by just 0.215 seconds. In parc ferme, a completely exhausted Nigel Mansell collapsed. Ayrton Senna helped Mansell back on his feet again after which they joined Prince Rainier for the prize ceremony. Afterwards, Mansell was realistic in his defeat: "After being in total control for seven-eighths of the race, I then had to go well beyond the limit. But that is Monte Carlo... Ayrton was fantastic, he did nothing wrong at all and I have no complaints."
In a way, this marked the beginning of dark times for Williams in Monaco. In the last ten years, only seven of the twenty Williamses reached the finish - none of them winning. Since 1996, only two finished. Jacques Villeneuve scored a fifth place in 1998 and a year later Alex Zanardi finished eight and last, two laps behind.
Many times people speak of how important pole position is in Monte Carlo. When looking at those circuits where twenty or more races have been hosted, we see that Monaco surprisingly ranks only seventh in percentage of wins from pole. Of course, the Monaco Grand Prix has a higher retirement rate than other circuits, because of the ever near guardrails. However, when we filter that out by only looking at the pole-sitters who finished the race, Montecarlo still only ranks fifth.

Circuit            Races  Pole      Pole      Pole      % of finished
                          wins      retired   finished  Poles win
Watkins Glen         20   10 (50%)   7 (35%)  13        77%
Interlagos           20    8 (40%)   8 (40%)  12        75%
Hockenheim           25   12 (48%)   8 (32%)  17        71%
Montreal             23   11 (48%)   6 (26%)  17        65%
Montecarlo           48   18 (38%)  19 (40%)  29        62%
Zandvoort            30   12 (40%)  10 (33%)  20        60%
Silverstone          35   13 (37%)  12 (34%)  22        59%
Nurburgring          31   13 (42%)   7 (23%)  24        54%
Imola                23    7 (30%)   8 (35%)  15        47%
Spa                  36   11 (31%)  12 (33%)  24        46%
Buenos Aires         22    7 (32%)   5 (23%)  17        41%
Monza                51   12 (24%)  23 (45%)  28        39%
Kyalami              20    4 (20%)   7 (35%)  13        31%

Driving at Monaco is a special art, laying emphasis more on car control than on speed. This of course is because of the ever close guardrails, which leave no room for mistakes. Throughout the years quite a few street circuits have been used in Formula One. When we look at who scored the points at those circuits, the talent shows.
The top four drivers combine for 15 World Championships. The following table looks at the scoring of those who raced five or more times on street circuits or are active drivers. Only those circuits that were actually laid out on city streets have been taken into account. These are Monte Carlo, Adelaide, Long Beach, Phoenix, Montjuich, Detroit, Dallas, Las Vegas, Monsanto, Pedralbes and Porto. Although circuits such as Spa, Reims and Pescara made use of public roads, the largest part was driven between cities and not in cities.

Driver               Points  Races  Points/race
Juan Manuel Fangio    36     7          5.14
Jackie Stewart        52     11         4.73
Ayrton Senna          131    28         4.68
Michael Schumacher    59     15         3.93
Stirling Moss         42     11         3.82
Jody Scheckter        46     13         3.54
Alain Prost           115.5  36         3.21
Lorenzo Bandini       16     5          3.20
Bruce McLaren         41     15         2.73
Keke Rosberg          60.5   23         2.63
-------------------------------------------
Olivier Panis         21     8          2.63
Giancarlo Fisichella  13     5          2.60
David Coulthard       18     8          2.25
Eddie Irvine          21     10         2.10
Rubens Barrichello    21     12         1.75
Mika Salo             11     8          1.38
Jacques Villeneuve    5      6          0.83
Heinz-Harald Frentzen 7      9          0.78

Olivier Panis's number of points got a great boost when he managed to win the rain-soaked Monaco Grand Prix of 1996. The first lap of the race already saw no less than five drivers end their GP weekend, while after ten laps the field consisted of merely 12 drivers. After ten laps, Panis only had the Jordan of Martin Brundle and Luca Badoer in the Forti behind him. After that conditions improved, allowing Panis to move further ahead.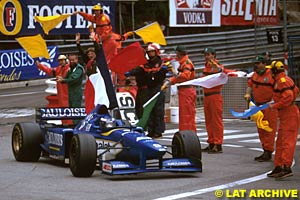 After 25 laps, Panis moved past Johnny Herbert to claim seventh, prior to pitting for slicks. When, a few laps later, everyone had switched to slicks, it became clear that Panis's timing was optimal. The Frenchman was now in fourth place. Five laps later and fourth had become third, when Panis managed to squeeze past Eddie Irvine. Another five laps later and third became second. However, this didn't go without difficulty. Race leader Damon Hill blew his engine, leaving a trail of oil on the track. Panis spun on the oil, but miraculously managed to stay away from the guardrail. This left only Jean Alesi ahead of the Ligier driver.
After 61 laps, Alesi's rear-suspension snapped and Panis got handed the lead. With a few laps to go the rain kicked in again, sending more drivers into the barriers. Within a few laps Jacques Villeneuve, Eddie Irvine, Mika Hakkinen and Mika Salo all ended their race, leaving just four drivers on the track. After two hours the race was finished three laps before full distance and Olivier Panis scored Ligier's first win since Jacques Laffite won the 1981 Canadian Grand Prix. Eventually, this was also Ligier's final victory.
Panis's victory was also the first one of his career. In the 49 times the Monaco Grands Prix hosted a World Championship round, eight drivers scored their first victory there:
1950 Juan Manuel Fangio
1955 Maurice Trintignant
1959 Jack Brabham
1967 Denny Hulme
1972 Jean Pierre Beltoise
1978 Patrick Depailler
1982 Riccardo Patrese
1996 Olivier Panis
The list shows that a career can go either way after a maiden win in Monaco. Fangio, Brabham and Hulme went on to win at least one Championship, while Panis, Depailler, Beltoise and Trintignant scored either one or two wins in their entire careers.
A man with slightly more wins than these drivers is of course Michael Schumacher. This can be a weekend of record equaling for the German. With a win he can equal Ayrton Senna's six wins in Monaco, while a podium finish will see Schumacher score nine consecutive podiums for the second time in his career. The record is currently shared by Jim Clark (1963), Niki Lauda (1975-76), Nelson Piquet (1987) and Michael Schumacher (2000-01). He also needs just one lap in the lead to tie Ayrton Senna for most laps lead in Monaco.
Past Performance by Current Drivers
---
© 1995-2005 Kaizar.Com, Inc. . This service is provided under the Atlas F1
terms and conditions
.
Please
Contact Us
for permission to republish this or any other material from Atlas F1.