Once the unsung hero at Williams, working in the shadow of design guru Adrian Newey, Geoffrey Willis is now firmly where he wants to be - in the spotlight, at BAR, and working his magic to turn the former also-rans into a front-running team.
At the season-opening Australian Grand Prix, where the new BAR-005 - his first creation for the team - was finally put to the test, it proved that he has the potential to become the next drawing board wizard - and that BAR Honda now has a very real opportunity to rise to new heights.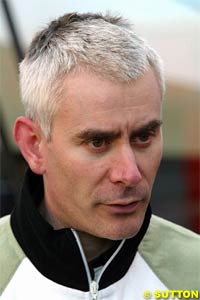 When rumours began in 2001 that Willis had been approached by BAR, he initially denied everything. But even then, when pressed harder by Atlas F1, he effectively gave the game away by enthusiastically admitting he would love to live in the limelight. That is what he thrives on.
Having worked under not one but two big names at Williams - with Patrick Head claiming the technical director title and Newey claiming the plaudits for the aerodynamics of the car - Willis, a virtual unknown at the time, believed he deserved a little more credit from the outside world.
His move, at a time when Williams appeared to be enjoying a resurgence and BAR Honda continued to wallow in self-criticism of their general mediocrity, was seen as a gamble by many. But for Willis it was the perfect get-out clause - and one year down the line it seems to have worked.
Willis has taken a scythe to the old design team at BAR after very publicly airing his views with suggestions that no-one there had a clue what they were doing when he arrived early last year and claims that the 2002 car used "little to no" modern Formula One technology.
One year on, he has re-organised and re-structured the operation, using his knowledge from the set-up at Williams, and totally re-designed the car into a machine which received an astonished gasp of appreciation from the press corps when it was revealed in the centre of Barcelona two months ago.
Things are now moving in the right direction. Staff at the impressive factory, based on the outskirts of Brackley in Northamptonshire, have never been happier and the confidence of the team is at an all-time high. They finally believe they really are going places. And they have every reason to hold that belief.
Willis, 43, has been schooled by the best right from the day he set foot in Formula One - because he has followed in the highly-rated Newey's footsteps for much of his journey up the ladder of success. It is no wonder, then, that he is tipped to turn BAR around.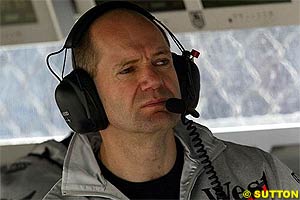 A Cambridge graduate and a doctor in Hydrodynamics, Willis finally got his Formula One break with Leyton House after working on the development of an America's Cup yacht when Newey, who had turned the low-budget outfit into an impressive contender within three years, moved to Williams.
But as Newey began his rapid rise to stardom he made sure he kept the best beneath him - and he dragged Willis across to Williams to work on computational fluid dynamics, a black art which had never been seen in Formula One until his arrival.
When Newey moved to McLaren in 1997, however, Willis did not follow. He wanted to break out and be his own man, and he hoped he could do that at Williams when the team made him chief aerodynamicist alongside chassis designer Gavin Fisher and tipped their "dream double act" to continue Newey's good work.
But he soon discovered that, working under Head's powerful and well-recognised name, he would never forge his career all the way to the top if he stayed with Williams. He knew he needed to move further into the spotlight and BAR gave him the perfect opportunity.
His first new car for BAR is a sleek machine which has so far proven to be not only reliable but fast. In Australia, if it were not for an embarrassing pitstop error that saw both cars come in on the same lap, it could possibly have finished in the top six. And that, to Willis, proves the potential for success is there.
He says the new car is "a world away" from the old machine and defined one significant factor, weight reduction, as its biggest improvement. He concentrated on that area during the entire design process and has now admitted that it is that which is chiefly responsible for the gigantic leap forward.
"We were able to reduce the weight so we could increase the amount of ballast on this year's car compared to the old one," Willis explains. "That increased the weight distribution range on the car and has given us the ability to optimise the car's behaviour for each different scenario."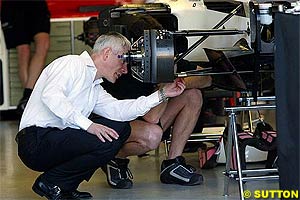 Many observers admit it is too early to say if McLaren can take the fight to Ferrari or if Williams's new FW25 has the potential to win races. But, even at this early stage, very few will deny that BAR will be the surprise package of the season - or that it is Willis who has made that so.
"The car's pace on Friday in Melbourne was very quick and both Jenson [Button] and Jacques [Villeneuve] got to the end in an event that is generally regarded as a very tough test for the cars," says Willis of the Australian race. "I think that proves we are on our way - and we could have scored points if it wasn't for the pitstop.
"Quite honestly I don't really understand it. Jacques confirmed that he would come in but then, and I don't know why, he stayed out. He had some crackling on the radio and thought it was Jock Clear telling him to stay out, apparently."
Once again, Willis's frank statements have opened a window into his mind, and the "apparently" in his final comment leads to an element of doubt over the real reasons behind the mistake - even if the truth about "that" event is likely never to be told.
Still, BAR have made sure that if it was a communication problem then it will not happen again by designing and testing a new radio system in an instant, ready for introduction in this weekend's Malaysian Grand Prix. And it is reaction like that which shows their desire to succeed.
Willis admits, however, that the team's on-the-spot reaction in Australia was far from perfect and he suggests that their failure in Melbourne proves he and his team have some way to go before they can match Ferrari's strategy genius Ross Brawn on the battle for supremacy on the pit wall.
"With hindsight you'd say we made the wrong call," Willis admits. "We started on wets like every Bridgestone runner except Jordan but we should have started on drys. We could have changed on lap one but the drivers were in control and they chose to wait."
Maybe, then, Willis echoes the apparent failing of his former boss Newey on the strategy front. It is something he must work on with his team if BAR is to rise up the field consistently this season. But, like the rest of the requirements since he arrived at the team, it is not something that he will shirk away from.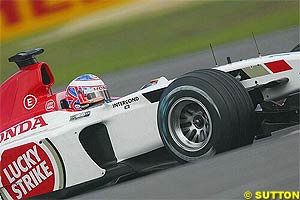 He has already got to grips with media interviews - and that, perhaps, is the only place where there are topics he will steer clear of. One, quite understandably, is over discussions of the much hyped "driver war" between Villeneuve and Button.
When asked about the pairing, he sticks to what he knows best, and gives a thoroughly technical answer. "The set-ups between Jacques and Jenson differ slightly," he says. "But they generally give similar tyre feedback. This is obviously re-assuring for determining the correct tyre choice."
Not what we wanted to hear, sure. But Willis is there to make the car go as fast as possible, not to dabble in politics. Driver relationships are placed firmly at the door of team boss David Richards - who is understood to be planning a clear-the-air discussion between the pair in Malaysia - not Willis's.
Meanwhile, Willis is free to concentrate on other crucial relationships that are just as vital to the team's success - most importantly those between the very British BAR team and their high-profile Japanese partners Honda and Bridgestone.
The link with Honda is already strong and has become even closer this year, now that the former champion engine builder has ditched their other team, Jordan, and can concentrate on working with one outfit, BAR, on one goal - winning the World Championship.
But while co-design on engine and car is important, Willis has acknowledged that even more crucial at this current time in Formula One history is the combination of car and tyre. That is something he has worked hard on since his arrival and it is already bearing fruits.
"Teams have different design philosophies and may therefore require different tyre characteristics to enable them to get the best out of their cars," explains Willis. "The possibility of team-specific tyres enables us to run a tyre that helps us optimise our entire package."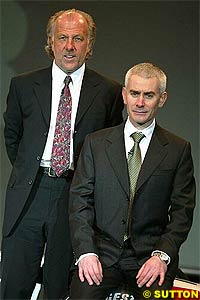 Bridgestone were seen last year as virtually exclusive partners to Ferrari, understandably designing their tyres to suit the World Champions' car and giving their other partners less, say, in their season-long development. Now, however, with the rule makers allowing bespoke tyres, things are different.
"Because of that, it was very important to continue our relationship with Bridgestone," Willis adds. "Since Michelin re-entered the Championship they have always managed to stay on top and they have an ability to quickly react to new challenges.
"We want to enhance our relationship so we have increased our commitment to technical co-operation with them this year and we have engineers from Bridgestone, Honda and BAR included in a working group that meets regularly to discuss developments."
And so far, you have to say things are moving at a pace. When Button claimed he could win the Championship with BAR during his unveiling as one of their 2003 drivers in the middle of last year, there was almost stifled laughter. How things have changed.
If the team finish eighth in the Championship this year there will be a genuine disappointment from all concerned. But, then, thanks mainly to Willis, that currently looks far from likely.
"We were very pleased with the performance of the car in Australia and it is an excellent reflection on the team's potential," says Willis. "It was confirmed that we have a competitive car and from now the only way is up."