---
Giancarlo Fisichella: Through the Visor
---
By Giancarlo Fisichella, Italy
Atlas F1 Special Columnist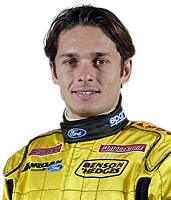 The Brazilian Grand Prix and the following week proved to be an emotional roller-coaster for Giancarlo Fisichella. Just when he thought he had finally scored his maiden Formula One victory, the race directors decided he had not. Five days after the race had ended he was declared the winner again. Find out about his emotions, the celebrations and a lot more, all through Fisichella's visor...

Hi to all my friends at Altas F1! Right now I am feeling on top of the world!
At last I really am a Grand Prix winner! It is the most fantastic feeling and I am very proud to be the first Italian to win a Grand Prix since Riccardo Patrese won eleven years ago. It is not only good for me and Jordan Ford but also it is very good for Italy and very good for Formula One.
For sure my first Grand Prix victory will go down in history - not only for the extraordinary circumstances surrounding the race, but also the extraordinary developments after the race. From the moment I believed I had won the Brazilian Grand Prix, to losing it a few moments later and then to be reinstated as the winner last Friday, my emotions have been on the wildest roller-coaster ride that you could ever imagine. I have felt a mixture of intoxicating exhilaration to the deepest disappointment.
Well, of course the biggest moment was a couple of minutes just after the race when I thought I was first. It was fantastic! I genuinely believed that I had won my first Grand Prix! Even though the feelings were short-lived, it was one of the best moments in my life. I felt as though I was in paradise. I was so happy for the team as well because a Grand Prix victory is always important but the Brazilian Grand Prix was particularly special to Jordan Grand Prix as it was their 200th while it was Ford's first win since returning to the sport. So I was also feeling a great sense of pride. At last I would hear my national anthem being played while I was on the top step of the podium. Fantastic!
Then the bad news hit me like a flying missile - zap between my eyes. I was no longer number one. Obviously first of all I felt very bad, really low when somebody told me that I had finished second, I was so upset you cannot imagine. Suddenly the euphoria I had previously felt evaporated into a deep feeling of sadness. At that moment, I felt there was a great void in my life; it was like my worst nightmare, but unfortunately it was reality and, I just had to accept the fact that suddenly I was second. It was a very tough moment - but it had also been a very difficult race and I had not expected to be on the podium starting from eighth on the grid. So I resolved to accept the situation as best I could. For sure it was still a great result for me and for Jordan Ford, especially good to get our first points.
Then a couple of days later, my engineer called me to say that there was evidence to show that we were the rightful winners and that the FIA was investigating the evidence. Well, although deep down I honestly believed I was the winner, I didn't want to think too much about it until the FIA had issued a statement. Eddie Jordan attended the FIA meeting on Friday in Paris, as I was already committed to attending a convention in Viareggio for Remax, one of our sponsors on the same day.
As the media interest had been incredible since the FIA's announcement (on Wednesday) that they were investigating new evidence, the atmosphere at the convention was really charged. It was hectic with interview requests coming in from all over the world and television cameras recording every moment. I remember looking at my watch when my manager, Enrico Zanarini, handed me the phone, it was 12:27. Eddie Jordan's voice sounded fantastic as he gave me the great news that I had wanted to hear. Confirmation by the FIA that I was the winner of the Brazilian Grand Prix. I caught sight of myself on one of the large TV screens, punching the air as Eddie gave me the news. It was a very special moment, not the same as Sunday (race day), those first few minutes were unforgettable and, they will always be so. As for any bad memories, they have been wiped out.
Although all along in my heart I knew I was the winner, until I had that confirmation I did not dare to believe it. We all knew it and everyone has been very supportive and very sporting and I would like to thank Jean Todt and everyone at Ferrari, who sent me a fax congratulating me on my victory. Also I would like to thank Michael (Schumacher) for his congratulations and generous words about my race. I also read a very sporting statement by Ron Dennis who was very honourable towards my victory and Kimi Raikkonen offering his congratulations too. In fact, many of the drivers have been very sporting especially my good friend Mark Webber. It is great to have so much support from within the sport as well as from all my fans around the world. It reminds me of another fantastic moment earlier this year when I was presented with a Bernie Award and you all know the reason why (the first Drivers' Driver Award ever to be presented). That was a big, big surprise and it still means a great deal to me.
* * *
I am sure you can imagine the celebrations and atmosphere at the convention afterwards and after dealing with the most urgent interviews I made my way back to Rome. Later that night, Luna and I celebrated with about thirty to thirty-five of some of our friends at a discotheque. What a fantastic celebration we made. Fortunately I did not feel too hung-over the next day - seriously I was feeling really great which was good because my manager had invited the Italian press to join me for a lunch. After all, this was an historic moment not only for me, but for Italy and for the sport. So the least I could do was to make myself available to the press. The reaction was fantastic and the next day I was featured on the front page of every newspaper (in Italy).
It must be the first time that a Grand Prix winner has not been awarded victory until five days afterwards and, without taking the top step of the podium. One of the TV channels I was interviewed on during the weekend made a look-alike podium for me to stand on! It was all good fun. We will celebrate the podium on Friday before the race at Imola. We are going to do a podium with Fernando Alonso and Kimi so it is going to be all right. I don't know how interesting it will be, but it will be good for me! It is my home Grand Prix and I'm very excited. I can't tell you how much of a charge this has given me and the team. I feel very, very confident and extremely happy about the next race which is my home Grand Prix. There is always a fantastic atmosphere there with the thousands of tifosi but this time when I arrive at the circuit I am sure that I will get a great reception as the latest Grand Prix winner. A great result really gives everyone a big boost and I know my team are working hard to find some improvements with the car for me. Sure I am also confident but realistically we will be looking to qualify in the top ten and then let us see what happens in the race. For sure I will be looking to win more points for my team.
* * *
Looking back over the race I think I drove a good race, the car was good, the engine was good but obviously it was very difficult running on intermediate tyres with so much water on the track. We made a perfect strategy, deciding to alter it during the first safety car period and so I came in for an early pitstop and take on a heavy fuel load. That was the most difficult part of the race for me because the car was very, very heavy and it was very, very difficult in the braking areas and corners. Turn 3 was definitely the worst corner, where there was a river running across the track causing the car to aquaplane. So I preferred to maybe lose a tenth which I felt was the best thing to do and keep the car on the track.
I was very satisfied with the way I had driven in the race, I felt I had done a good job because the conditions were so difficult and I had to be very careful running on intermediate tyres with so much water on the track. My team did a fantastic job and I would like to thank all of them for their efforts. I am just so pleased I could reward them with ten Championship points. Of course I won my first Formula Three race in the wet, my first pole position was in the wet and now I have won my first Grand Prix in the wet. Yes, I have always been very confident in the wet and I think I drive very well in these conditions. So perhaps we will have a few more wet races before the season ends and then I can win some more podiums and points.
Despite some of the chaotic accidents, I think we were all very fortunate not to have anyone badly injured in Brazil. At one stage in the race it seemed as though every lap there was some accident happening with debris littered across the track. I was just very relieved to hear that Fernando Alonso was OK after his heavy impact, also my teammate Ralph (Firman) and Mark (Webber), who until his heavy accident was having a good race. Michael (Schumacher) was also lucky to escape injury, when his Ferrari skidded alarmingly close to the tractor. Hopefully he will be on good form again later today when we line-up in the Grand Prix drivers' team for the annual charity football match in San Marino. At least I can be thankful that Formula One is not like football. In Formula One when the replays are run and a mistake is identified the results are changed accordingly and I am very happy with my first Grand Prix win!
Ciao a tutti!




Giancarlo Fisichella's column is written exclusively for Atlas F1 by Fisichella himself, with the assistance of friend and freelance journalist Georgie Shaw.
Fisichella's official website can be found at http://www.giancarlofisichella.it.

---
© 1995-2005 Kaizar.Com, Inc. . This service is provided under the Atlas F1
terms and conditions
.
Please
Contact Us
for permission to republish this or any other material from Atlas F1.