It is four o'clock on Saturday afternoon at Interlagos. Qualifying for the Brazilian Grand Prix ended a couple of hours ago, and Hanspeter Brack, Sauber's head of communications, assures me that Peter Sauber will be along to keep our appointment. I am sceptical: nine of the ten team bosses have been stuck in a long meeting with Formula One's commercial rights owner Bernie Ecclestone, so what chance of the Swiss team owner keeping a date with Atlas F1?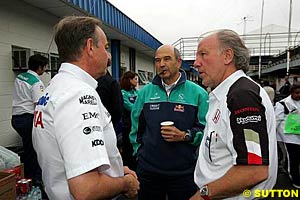 A few moments later, Sauber strolls into his team's paddock base - a three-roomed complex about the size of a double passenger car garage - grabs two water bottles from the fridge, offers me one and sits across from me, looking relaxed. Every movement is natural, unstressed, that I wonder whether Sauber really has been tied up with eight fellow bosses and Ecclestone, formulating the Cost Saving Initiative that would put the entire paddock at odds with Sauber's engine partners Ferrari. At that point in time, Sauber's signature was missing on the crucial document.
"We have been discussing how to limit testing, how to control tyres, how to make engines last 2-3 races," Sauber explained at that point. "There are many alternatives to save money and I think it is important to do things to save, but the important thing is to think things through. I think the past has shown many times that we have taken hasty decisions."
Some forty minutes later, Sauber would meet privately with Ferrari's sporting director, Jean Todt. One can only guess what he told Todt, and how the Frenchman responded. But coming out of that meeting, Sauber went back to Ecclestone and the eight team owners and requested a change in the wording of the document before he signs.
The original draft stipulated testing will be reduced to ten days during the season, with four hours of testing on the Friday ahead of every Grand Prix. Sauber asked that the Friday sessions would be deemed a practice session, not a testing session. The meaning of this is that all restrictions relating to a Grand Prix weekend - most crucially the engine regulation that allows only one engine unit for two full race weekends, as well as the limitation on number of tyre sets per car - will apply to these four hours on Friday as well.
In other words, if front-running teams thought they were trading 38 days of in-season testing for 19 free-for-all testing sessions - where the likes of Honda or BMW or Mercedes could continue testing their units - in fact they agreed to nothing more than a longer practice session on Friday that, in all likelihood, would render the Saturday practice irrelevant (unless there is a drastic weather change).
If this year is anything to go by, teams would still want to preserve the engine and tyres for qualifying and the race, and while on Friday they have to select their tyre compound and will have to run at least a few laps for each car, come Saturday morning don't expect to see the cars out on track. Little wonder, then, that the final agreement reached this week in London was no longer talking of a reduction to only 10 testing days in between Grands Prix, but rather a total of 24 testing days.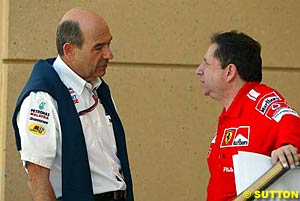 But back in Brazil, two weeks ago, Sauber's signing of the proposal took many by surprise, because his team was always perceived to be in alliance with Ferrari whenever teams voted on regulation issues. Sauber had indeed objected to some of the proposals raised during that weekend - including on matters relating to the engine volume in future years. But once the draft proposal was reworded and concentrated solely on in-season testing, Sauber no longer had a choice but to sign it.
"Peter has been advocating testing cuts for years," explains a source close to the Swiss. "In fact, he even asked for a complete stop of testing during the season, with testing run only on the Friday of the Grand Prix weekends. So had he not signed this proposal, he would have lost his credibility completely."
Sauber himself admits the initiative would do little to cut down the costs of his team - which he estimates at $1,000 (USD) for every kilometre of testing. In 2004, since March 1st, Sauber used 22 testing days (23 car days) and ran a total of 8,763 Kms. Using Sauber's estimate, this means testing alone cost the Swiss team almost 9 million US dollar. However, given the final agreement of 24 testing days during a season - a total that Sauber has not reached in 2004, when the restriction was 48 days (or 96 car days) - then obviously Sauber's testing costs next season will remain the same.
"It's not possible to solve all the problems at once," Sauber explains. He knows this agreement can only be meaningful if it becomes a first step on the path to actual cost reduction. And he knows reducing costs is not only a matter of his own survival - but also a matter of keeping the manufacturers and sponsors involved in Formula One and providing them good value for their money.
Take the new one-engine-for-two-weekends rule, to be introduced next season, as an example: "it is logical that the fewer engines used, the less the cost," Sauber explains. "But we don't pay for our engines - Petronas does. So, no, Sauber won't be saving money [with the rule change], but Petronas will. And all cost-saving programmes are necessary, regardless of who scores and including the large automakers."
And if anyone in Formula One knows almost all the large automakers from first-hand experience, it's Peter Sauber.
The Last Privateer
Peter Sauber - the last privateer to have entered, and still survive, Formula One - says he got involved in motor racing by "pure coincidence".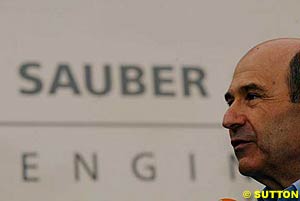 "I qualified in a field that has no connection with motors or cars or racing," the 61-year old, who trained in electrical technology and later became a car dealer, recalls. "I got involved in racing, and just hung in there. The whole background would take too long to sketch, but the vital thing is that I built a VW-powered race car - racing was, still is, banned in Switzerland. Then, in 1970, I decided to build a 2 seater sports racer, with a 997cc Cosworth engine. That one I still raced myself, in 1970. But it was never our goal to win the sports car World Championship or Le Mans; it was just to do something in Switzerland, maybe cross the border to Germany occasionally.
"The next step was racing in the 2 litre Interserie with Herbert Muller. We won that after racing in Belgium, France, and Germany using BMW engines, and then we did Le Mans with the car. Slowly we progressed, step by step. The real turning point came in 1984 when we started co-operating with Mercedes-Benz. Then, from 1988 onwards we were their official team and won Le Mans and two sports car world championships together."
The next step, naturally, was Formula One but, as Sauber says, "it didn't work the way we'd imagined" - and the reasons for this have everything to do with the reasons why Sauber believes today that cost-cutting is not just a matter of saving the 'little' teams, but also about maintaining the participation of car giants in Formula One.
"It was planned that we will be the official team for Mercedes," Sauber explains, "but it would have been very expensive and the company was retrenching at the time, so they decided not to go ahead."
Mercedes' decision not to go into Formula One was made at the end 1991, and surprised many who believed the German car maker was working exactly towards that goal, with several young stars - including one Michael Schumacher - groomed by Mercedes for a Formula One career.
But in 1992, despite Mercedes' decision, Sauber decided he was ready to go into Formula One and could do it alone. He began testing during the off-season at the end of 1992, and when his lap times showed promise, Mercedes had second thoughts. So when Sauber made their debut in 1993 - with drivers J.J. Lehto and Karl Wendlinger, running an Ilmor-made engine badged 'Sauber' and with 65 employees (compared to 300 today) - Mercedes supported the team financially (and the cars carried 'Concept By Mercedes-Benz' on the airboxes). By 1994, Mercedes decided to be the official engine supplier.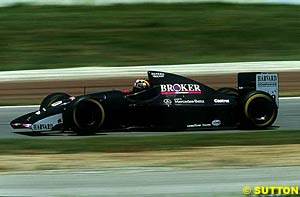 "Mercedes' decision to supply engines in 1994 came in a bit late for us as we could not find sponsors that quickly," Sauber recalls. "For many years we had been totally supported by Mercedes-Benz and could not suddenly, overnight, find these enormous budgets. But they decided to keep their foot in the door, and helped us although they would later go their own way as engine supplier with McLaren, as is general knowledge.
"That is when a long and hard road for us began without any backing from Mercedes. We were Ford's works team for 2 years, then we had the bad or good luck - depending on how you see it - that Jackie Stewart came into Formula One with his own team, so we lost our engine supplier. We understood that, as Stewart was basically Ford-backed, but it was not easy. So we began a relationship which has been very rewarding and successful - we were able to persuade Ferrari to supply their engines to us."
DR: Who actually does the engine build and maintenance?
Sauber: "It has always been Ferrari."
DR: So does Ferrari have a customer division?
Sauber: "No longer. They did, but it is now integrated in their normal racing department since we have the same engine specifications. Ours are known as Petronas engines, not Ferrari. That was the difficult thing, to find a sponsor for the engine supply. Ferrari said they will supply us engines 'but only if it's profitable'. We accepted that, and we're unbelievably fortunate to have found Petronas, who became our engine supplier in addition to being a major sponsor."
In fact, Sauber's partnership with Petronas extends beyond a mere sponsorship deal in the form of an engine-renaming. The Swiss and the Malaysian oil giant founded a joint venture called 'Sauber Petronas Engineering AG' which, Sauber says, "is doing various engineering projects.
"Initially it worked only for Petronas, with the first project being a 2 litre road car engine that was further developed by Yamaha. We also built a Moto GP prototype engines for Petronas. When Moto GP's four-stroke formula was introduced we did some prototype engines, and two motorcycles. We didn't actually build the bikes, but they were built under our direction. This is the brief from Petronas - to do prototype work."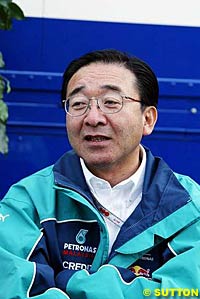 Atlas F1 discovered that Sauber Petronas Engineering AG even built single cylinder experimental engines for Ferrari - although Peter Sauber himself refuses to discuss this at all, probably due to confidentiality agreements in place. Another, more secretive element of the Sauber-Petronas Engineering work is oil, lubrication and fuel research which is done primarily for Petronas, but in fact was also done for Shell, Ferrari's supplier.
DR: As I understand it, Sauber Petronas Engineering AG works closely with Petronas, and trains up Malaysians for the company?
Sauber: "Petronas seconds Malaysian engineers to the company, depending upon specific projects. What is important is that the venture has trained engineers for Petronas; we have built a Formula 3 engine out of that 2 litre production engine and also built V2 experimental engines - basically slices of an F1 engine - and again we trained engineers on that. Petronas sent us shifts of between 15 and 30 engineers, and we have just sent back the third shift."
DR: Speaking of joint ventures, you launched arguably the biggest wind tunnel in Formula One last year, and rumours suggested it was built as a joint venture with Audi. Was that indeed the case?
Sauber: "No, never. It's true that we have been doing seven-post rig work for Audi, on their Le Mans and DTM cars, but never wind tunnel work. Categorically never, simply because our manpower there is too small, and we can't afford to lose capacity. Our wind tunnel exists solely for our Formula One effort. So the matter doesn't revolve around Audi or any other possible client. Of course, we would love to be able to earn from it, to rent it out, but that could come back to bite you."
DR: Still, when the wind tunnel was originally announced, in 2001, there was talk of renting it out, was there not?
Sauber: "No, that was misunderstood. What we said was that it had been designed with customer needs in mind, but there was no talk of renting it out. It was simply that we would not have been able to finance an extremely expensive, dedicated asset which would have zero value if something happened to Sauber for whatever reason. So, it was designed for use in other applications if ever necessary. But that doesn't mean we wish to rent it out, although it can accommodate full-sized passenger cars."
DR: Currently, what headcount does the wind tunnel operate on?
Sauber: "About 30, including model designers and makers, aerodynamicists and CFD (Computational Fluid Dynamics) staff. We had most of those, because we were doing aerodynamic work at other tunnels. We'll ramp up staff as and when budgets allow."
The Best is Yet to Come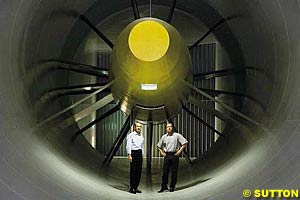 2004 has been the first season, since Sauber entered the sport 11 years ago, that saw the Swiss-based outfit improve towards the end of the season rather than trail off due to lack of development, as often is the case with teams of limited budget. Peter Sauber says this is entirely due to the new wind tunnel.
"It is the tunnel, only the tunnel," he states, looking pleased. "We started working in the tunnel shortly before Imola, in March. The first small parts arrived in time for that race, and the first big ones for Silverstone. By now we regularly get new parts. The tunnel is very complex, and I believe we need a year to understand it, and we have now used it for only eight months. And still we have had performance improvements."
The improvements were evident in the results: since the British Grand Prix at Silverstone, Sauber scored points in all but one race (Germany) and the team arrived in Brazil secured in their Constructors' Championship sixth place. Quite a difference it is to four years ago, when Sauber were forced to withdraw both their cars from the Brazilian Grand Prix after rear wing failure.
"That was not the lowest point of my career, no", Sauber says about that event. "It was a very unpleasant decision, but it was one that had to be taken in light of the failures, so it was taken. The worst point of my career was certainly the accident suffered by Karl Wendlinger at Monaco in 1994; that was far worse."
DR: And the peak of your F1 career?
Sauber: "Probably Heinz-Harald Frentzen's third place at Monza, in 1995. We have been on the podium six times now, more has not been possible. The successes we are experiencing now are a pleasure, though. We are sixth, as we were last year, but if I look at our pitlane neighbours for 2005, namely McLaren, I think we've done very well...
"We're 24 points ahead of Jaguar. We have never scored as many points [as this year], and although we were also sixth last year, we were lucky with both cars at Indianapolis, which also brought a podium for Heinz-Harald. This year we have not had any 'unusual' races and have fought more consistently than ever before, and we were able to improve our performance literally until the last lap of the last race of the season."
DR: But you were fourth in 2001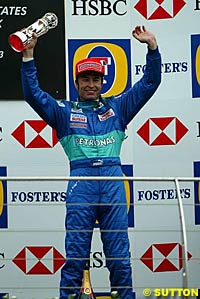 Sauber: "Correct, but it was not only our performance, it was ours relative to others - there were only three top teams at that time. This year, we've got an extremely tight situation. Take BAR: last year we were equals; this year they are second, and have embarrassed McLaren, Williams, and also Renault, all of whom planned to be Champions. This is a new situation, and when I see Williams and McLaren fourth and fifth, I think sixth is not bad."
This newly gained confidence, aided by the wind tunnel and a levelling of the field around Sauber, allowed the team owner to take two further bold steps ahead of next season. On the technical front, Sauber announced last week that the team would be switching from Bridgestone to Michelin tyres next season. Sauber contemplated the move for several months, with Michelin eager to have him join their large fray of partners. But it wasn't until after the Brazilian Grand Prix that Sauber made up his mind, and whether it has anything to do with the testing reduction agreement remains known to him only.
The second bold move was signing for the first time a Formula One World Champion as his driver, with Jacques Villeneuve joining the team on a two-year contract.
It says something about Sauber's ambitions for the next couple of seasons, but it also says something about Sauber's potential rise up the grid that Villeneuve joins them. Villeneuve may have been desperate to return to Formula One and prove his value - after being shunned last year by BAR, who decided not to renew his contract with just a couple of weeks before the end of the season - but the Canadian has made it clear throughout his year-out that he would not return to Formula One unless he could find a competitive drive. Sauber are not going to offer him a second Championship, it seems, but judging by their form this season they could well put Villeneuve on the podium again.
The question is, though, does Villeneuve still have what it takes to push Sauber up the grid? After three disappointing races for Renault at the end of this season, doubts exist as to Villeneuve's form and some even suggest Sauber may have made a mistake.
Sauber himself remains calm, though.
"I warned Jacques that competing in these last three races would be very difficult," he says. "He has not driven for almost a year and the cars have clearly become quicker. Still, he wanted to do it. For us it has been good to be able to evaluate him. For him it has also been good, even if a bit unpleasant. He certainly is not lacking speed, for he is being measured against [Fernando] Alonso, who is recognised as quick and a future World Champion. We know the Renault team is a top team, but we also know that the car is not the easiest to drive. So it would not have been realistic to expect him to be as fast as a future Champion who knows the car and team."
Mr. Clean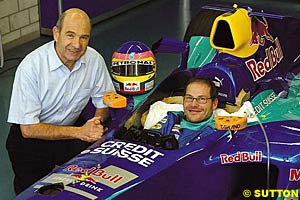 It would be interesting, no doubt, to see Villeneuve, the controversial, flamboyant individualist, and Sauber - literally 'Mr. Clean' - work together next year. It could be a disaster, or it could do miracles to both - Villeneuve reacts well to an environment that treats him respectfully, and Sauber could benefit from a high profile and well known ambassador for his outfit. Based on Sauber's track record, there's little reason to believe the relationship would be anything but pleasant.
DR: There is never a whiff of a scandal surrounding you or your team, how do you manage that?
Sauber laughs. "What can I say? I don't fret over that situation, I can assure you..."
DR: You don't lose sponsors, there are no outbursts by drivers, everything always seems serene at Sauber...
Sauber: "Not always. The relationship with Jean Alesi was extremely tempestuous" - he laughs - "But, when he left [the team] I still presented him with a car, and there are no problems between us now. But when he was driving..." - he bursts laughing again - "The relationship with him is good."
DR: Still, you managed to maintain a very clean image throughout your career; it's impressive
Sauber: "What we've tried to do is build and maintain good relationships with the media, and we've done that for over 35 years. Sure, our relationship with sectors of the English media is a bit strained, I think because they consider it strange that it's possible to run a team out of Switzerland. But, I think there remains a measure of respect, something I'm very pleased about.
"When I think of sponsors, we've been with Red Bull for ten years; Petronas - ten years; Credit Suisse - four years. Credit Suisse are sponsors and partners, because they bought (Red Bull owner) Dietrich Mateschitz shares when he sold them in 2001. But Red Bull stayed as sponsor. I am very proud of these long-standing sponsor relationships."
DR: Where do you stand with Red Bull now?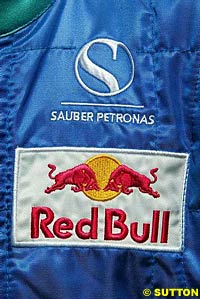 Sauber: "Dietrich has this dream of an All-American team, and if he can realise that dream, it doesn't make commercial sense for him to sponsor us. But, whether and when he'll realise that dream, I really don't know.
"Currently, Formula One is heading for difficult times, which does not surprise me, actually. For years it has been clear, and I have regularly said this, that its cost explosions could not be sustained, and that some of the big teams, works teams, would leave at some stage. It was not feasible to have seven works teams, pushing each other to the limits from a cost point of view in situations where there could be only one winner. So, what has happened to Jaguar is quite normal from that perspective, and we should not be surprised. I believe others will follow..."
DR: With all the talk about cutting costs, you have just agreed to participate in nineteen races next season, possibly saving the French and British Grand Prix but losing more money. Where do you stand on that issue?
Sauber: "I think it is important that we have both British and French Grands Prix. But, I am not at all in favour of 19 races. It is not a good scenario to have so many but we must keep those two. There are other races that could be cancelled; I don't wish to say which, but there are unnecessary ones if one looks at the bigger picture."
DR: How about a two-day Grand Prix format, then? Would that help?
Sauber: "I have no problem with that on condition that we can test at circuits on Fridays. Otherwise I am totally against shortening of weekends, as we travel and fly to venues in any event. Then we are forced to pay hotels for minimum five nights, so it makes no sense to just cut the duration without adding testing."
DR: So how unhealthy is Formula One at present?
Sauber: "I don't want to describe Formula One as critically ill, but it is going through challenging times. We should not forget, though, that Formula One has been through some boom times, so we've seen a bit of levelling off. That's normal and also happened in other sports. The boom was driven by two things: first, [Michael] Schumacher, second Mercedes. Don't forget when Steffi Graf and Boris Becker were on top in tennis, they created massive interest in tennis worldwide although they were German. These two (German factors) led to an explosion of interest in Formula One, and now we have a slight levelling. It is realignment, nothing else."
DR: Are you saying the level of interest is still higher than it would have been without them?
Sauber: "Categorically, yes. Higher, much higher."
DR: Do you think new teams could join Formula One in the future and achieve what you did?
Sauber: "It would be presumptuous of me to state that nobody could come and survive after me. But I'm sure some will try it..."