With what seems an almighty long time since an already confusing Australian opener, the Grand Prix circus is making its way to Brazil for the second race of the year. Confusing Australia was, because although everything appeared to be going to form in the early laps, the race fell apart by the seams, albeit to end in what mast have been the most popular GP result in many years.
Eddie Irvine's long-awaited first race win has led to an emotional overload, with certain quarters already booking him as world champion this year, Hienz Harald Frentzen was an excellent second and Ralf Schumacher third. But the form men all hit trouble - the McLarens exiting from a lofty lead, while Schumacher saw his Aussie demise in an eerie replica of his Japanese nightmare. Michael must have sat awake many a night recently, faced with visions of stalled Ferraris, exploding rear tyres and mute steering wheels.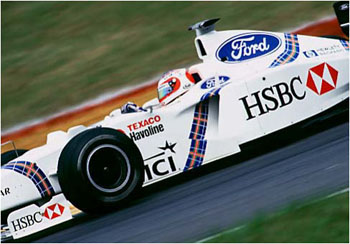 But was McLaren's Aussie advantage a sign of things to come, or was it a fluke? Their pace at a difficult Melbourne was more shocking than at any time last year, something, which if their reliability has returned as their testing since indicates, could see them doddling off to another title. Their pace at Silverstone in the recent testing session matched their better reliability, although it was just off the flyer Giancarlo Fisichella pulled off sometime in February, but some way off last year's pole...
The Ferraris too, have shown well in the seemingly eternal weeks since their bittersweet Melbourne. Leading the championship, they may be on both counts. But it was by no means an emphatic victory. OK, Michael did stuff up his first session, and although his pace at the back of the field in race trim seemed to match the fast-disappearing Silver Arrows at the other end of the pack, his pace through the weekend was markedly off. Again, was McLaren really so far ahead, or did they arse their Aussie setup that weekend that much better than the rest?
But both Schumi and Eddie have been around Mugello and Fiorano quicker than they managed in February before Australia, a feat managed by few who have visited the same circuits they did before the first race. Michael's Fiorano best is also rare in that it's significantly quicker, and very close to last year's benchmark...
But if one looks at comparative testing times, the pace of the Stewarts, and in particular, Rubens Barrichello, must become a major factor at his home GP this weekend. Stewart were very present in Australia, and take away Barrichello's smoky start disaster and his stop-go penalty, and the result would have been very different in that first race. Perhaps Brazil's favourite son will make amends with a dream victory this weekend to re-invigorate that country's faith in a sport they hold so dear.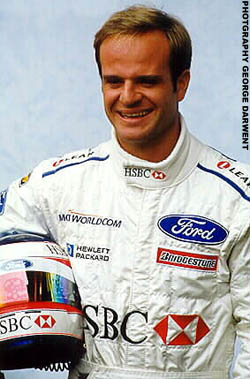 Stewart has swept the board at Barcelona testing this year, the circuit everyone's visited has witnessed Barichello and Herbert dominate testing. Even more significantly, they were the only cars to record quicker times than in February - and almighty close to last year's pole - facts, which compounded with their sheer pace, has to be noted. A betting man wouldn't be a fool to back the Stewart team as a most attractive dark horse this weekend, not to mention for the rest of the year. Only their reliability and a tendency toward organisational disarray now stand in the way of greatness for this new team to repeat its founder's halcyon glory.
The only other team to stand apart from the rest, who in general appear to have done nothing too worthy of mention in recent weeks, are Prost. Like they did after pre-season testing, that equipe has shown well, and it even apears as if Olivier Panis has woken up and Alain may now have two drivers capable of doing the business. But Prost has to overcome even greater in-team problems than Stewart must, to like his Scottish counterpart, repeat his peerless record as a driver in the guise of constructor.
As for the rest, Jordan appears worthy of a possible repetition of their Melbourne result. They topped the charts at Magny Cours, and have new aerodynamic and engine tricks up their sleeve for Brazil. The Mecachrome-Playlife-Supertech gang seem to be slipping rapidly down the time sheets, amid a chorus of "no power". But don't write any of those teams off, as in race trim, BAR, Benetton and Williams all three have the potential not only to be on the podium as Ralf was in Oz, but any of them can win.
Sauber have done nothing extraordinary in the time since Australia, while Arrows have clearly covered many miles of testing. Another Australia-like finish would be a dream for them. Minardi had still to confirm a replacement for Luca Badoer's broken finger, but they too, have tested plenty of late and are gradually improving.
So, there's no easy way to predict anything in Brazil. McLaren must go there as favourites as usual, while Ferrari are surely hoping the McLaren advantage in OZ was a freak one. But if you like an outside bet from time to time, Stewart's prime to pay out big this weekend. After that, expect those odds to start to narrow.

Test Times Summary
(February test times summary can be found at http://www.atlasf1.com/99/aus/preview/lupini.html)