BAR Launches 1999 car with dual livery
©
Terms & Conditions
---
Wednesday January 6th, 1999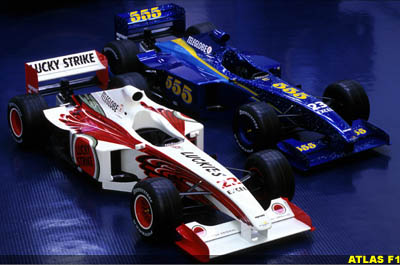 "Pride and a sense of accomplishment" - those were the words used today by Craig Pollock, Managing Director of British American Racing, as his new team made its long-awaited public debut.
The launch of British American Racing, at the teams brand-new, state-of-the-art facility near Brackley, Northamptonshire, was attended by more than 500 media representatives and guests. The wraps came off the team's first-ever Grand Prix challenger, the British American Racing-Supertec 01, and the exciting driver pairing of Ricardo Zonta and Jacques Villeneuve.
British American Racing's spectacular new home is situated in the motor racing industry's equivalent of Silicon Valley, close to Silverstone, site of the annual British Grand Prix. "To give everyone a sense of the achievement here is relatively easy," Pollock told the audience. "A year ago, this site was a muddy field crossed by a meandering stream. Today, it is the newest, best-equipped facility in Grand Prix racing. By combining technology with the dedication of 202 world-class staff, we have the perfect launching pad for British American Racings efforts to win the Formula One World Championship.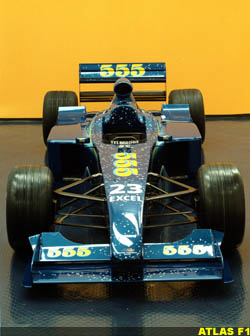 "The three-level complex is a one-stop shop. Everything that is necessary for the team to operate, including a wind-tunnel facility, is available on-site, allowing us to be virtually self-sufficient," explained Pollock.
In true style, British American Racing unveiled its two cars in their uniquely designed dual liveries, reflecting the individuality of each sponsor: the predominantly red and white bulls-eye colour scheme of Lucky Strike and the blue and yellow planets motif of State Express 555.
While dual-branding will lead to increased logistical complexity for British American Racing compared with more conventionally sponsored teams, Tom Moser, Head of Global Sponsorship for British American Tobacco, pointed out that any potential challenges will be small compared with the benefits.
"As a company," explained Moser, "we market our products in a different and innovative way compared with our rivals. It follows that we adopted a similarly unique approach when we decided to enter Formula One with British American Racing. Two of our most important international brands are Lucky Strike and State Express 555, and it seemed perfectly logical to promote each of them via our Formula One programme.
"This approach has generated controversy in Formula One circles, but from our standpoint its difficult to understand why. After all, Formula One teams have in the past run dual-liveried cars. It certainly doesnt detract from the overall show if anything, it enhances it."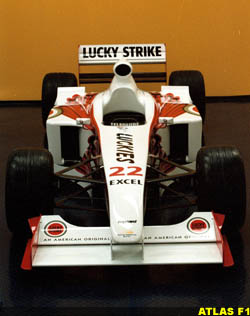 It was revealed at the Brackley launch that Jacques Villeneuve will drive the Lucky Strike-Supertec entry, while teammate, Ricardo Zonta, will be at the wheel of the 555-Supertec machine. The British American Racing-Supertec 01 is the work of a design team led by Malcolm Oastler and overseen by Technical Director, Adrian Reynard.
The Australian-born Oastler, who has been responsible for a string of winning single-seater racing cars during his time with Reynard Racing Cars, knew exactly what he wanted from his first Grand Prix contender. "We started with a clean sheet of paper. Within the current Formula One technical regulations, we aimed to come up with an optimum package that gave us maximum efficiency," he said.
Oastler went on to say: "In my opinion, the British American Racing-Supertec 01 is state-of-the-art in Formula One. We wanted the car to be serviceable, effective and reliable. We also wanted to be able to race it rather than lose time sorting out problems caused by trying to be too clever, and I believe weve achieved that. I'm very enthusiastic about what we've produced and optimistic about our chances."
The new car was born on a computer screen, with the help of the latest 3D Computer Aided Design (CAD) software. Once the concept was finalised, a 50% wind-tunnel model was produced to check and hone the all-important aerodynamic performance. The British American Racing-Supertec 01 is the result of 1500 hours spent in wind tunnels at the Auto Research Centre in Indianapolis and at the University of Southampton.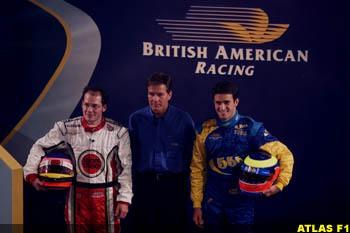 Tyres are arguably the single, most critical element in determining the performance of any modern Formula One car, a point Oastler and his group took into consideration when designing the new car. "We obviously hadn't done any running on the proposed 1999-specification Bridgestone tyres at the point when we had to lock-in the cars key design elements, so we elected to make the chassis easily adjustable in a number of areas," explained Oastler. "We can alter such variables as the number of dampers, roll centres and weight distribution, as well as provide for anti-dive/anti-squat configurations."
Race car designers seldom make rash predictions about the likely performance of a new car, and Malcolm Oastler is no exception. "We'll have a better idea where we stand once we get some serious testing under our belt, however the objective for every race has to be to win. We will be going to the first Grand Prix in Australia with that intention."
---
[ Previous | News Index | Next ]