Stewart launches the SF-3
©
Terms & Conditions
---
Thursday January 7th, 1999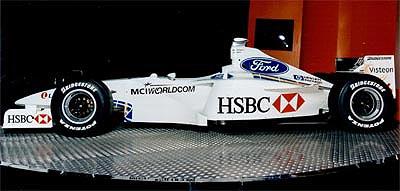 The Stewart team have revealed their 1999 challenger, the SF-3, today. Rubens Barrichello, who continues with the team, and Johnny Herbert, who drove for Sauber last season, are the drivers. Team-boss Jackie Stewart said the team's first win could finally happen this season with some luck and if the preparation is right.
He said: "In the right circumstances, we could win a Grand Prix. We need a bit of luck. We are in a better position to expect that this year than we have ever been before. We made a commitment that the team would not allow itself to get into the position we were in for the first race of the 1998 season in Melbourne when we were ill-prepared. I said then that I will never let it happen again. A lot of what we have learned in our first two years has gone into this car and I'm confident it will serve us well."
One of the main problems the team struggled with was the Ford engines. White smoke too often ended a race prematurely. Now Ford has worked hard to get things right. Stewart stated: "The engine's good, it's smaller, tighter and lighter. We have failed so far to have the reliability we should have had in racing. To have two drivers who know what to do is a very important element in finishing races."
---
[ Previous | News Index | Next ]