The F399 launch - interview with Luca di Montezemolo
©
Terms & Conditions
---
Saturday January 30th, 1999
Luca di Montezemolo, Ferrari's president, this year you presented the F399 in front of the whole team. Why was that?
LdiM: I think this was a very important day. I wanted to present the car with everyone here, the mechanics, the works, the technicians, because this was their day. The drivers' day comes when we run the car.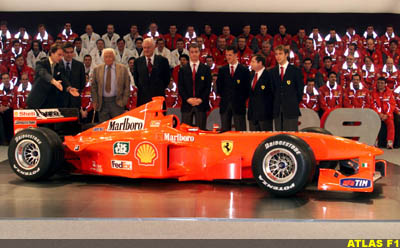 What is the most important thing about the coming season?
LdiM: Our priority is to be competitive from the start of the season. We're totally committed, even more than last year and we will put more in if necessary. Team is stable but it's very motivated and very much prepared to do its best. They're very determined, and they don't want to find themselves in the situation where we are in contention for the championship at the last race, only to lose it.
How do you see the current state of things in Formula One?
LdiM: I have several important points to make on that subject. First of all, we are starting a new collaboration with Bridgestone. We've known them as a tyre supplier for our road cars for many years, so after 15 years with another supplier for the race team, we welcome them as partners in racing as well. We will be the development team for Bridgestone along with McLaren. I also welcome the 25 days of testing that has been agreed and I think this is the right thing to do. But I am concerned that we have to get ourselves prepared for the first race and then there is a gap of five weeks before the second race. I appreciate that this is due to the Argentine Grand Prix not finding a place on the calendar, but it isn't ideal. Personally, I think that 17 is really the maximum number of races that we can manage in a season, or maybe 16, but it's not really possible to do more.
Looking back at one when you joined Ferrari in 1992, how do you see things have changed? Does Ferrari still have one of the biggest budgets, for instance?
LdiM: When I rejoined Ferrari in 1992, I was depressed and worried about the race team's results, and not very enthusiastic about the range of road cars. Since then, we have put our resources into the race team but I'm still not sure that Ferrari has the biggest budget in Formula One. If you put the huge sums that some of the car manufacturers are spending on engines with the budgets of the race teams and their sponsors, I think you will find that Ferrari isn't spending more than some of those teams.
What are your hopes this year?
LdiM: I hope that this is Ferrari's year. In Michael Schumacher, we have the best driver in the world. We can improve this season on last season. Last year was already a good base, but motor racing can be unpredictable...
---
[ Previous | News Index | Next ]