The F399 launch - interview with Eddie Irvine
©
Terms & Conditions
---
Saturday January 30th, 1999
Eddie Irvine, are you confident in the new car?
EI: I hope it's good. I don't know that it is, because I'm not an engineer. I know the boys have done everything they can. I know that McLaren and all the other teams have done the same. If we go to Melbourne and we're quicker than all the others then you pat the guys on the back and say you've done a fantastic job. If we go there and McLaren disappear up the road, then we have to say that we haven't done a good enough job, we'll need to get stuck in and make improvements. But they're confident and I have confidence in the technical team - that's why I stayed here. I would be very surprised if McLaren came out with something a lot better. Maybe it's a little better and we work on this car and make a step forward, but I don't think you're going to see the big advantage that they had last year.
When you look back on 1999, what will it have taken to make you happy?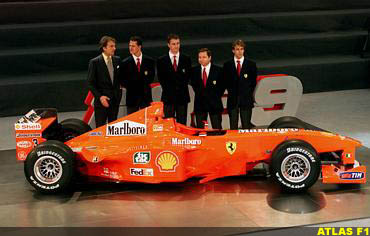 EI: A similar number of podiums. Of course, to better eight or nine podiums isn't easy in Formula One nowadays. Last year was a great success from that aspect, but instead of seconds and thirds, I want first and seconds. That's the only way I can improve. If I can get two victories or podiums - but there's no point in putting numbers on what I can achieve. As I long as I'm competitive at every race that will good.
What do you want from this year's car that you didn't have from last year's?
EI: To run with the McLarens, really. Suzuka was the only place that I could run with them. I just want to race with them. And that's just performance: it's everything, aero performance, weight performance, engine performance, my performance, it's strategy. There was one thing that wasn't very good which we realised when we went over to Bridgestones but we sorted that out quite easily.
And your back?
EI: We have that sussed now. I think it will make a big difference to my season this year. I didn't realise how much problem it was causing me last year. I sort of just accepted it after half the season. We thought we'd have one last crack at it before Suzuka, and we found out how to get around it.
What about the extra grooves in the tyres?
EI: It's totally the wrong way to go. It's the easy way to go, but it's the wrong way. It makes overtaking more difficult. You do your overtaking manoeuvre in the last bit of the corner, and by the time you get there, you've lost all your aerodynamics, all your grip. It makes overtaking much more risky. OK, you try to outbrake someone, you try to take two meters off them basically. By the time you get to the corner, if you've left it too late, it turns into a big mistake because the grip is dropping off much faster than it did before, because you've no mechanical grip left. There's no tyre on the road.
Does that mean there will be more offs this year?
EI: No, it will just mean that we'll be slower and there will be less overtaking. And we lock up inside wheels more. But you don't want more overtaking. Loads of overtaking is boring. It's like fishing. You go fishing and you catch a fish every ten minutes and it's boring. But if you sit there all day and you catch a mega fish - and an overtaking manoeuvre now has to be mega, it isn't going to be easy - and you come back with stories that you caught a fish this size(indicates big fish) instead of 55 this size(indicates small fish). Ok, you can't have a fish like Monza the year before last when there wasn't overtaking manouevre the whole race. But that shows you: Monza has the longest straights in the world, and people still can't overtake there. I think we need this device that creates a load of drag, creates a big hole. You can pick up a bit of a tow from it, it slows the car down and it makes sense. But now the Indy cars have it I guess we won't.
What would a first Formula One victory mean to you?
EI: It would probably mean more to other people than to me. I've been in a position to have won races before. But obviously with my situation with Michael where I have to let him through, and do things for him, I haven't had the opportunity to win. As far as I've concerned, I've won races. OK, there's none in the statistics book but I don't care about that. It's a good story for the press.
Is it difficult for you to handle having to play second fiddle to Michael?
EI: It is. It would be difficult for anyone. I didn't come into Formula One to help Michael Schumacher, and no driver does. Everyone is in Formula One for themselves. It's a means to an end. I got out of Jordan because I didn't feel they were going places fast enough and I had the option of Ferrari which got me to the next level. The next level is to be consistently challenging for victories, and that's where I've got to look.
---
[ Previous | News Index | Next ]