Saturday December 4th, 1999
Barrichello settles in well at Ferrari
Following a successful first day with Scuderia Ferrari Marlboro in Fiorano, Wednesday, Rubens Barrichello continued two more days of testing on Thursday on Friday getting to within half a second of the lap record on Thursday when he ran some 89 laps throughout the day. After the test he visited the workshops to meet all the members of the F1 team which included the engine shop which are currently working on a new test bed that will allow the engine to be run with its gearbox attached. Test driver Luca Badoer will continue component testing at Fiorano next week, Barrichello's next test due to take place in Jerez, December 13th-16th. Michael Schumacher has been taking a holiday in Africa since the last race and will probably not test before the new year.
Coulthard heads opening Jerez test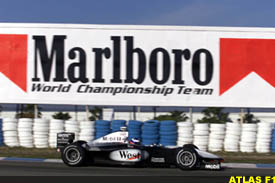 While Ferrari stayed at home for their first test of the year four other teams, McLaren, Prost, Williams and Jordan were testing in Jerez. David Coulthard ran all three days for McLaren setting the fastest time each day with a best on the final day of 1m 24,21 secs running a total of some 151 laps throughout the test. He was joined on Thursday by McLaren's new third driver signing, Olivier Panis who, after earlier engine problems, ran just one timed lap at the end of the day to set the third fastest time of the day at 1m 26,87 secs before improving to 1m 25,37 secs during 82 laps of running on the final day, Friday.
He was very happy with his new mount noting, "everything goes quicker" than he has been used to during his 5 years with Ligier/Prost. "It's not easier or more difficult to drive than what I have been used to, you just have to get used to seeing things differently at this speed."
Prost tests engines and drivers
New Prost drivers Jean Alesi and Nick Heidfeld got to know their cars and each other during their first three days of testing together at Jerez. Alesi concentrated on trying various mechanical set-ups as well as both the EV5 and EV7 versions of the Peugeot engine. "I have gone back to square one and been testing as many set-ups as possible, taking time between the runs to test, analyse and try a wide range of possibilities. The work is essential for me as it is relevant to the conception of the new car. My impatience to begin has calmed down and we have already found a good rhythm in which to work," commented Alesi who was fifth quickest of the week with a best time of 1m 26,37 secs after some 133 laps for the week.
Heidfeld was second fastest with a best time of 1m 25,03 secs on Friday when all the quickest times were set. He spent the first two days testing a new electronic system for next year's car before trying the EV7 engine on Friday with a low fuel load. He tried different set-ups and went for some fast laps in a bid to learn more about the limits of the car.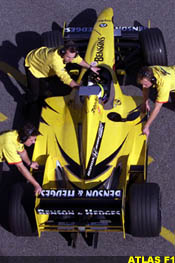 Trulli tests for Jordan
Jarno Trulli was the only driver present for the Jordan team in Jerez, the Italian taking the three days to get to know the car and the team during his first test. Heinz-Harald Frentzen does not plan to test before the new year when the new car will be ready. Trulli worked on reliability and performance testing new components for next year's car completing some 114 laps for the week with fourth best time of 1m 25,53 secs. "I am very happy about my first test with the team and I am impressed with the way they work, especially by using two cars all the time so that I did not lose track time while they worked on one or the other," commented Trulli.
Eddie Jordan dropped in the check on his new driver. "Jarno is doing a good job," he said. "His confidence is increasing daily and I am looking forward to seeing his progress in the Barcelona test next week," he said.
Schumacher gets first taste of BMW power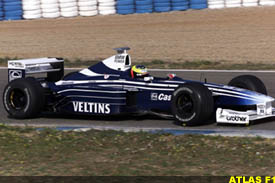 Ralf Schumacher and the Williams team had their first official test with BMW in Jerez, the car running provisional BMW test colours with some of the 2000 partner logos on the car. After a troubled start when an oil pressure light came on after half a lap, Ralf ran a second engine for 17 laps the first day and continued to run it on Thursday until a failure just before the end of the day after 47 laps. A third engine completed more than a race distance (84 laps) in three stages allowing the team and BMW to complete their test schedule for the week. BMW will now analyse all the data in order to improve things for the next test in Barcelona.
"The only way to find out where we stand is to run alongside other teams. The test did fulfil our expectations. We had incidents, but these will give us further important knowledge for our preparation programme for 2000," said BMW Motorsport Director Gerhard Berger. Schumacher was slowest of the six drivers with a best time of 1m 27,34 secs, the German also working on adapting the chassis to the new engine as well as different mapping programmes.
Benetton stay at home
Following the recent departure of chief designer Nick Wirth, the Benetton team are continuing to work flat out on next year's car which should be unveiled and tested early in the new year. There are no plans to test before then.
Sauber prepares for Barcelona
The Sauber team plan to open their test programme at next week's Barcelona test where Mika Salo will drive for the team for the first time. The team will have a revised C18 chassis with new gearbox and rear end and another standard 1999 chassis for him to test.
Arrows run De la Rosa
The Arrows team plan to test at Barcelona next week with De la Rosa testing new parts for the Supertec powered car fitted to one of this year's Arrows V10 cars.
Minardi close to a deal
In what Giancarlo described as being "on the finishing line" for a new team partner for next year, the Minardi team are planning to announce their 2000 programme and engine deal shortly. It is thought likely that he will have a new South American driver to partner Gene who starts testing on December 12th in Valencia before joining other teams in Jerez 14th-16th where Minardi will also try other young drivers for evaluation purposes.
New BAR ready soon
Following an announcement by BAR that Craig Pollock will now concentrate on the business and management side of the team while Adrian Reynard will be in charge of all technically related aspects, there is renewed confidence in a brighter future for the team, including from Jacques Villeneuve who denied rumours of his departure.
"I know there has been a lot of speculation in the Press over recent weeks, but I believe that BAR, having gone through some very difficult times in 1999, now has the management structure to be competitive very quickly. I am very much looking forward to being with the team during the 2000 season," he said.
The new Honda powered BAR 02 is scheduled to run for the first time next week and will take part in the Jerez test on December 14th. It will be run in un-branded livery, its new livery not being made public before the car's official launch on January 24th in London. The car is said to be quite a bit different from last year's car. "When you are in F1 you have to take risks," says Team Manager, Robert Synge. The team is also planning a "hot weather" test in Kyalami next February.
Irvine to test in Jerez
Eddie Irvine will try one of this year's Stewart-Ford cars for the first time in Jerez, meanwhile new test driver, Brazilian Luciano Burti, will run some aerodynamic tests at Lurcy Levis next week.
---