Tuesday December 7th, 1999
Jacques Villeneuve took the new Honda-BAR car for a first test at Silverstone today, completing 35 trouble-free laps.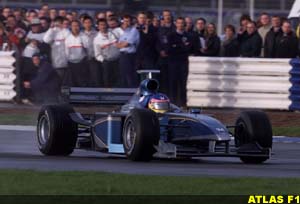 "This was the first time that the engine was mounted in the chassis, so our primary aim was to confirm that all systems were operational," said Honda's F1 research and design project leader Takefumi Hosaka. "In addition to the obvious hardware checkpoints, we also used this opportunity to establish an effective working relationship with British American Racing.
The private test, conducted in cold, damp conditions, was witnessed by a large contingent of British American Racing and Honda personnel, who were invited to attend the first run of the team's 2000 Grand Prix challenger. Intensive pre-season testing of the new car commences next week at the Jerez circuit in southern Spain.
"The shakedown has gone extremely well," said Malcolm Oastler, Technical Director of BAR, "In fact, we couldn't have expected it to go better. It is a testament to all the hard work people have done over the last six months designing and building the car and incorporating everything we've learned this year."
Villeneuve himself also sounded pleased, saying: "I'm very happy. The car was fine today and the engine sounds and feels good. It was difficult to do any sort of speed comparison with the 1999 car because of the slippery track conditions. The engine ran really cleanly and it's clear the engineers have done some good work. It was nice to have everything working perfectly."
---