Wednesday December 8th, 1999
Tyre supplier Bridgestone is set to introduce a new wet-weather tyre for next season. According to a statement by the company, its hydrosimulations on a supercomputer have spawned a new tread pattern for wet-surface performance for Formula One racing. Bridgestone has incorporated that tread pattern in the newly developed WF22 (front) and WF35 (rear) tyres for the 2000 F1 season.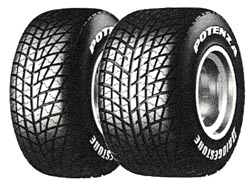 High speeds amplify the difficulty of channeling water away from the interface between the tyre and the road surface to prevent hydroplaning and maintain a reliable grip. Supercomputer simulations at Bridgestone have yielded new insights into the behavior of water under fast-spinning tyres. They have highlighted ways to shape and position the grooves in the tread pattern to displace the water more effectively.
Bridgestone also has used the supercomputer simulations to improve the water-displacing performance of each individual block in the tread pattern. It has done that by adding small, sipe grooves to distribute the water pressure evenly across each block.
The improved tread pattern is among several improvements in wet-surface tires that Bridgestone will bring to the 2000 F1 season. Bridgestone will accompany the new tread pattern with advances in tyre configuration and compound. Altogether, the improvements promise to help ensure safer racing spectacles under all weather conditions.
---