Thursday December 16th, 1999
Johnny Herbert in the Stewart and Rubens Barrichello in the Ferrari finished at the top of today's testing at Jerez, the last day of the last major test of the year.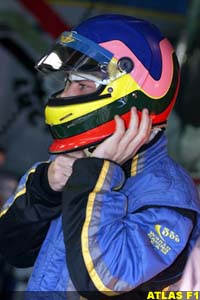 David Coulthard went over two seconds faster than yesterday to set third fastest time, marginally faster than Luciano Burti in the Stewart and just over a second faster than McLaren test driver Olivier Panis.
Mika Salo and Pedro Diniz, sixth and seventh fastest for Sauber continued to put laps on parts destined for the 2000 car. "During three days we worked hard with the new hydraulic differential and improved the system very much. I am convinced that we have done a really good job and the system will work well in next year's car," said Diniz.
Jacques Villeneuve completed BAR's testing at the twisty Spanish circuit. Commenting on the test, he said: "We did some good work these last three days with lots of laps. It felt like a real test should. There were no problems with the car or engine - it all seemed to work well. We didn't work on any special set-ups, but just concentrated on running a lot and getting in some good mileage. We obviously need to have more speed, but that will come very shortly. It was a good first impression and a good sign for the upcoming season."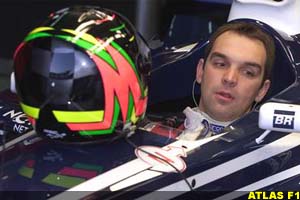 BAR managing director Craig Pollock was also upbeat about the test's results. "Taking into account the shakedown run at Silverstone and this week's Jerez test, it appears the mechanical reliability we lacked during the 1999 season has improved tremendously. Team morale is notably good as a result, and also because of the great chemistry that is developing with the Honda personnel with whom we are working closely," said Pollock.
Jorg Muller tested for Williams, putting more miles on the BMW engine, as well as furthering speculation he may replace Alex Zanardi should Zanardi leave the Williams team.


Pos  Driver       Team                Time    
 1.  Herbert      Stewart-Ford        1:23.097
 2.  Barrichello  Ferrari             1:23.183
 3.  Coulthard    McLaren-Mercedes    1:23.459
 4.  Burti        Stewart-Ford        1:23.577
 5.  Panis        McLaren-Mercedes    1:24.589
 6.  Salo         Sauber-Petronas     1:24.768
 7.  Diniz        Sauber-Petronas     1:25.463
 8.  Villeneuve   BAR-Honda           1:25.767
 9.  Muller       Williams-BMW        1:28.168

Meanwhile, at Barcelona the Arrows and Prost teams tested for the second consecutive day, this time in much drier conditions. Nick Heidfeld in the Prost was again fastest, nearly two seconds faster than Pedro de la Rosa in the Arrows who was close to a second faster than Heidfeld's teammate Jean Alesi. Slowest was Tom Coronel, who was having his first test in a Formula One car and ran on harder tyres than de la Rosa was using.
Gordon Message, the Arrows test team manager commented: "Tom drove sensibly, adapting himself carefully and methodically to his first drive in a F1 car. He completed 39 laps without incident, gradually building his confidence and feels there is still a lot more to come."



Pos  Driver       Team                Time    
 1.  Heidfeld     Prost-Peugeot       1:22.1
 2.  de la Rosa   Arrows-Supertec     1:23.9
 3.  Alesi        Prost-Peugeot       1:24.7
 4.  Coronel      Arrows-Supertec     1:26.3

---