Wednesday February 2nd, 2000

The Sauber Formula One team presented their new car on Wednesday, hoping Finland's Mika Salo will bring some Ferrari magic to them in 2000.
Salo drove as injured former world champion Michael Schumacher's replacement for six races at Ferrari last season, picking up 10 points and helping the Italian team win the constructors' championship.
Sauber, who have a technical cooperation deal with Ferrari, scored just five in total but are hoping for better things when the season starts in Australia on March 12.
The new Sauber C19's V10 engine is based on the one used last season by Ferrari and which proved to be the most reliable on the racetrack over the year.
Sauber said Salo would have equal status in the Swiss-based team to 29-year-old Brazilian Pedro Diniz, who scored three points last season.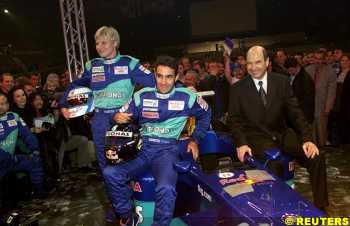 Team boss Peter Sauber said Diniz, starting his second season with the team, would be able to draw on his experience in 2000 while Salo was a team player who had showed with Ferrari that he could handle the pressure.
"I am convinced that together with them, a further improved Sauber Petronas V10 engine and the additions in personnel, we will be successful," he said.
Diniz and Salo were also team mates at the struggling Arrows team for a season in 1998.
Sauber, who have also announced a revised management structure and a new line-up of engineers and technicians, began testing the new car last December.
The team said the C19 was about 10 kg lighter than the 1999 version, with a new aluminium gearbox, improved aerodynamics and a lower centre of gravity for the engine.
---