Sunday March 26th, 2000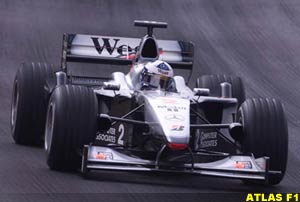 Formula One stewards disqualified the McLaren of Briton David Coulthard, who finished second in Sunday's Brazilian Grand Prix, after it failed a post-race inspection.
"When checking the front bodywork height, it was noticed that the front wing was only 43mm instead of 50mm above the reference plane which is described in article 3.12.1 of the 2000 FIA Formula One technical regulations," the FIA stewards said in an official note.
The decision came five and a half hours after the race ended.
McLaren had one hour to appeal the decision. But until the appeal is heard in a date to be set in the future, Coulthard is officially excluded from the results of the Brazilian Grand Prix.
With Coulthard's disqualification, Benetton's Giancarlo Fisichella moves up to second and Jordan's Heinz-Harald Frentzen to third. British 20-year-old Jenson Button will take the first point of his Formula One career after finishing seventh.

OFFICIAL RACE CLASSIFICATION *


Pos  Driver         Team                
 1.  M.Schumacher   Ferrari             
 2.  Fisichella     Benetton Playlife   
 3.  Frentzen       Jordan Mugen-Honda  
 4.  Trulli         Jordan Mugen-Honda  
 5.  R.Schumacher   Williams BMW        
 6.  Button         Williams BMW        
 7.  Verstappen     Arrows Supertec     
 8.  de la Rosa     Arrows Supertec     
 9.  Zonta          BAR Honda           
10.  Mazzacane      Minardi Fondmetal   

WORLD CHAMPIONSHIP STANDING, ROUND 2 *            

Drivers:                     Constructors:            
 1.  M.Schumacher  20        1.  Ferrari            26
 2.  Fisichella     8        2.  Benetton-Playlife   8
 3.  Barrichello    6        3.  Williams-BMW        7
 =   R.Schumacher   6        =   Jordan              7
 5.  Frentzen       4        5.  BAR-Honda           4
 6.  Villeneuve     3                                 
 =   Trulli         3                                 
 8   Button         1                                 
 =   Zonta          1                                 

* Pending McLaren's appeal result

---