Coulthard Injured in Plane Crash, Two Killed
Tuesday May 2nd, 2000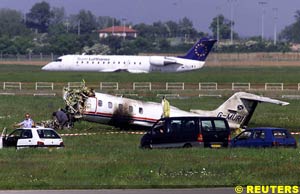 Briton David Coulthard suffered slight injuries on Tuesday in a plane crash in central France in which two people were killed, an airport spokesman said. Coulthard was travelling in a private Lear Jet which crashed and burst into flames upon making an emergency landing at Lyon's Satolas airport after developing engine trouble, he said.
The pilot and co-pilot were killed, the sources said.
The three passengers -- Coulthard, his fiancee and his bodyguard -- were given first aid by airport emergency services and taken to Lyon's main Edouard Herriot hospital.
"They suffered more fear than harm," the spokesman said.
A hospital spokeswoman said Coulthard's condition was "not worrying at all." He was undergoing tests and would remain in hospital overnight. A spokesman for Coulthard also added that, "He may have some bruises, but I've spoken to him and he seems alright."
The plane had taken off from Britain and was heading for Nice on the French Riviera when the pilot requested an emergency landing at Lyon because of engine trouble, airport sources said.
---