McLaren: Coulthard will Race in Spain
Tuesday May 2nd, 2000
The McLaren Formula One team said on Tuesday they expected David Coulthard would be driving at the Spanish Grand Prix this weekend despite suffering minor injuries in an air crash that killed two people.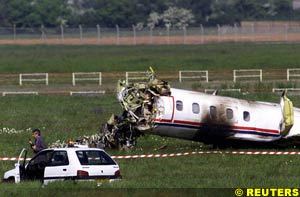 McLaren spokeswoman Anna Guerrier said: "All we know is that he is fine. He was taken as a precaution to hospital. He is expected to drive this weekend."
Coulthard, his fiancee Heidi Winchelski and another passenger walked away unscathed after the Lear Jet they were travelling in crash-landed at Lyon-Satolas airport, killing the pilot and co-pilot.
Jacques Balliston, airport general manager, said: "Coulthard, his fiancee and a third passenger climbed uninjured from the plane. It seemed to be the shock of the impact that killed the pilot and the co-pilot.
"When the jet tried to land, unfortunately the pilot and co-pilot could not keep the aircraft on line.
"The impact was very hard and it was that which killed them."
Eye-witnesses said that the plane, which was severely damaged at the front, also caught fire on impact, but Balliston said no one was injured in the blaze and the three passengers were able to climb out unaided.
They were taken to Lyon's main hospital where a spokesman said Coulthard's condition was "not worrying at all". The Scot was undergoing tests and would remain in hospital overnight.
The plane had taken off from Britain and was heading for Nice when the pilot requested an emergency landing because of engine trouble, airport sources said.
---