Today's Selected Quotes - Spanish GP
Friday May 5th, 2000
Ferrari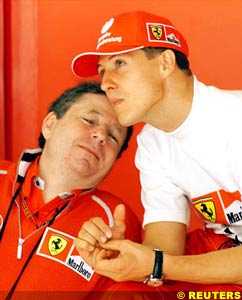 Michael Schumacher: "Obviously most of the cars did not do many laps as we have tested many things here last week. Your tyres are limited and so it is important to save them for the important moments in qualifying and the race. We concentrated on fine tuning the set-up, working on question marks raised after the test and it went well. This session is not as exciting as when you come to a track where you have not tested. It is more relaxed. Generally we are well prepared."
Rubens Barrichello: "Today's track conditions were different to those experienced here last week, not just because it is warmer but also because of the higher humidity. For that reason the lap times are slower. We tried various settings to tune the car for these conditions and that meant we were able to try some things we were not able to do last week. The times do not mean much as the quick time comes in the opening laps on new tyres. If you make a mistake at that point then you have no chance to go quicker. The important thing is to improve the car's handling and I am happy with what we have achieved today."
Jean Todt: "As expected, we did little running today, because, along with almost all the other teams, we tested here last week. That meant we were able to acquire a good amount of information as to the best set-up to adopt on our cars. Today, the F1-2000 confirmed its good potential on this track. I think we can be on the pace all weekend and already tomorrow, we will be fighting for front row positions."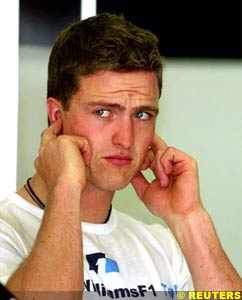 Williams
Ralf Schumacher: "So far I am happy with the car, even if we have still too much oversteer - especially in the fast corners - but I assume it's because of today's high temperature. We have to work on the set-up in order to make the rear of the car a bit more stable."
Jenson Button: "It was good to get down to an averagely good time, considering the time I set in the morning. The car felt much better in the second session and also I was helped by the improved conditions of the track, which was pretty dusty in the morning. We have tried many different things on the set-up for tomorrow when we hope we will get some more good running in."
Patrick Head, technical director: "We have been continuing evaluations from last week's test. The tyre choice is going to be quite difficult and we are trying to put together information to help us make that decision after tomorrow morning's running. Jenson put himself up to a much higher position at the end, when he did go out on a new set of tyres. Now we're trying to do our homework for qualifying and for the race."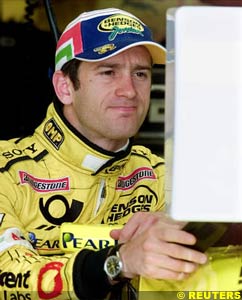 Jordan
Jarno Trulli: "There was no need to complete many laps today as we had a three-day test here last week when we worked on set-up. We also wanted to save tyres as the tyre wear here is quite high, especially on the first day, so we just made a few runs to check things were OK. The car felt good and the balance was similar to last week. I think our race set-up is strong but I still have more work to do on a qualifying set-up, which I will do tomorrow morning."
Heinz-Harald Frentzen: "Today was not like a usual Friday free practice since we have done a lot of testing here so it was not necessary to do much running. I only made one timed lap and was happy with how the car felt."
McLaren
Mika Hakkinen: "The conditions today were very different from last week's test. There was a lack of grip, and as result it was difficult to find the optimum balance of the car. I don't know exactly what caused the slippery track surface, but it might be the temperature. David and me were testing different set-ups and we will wait and see what happens tomorrow."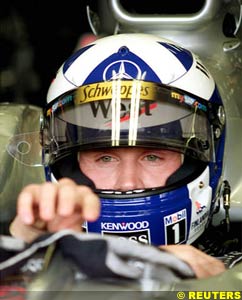 David Coulthard: "The residual bruising from the aircraft accident is not causing me any discomfort in the car and I feel fine. I very much appreciate the media giving me the opportunity to concentrate on this race. During today's two sessions we worked through a few set-ups variations and experienced no problems."
Ron Dennis: "A normal Friday in Barcelona with nothing more than fuel load, ambient temperature and track conditions providing the answer to the time difference between the top cars."
Norbert Haug: "Different fuel loads and softer or harder tyre compounds were used today, so the order will probably change come race day. We will certainly improve our performance."
Sauber
Pedro Diniz: "The track was very dirty, but despite that all of the set-up work we did today paid off. There was a fair degree of degradation in the tyres, probably because of all the grit on the surface, but I still managed to do a lot of laps on my first set. There was then a big, big difference switching to new rubber at the end, when the car felt really good."
Mika Salo: "We spent the day trying different set-ups, and we did all that we needed to do. The car felt fine, but it would be a mistake to try and compare today with the test here last week because the dust on the track made so much difference."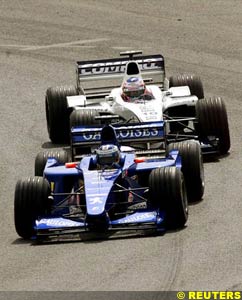 Peter Sauber: "It was a clear disadvantage to go out early today because of the adverse condition of the track surface, but at the same time it was necessary to do just that in order to achieve the mileage that we planned. In the end we achieved our goals, bearing in mind that in these circumstances there was no point in using too many sets of tyres."
Prost
Jean Alesi: "We had two good sessions today and tested a number of important set-ups. We gained a lot in reliability last week, but we know very well that we face a very difficult weekend. This evening, we must not make any mistakes in our technical decisions for tomorrow if we wish to avoid any lack of performance in qualifying."
Nick Heidfeld: " I was not too happy today because we had some problems which stopped me doing as many laps as I wanted and so I could not clock a good lap time To begin with, I had a fuel leak and we had to disconnect the whole system to solve the problem. The delay cut into my work this afternoon and, of course, the conditions were very different from last week so we had to make some set-up adjustments. We were suffering from bottoming out so we had to look at the ride height and the set-up. But I am confident, that despite all this, we do not have to make big adjustments for tomorrow."
Alain Prost: "The track conditions in which we drove today were changing and different to last week. This circuit does not favour us particularly and the behaviour of the cars is affected very much by the changes in temperature and the dust. We still have not found the ideal set-ups. We lack a top straight line speed to be really competitive. Tomorrow we have to push hard in certain ways to improve our performance before the qualifying session."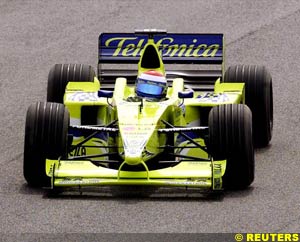 Minardi
Marc Gene: "I am surprised to be classified 11th; this means that the Team did a good job today. We tried different set-ups and in the end the car felt much better on new tyres. I worked very well with my race engineer, as a result. I know that for tomorrow I will not be able to maintain this position but now the 7th, 8th or 9th position can be definitely within my reach. However, this is my objective for the weekend."
Gaston Mazzacane: "Today we concentrated on the set ups and on the tyre choice for tomorrow's qualifying. I feel satisfied with the changes we did, although I believe that tomorrow will be a tough day. I completed 37 laps trouble free with the new titanium gearbox and I am working on the new suspension but it is too early to assess the situation because I still have to understand how it works. I did a fuel test and this is the reason why I stopped on the track during my last run when the time was nearly over."
Benetton
Pat Symonds, Technical Director: "As usual, Friday's times are not always indicative of relative performance for the weekend. But perhaps more so here than normal due to the amount of testing that has been done. It was very difficult today because the tyre degradation was very high and the conditions were quite different to the test here last week. We also lost some time on Giancarlo's car when he spun off. There is still a lot of work to do."
Giancarlo Fisichella: "We tried a few different things with the set-up today. The car was hard to drive and is quite different from testing last week which is a bit frustrating. We did make some good progress on set-up though and were careful with the tyres as they went off really quickly. In the middle of the second session I lost control of the rear and spun off, so I lost the end of the session."
Alexander Wurz: "The circuit conditions were very different to the test and the track was also very dirty and slippery. So we tried a few different directions with the set-up, but the main question for tomorrow is going to be tyre choice, because they are losing performance really quickly."
Jaguar
Eddie Irvine: "A fairly predictable Friday at Barcelona. I tried a new front wing this morning and although it didn't provide instant, dramatic improvement, we definitely got some direction from it. Overall, I was disappointed with the car's handling relative to the test we had here. We've got to focus on improving traction ahead of qualifying."
Johnny Herbert: "We delayed our first run, like everybody else, until the track had become user-friendly. The recent rain had made it a little 'green' and it was not the same surface we were on during the test last week. We didn't really learn too much on set-up, but I am reasonably happy with the start that we have made to the race weekend."
Gary Anderson, technical director: "We undertook a bit of set-up work to improve the balance of the car, but it was a fairly uneventful day. We could do with finding more speed, so we'll just have to put a new battery in the stop watch!"
Arrows
Pedro de la Rosa: "I made a mistake before the last hairpin and braked a little bit too late. The rear end snapped away and I couldn't catch it back and then the car stalled when I went off so I couldn't recover. It's not a big problem because it's Friday, as long as I don't make the same mistake tomorrow and we also know this circuit very well so my lack of laps today is not a problem for me or the team. I just have to forget it though and get on with the job, but we collected useful information in the few timed laps I did such as the best tyres to use tomorrow. The important thing is qualifying tomorrow, not today's time."
Jos Verstappen: "It was a very difficult situation today, as the track was completely different to last week. We tried some changes on the car to adapt to the circuit, but didn't achieve too much today, but still the car feels very good and we know what to do as we have a lot of experience on this track. I had a minor clutch problem with my car but it will all be sorted out for tomorrow. We'll have to wait and see how the circuit is."
Tom Walkinshaw: "Today we tried all the things that we hadn't managed to do in testing, including falling off the track. Hopefully tomorrow will be back on track in all senses of the word."
BAR
Ricardo Zonta: "All the hard work that we had done last week in testing was worthless this morning because the track was so dirty. The settings that we thought would give us a good balance here provided very little grip and the heat did not help either. We did manage a constructive back-to-back evaluation of the Bridgestone tyre compounds, which gave us some positive conclusions, but we still have a lot of work to do tomorrow before qualifying."
Jacques Villeneuve: "We were trying new parts and a different set-up today, but the time we lost in the first session could be very important later in the weekend. We will probably have to be more conservative tomorrow, simply because we have not had enough time to develop the work that we started this morning."
Takefumi Hosaka, Managing Director, Honda R&D: "We are using a further evolution of the Silverstone specification engine this weekend. Gradually we are generating more power and at the same time improving the fuel consumption levels. We were surprised by the problems we had today and were disappointed that we did not find the best settings for the car. We must see how much we can improve tomorrow."
---