Michael Schumacher on Pole; Qualifying - Spanish GP
Saturday May 6th, 2000
Schumacher takes first pole of the year
"I made a little adjustment to the car for my final run, but it wasn't quite right and the time was slightly slower," said Michael Schumacher at the end of qualifying which still saw him take his 24th career pole and his first for Ferrari this year. His second run had been quick enough to ensure him the pole, although in the closing seconds of practice his old rival Mika Hakkinen got to within just 7/100 th's of his best lap.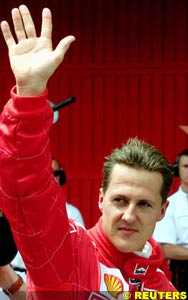 Rubens Barrichello took the third fastest time for Scuderia-Ferrari Marlboro, the Brazilian disappointed at not making the front row after a mistake on his final run spoiled what would have been a very quick time. "As Michael said, the wind was very unpredictable and it upset the car on my second sector. I didn't change the car from the morning, although it did not feel as good," said Rubens.
Hakkinen head-to-head with Schumacher
Mika Hakkinen claimed the front row spot beside Michael Schumacher, the Finn reporting that the team had made good progress with his car's handling since the morning session. "The car was still not quite 100 percent, but a lot better and capable of taking the pole. My first two runs could have been better , and the final one I had sussed it out," said Hakkinen. David Coulthard was disappointed to be back in fourth place after running so well throughout free practice. He had to abort his first run due to a fuel pressure related misfire problem. He had to run the rest of the session with more fuel in the tanks. "It was a not a true representation of where I should have been on the grid," said Coulthard who ended up fourth fastest.
Schumacher heads row three for Williams
Ralf Schumacher was delighted to have set te fifth fastest time for Williams-BMW, but at the same time disappointed not to have broken into the top four places complaining of too much oversteer in the final sector which spoiled his overall lap times. Button was back in 11th spot, admitting that the affect of the wind had taken away a bit of confidence to go quicker.
Villeneuve up to row three
Jacques Villeneuve improved the performance of his BAR throughout practice to end up a creditable sixth overall saying afterwards that he had taken the most out of his car. On the other hand, Zonta could not find the right set-up and ended up a distant 17th fastest , although less than a second behind his team-mate.
In brief...
The two Jordan drivers were disappointed not to better the fourth row, Trulli heading Frentzen for the first time this year. De La Rosa qualified a creditable ninth for his home race, his best ever position which he hopes to be able to improve upon in the race.
The Benetton drivers were still not happy with the handling of their cars, particularly Alex Wurz, who admitted he was lost on the set-up qualifying a distant 19th with Fisichella 14th. Heidfeld had to take the spare Prost after an engine failure. It was badly set up for him and could not better 20th, while Alesi was also well back in 18th after hydraulic problem meant he could not start his third run.

Pos  Driver         Team                 Time               
 1.  M.Schumacher   Ferrari              1:20.974           
 2.  Hakkinen       McLaren Mercedes     1:21.052   +  0.078
 3.  Barrichello    Ferrari              1:21.416   +  0.442
 4.  Coulthard      McLaren Mercedes     1:21.422   +  0.448
 5.  R.Schumacher   Williams BMW         1:21.605   +  0.631
 6.  Villeneuve     BAR Honda            1:21.963   +  0.989
 7.  Trulli         Jordan Mugen-Honda   1:22.006   +  1.032
 8.  Frentzen       Jordan Mugen-Honda   1:22.135   +  1.161
 9.  de la Rosa     Arrows Supertec      1:22.185   +  1.211
10.  Irvine         Jaguar Cosworth      1:22.370   +  1.396
11.  Button         Williams BMW         1:22.385   +  1.411
12.  Verstappen     Arrows Supertec      1:22.421   +  1.447
13.  Salo           Sauber Petronas      1:22.443   +  1.469
14.  Fisichella     Benetton Playlife    1:22.569   +  1.595
15.  Herbert        Jaguar Cosworth      1:22.781   +  1.807
16.  Diniz          Sauber Petronas      1:22.841   +  1.867
17.  Zonta          BAR Honda            1:22.882   +  1.908
18.  Alesi          Prost Peugeot        1:22.894   +  1.920
19.  Wurz           Benetton Playlife    1:23.010   +  2.036
20.  Heidfeld       Prost Peugeot        1:23.033   +  2.059
21.  Gene           Minardi Fondmetal    1:23.486   +  2.512
22.  Mazzacane      Minardi Fondmetal    1:24.257   +  3.283

All timing unofficial

---