Timothy Collings' Spanish GP Race Report
Sunday May 7th, 2000
By Timothy Collings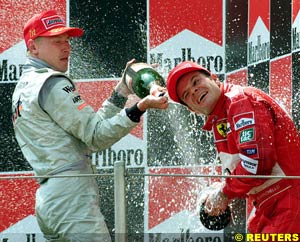 Mika Hakkinen revived his challenge for a third successive Formula One crown on Sunday when he won the Spanish Grand Prix ahead of his McLaren team mate David Coulthard.
It was the 31-year-old Finn's first win since his season-ending triumph in Japan last year, the 15th of his career and his third in a row at the Circuit de Catalunya.
It moved Hakkinen up to second place in the overall standings on 22 points, behind Ferrari's Michael Schumacher on 36 after five of this season's 17 races.
McLaren also finished with a one-two triumph last year but this time Hakkinen owed his victory at least in part to the problems which hit Schumacher's Ferrari.
The German had started on pole but he suffered tyre problems and two bad pit stops.
In the first, the team's British chief mechanic Nigel Stepney was run over and suffered a leg injury. He later returned to the paddock with his leg in a cast and said he had suffered some ligament damage.
Schumacher led for the opening 41 laps except when Hakkinen took over briefly during the first flurry of pit-stops, but lost time after his second slow stop, with a replacement man for Stepney on the fuel nozzle, in 17.5 seconds.
Ferrari sources said damage caused during the first pitstop made it difficult to remove the fuel hose.
Schumacher then had to make a third stop after his rear left tyre began to deflate.
McLaren Close the Gap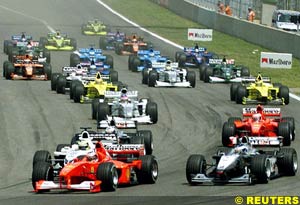 The German finished fifth behind the leading McLaren duo, his third-placed Ferrari team mate Brazilian Rubens Barrichello and his brother Ralf Schumacher in a Williams.
Germany's Heinz-Harald Frentzen came home sixth to pick up the final point that lifted his Jordan team to fourth place in the constructors' standings, ahead of Benetton.
McLaren closed the gap on Ferrari in the constructors' championship to just seven points. Ferrari now have 49 points and McLaren 42.
The race was unlike last year's processional affair and was enlivened by a stream of incidents which resulted in the Schumacher brothers, watched by father Rolf, racing wheel to wheel as they battled for positions.
Coulthard, racing just five days after escaping from a fatal air crash in France, also dived past Schumacher but took a dim view of the German's driving afterwards.
He accused the double world champion of driving dangerously on the limit as he 'shut the door' when defending second place on lap 47 of the 65-lap race.
"It was way too late and at that speed it was incredibly close and it was not entirely fair," he said. "That's why I went on the outside the next time."
Coulthard said he had suffered increasing pain from his bruised ribs throughout the weekend and he intended to take a week off and miss testing in order to make a full recovery.
Hakkinen praised the excellence of his team, whose pit-strategy was first-class in a race that Schumacher had predicted would be a tactical affair.
"I know this is my third win in a row here, but I don't really know why it is like this," said Hakkinen.
"But it is a great feeling. It could be, like it was last year, a bit of a turning point in the season for us. I hope so. We certainly seem to understand our car better this weekend."
Local fans had little to cheer after Spaniard Pedro de la Rosa was first sent to the back of the grid for qualifying his Arrows on tainted fuel and then went out on the second lap.
Briton Jenson Button, the 20-year-old Williams driver who had collected points in two of the four previous races, was unlucky not to score again.
He moved up from 10th at the start to sixth place four laps from the end, when his engine blew.
---