Coulthard Seeks Rest after Emotional Race
Sunday May 7th, 2000
By Phil Minshull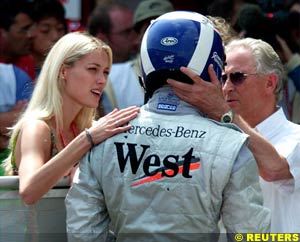 Briton David Coulthard described his second-place finish in Sunday's Spanish Grand Prix as the most emotional race of his career.
The McLaren driver finished second at the Circuit de Catalunya only days after he, his fiancee and personal trainer escaped from a plane crash in southern France which killed the pilot and co-pilot of the small private jet.
"Was it his most emotional race?," the 29-year-old Scot was asked after finishing runner-up to team mate Mika Hakkinen.
"Yes. Definitely," he replied.
"It gives you a whole new perspective on things. But I was determined to be here and not let it affect my race."
Coulthard had asked the media to respect his privacy in Spain and his racing manager Martin Brundle said earlier in the week that his reluctance to talk about the crash was out of respect for the dead men's families.
"David is a family man and the news that one of the pilots' wives was expecting another child hit him very hard," Brundle explained.
Coulthard Asks for a Rest
Coulthard ended the 65-lap race battered and bruised, his ribs still hurting from the crash and the pain inflamed by more than an hour-and-a-half of high speed duelling.
"I've got an injury to both my sides. It has got worse each day -- you're supposed to get better, but I've got worse. I'm looking for a few days off, I won't be doing any testing this week," he said.
Coulthard thanked his fellow drivers for allowing him to concentrate on the race but he was less complimentary about the competitive behaviour on the track of his rival Michael Schumacher.
Schumacher, who leads the drivers' world championship standings with 36 points, was accused of unsportsmanlike conduct when Coulthard tried to overtake his Ferrari 18 laps before the chequered flag.
The German tried to cut him off, successfully at first but eventually finished fifth.
"I didn't think his first manoeuvre was at all fair, he made his move late," Coulthard said.
"It was incredibly close. The die-hards might say 'don't be a pansy' but you have to trust those around you to do the right things.
"I was bit afraid when Michael moved but at least when you are driving a racing car you feel you are in control, rather than being a passenger in a car, plane or anything.
"It was a relief to get past him."
Coulthard said Schumacher had been struggling anyway and took little credit for being able to get past him.
"His car was losing a second per lap and it doesn't count -- it's a bit like overtaking a Minardi," he joked.
Schumacher defended his tactics, which have in the past been criticised by other drivers.
"Obviously I have to defend my line and I'll do whatever the rules allow me to do," he said.
---