Schumacher has Bad Day at the Races
Sunday May 7th, 2000
By Phil Minshull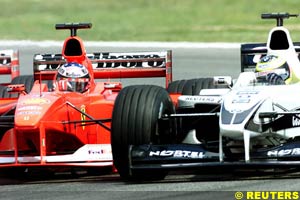 Ferrari's Michael Schumacher managed to keep a sense of humour on Sunday after his title hopes suffered a setback in Spain.
The German former world champion started on pole at the Circuit de Catalunya and led for two thirds of the race before it all went wrong.
He battled with his younger brother Ralf, in a duel that he lost and that alarmed his Brazilian team mate Rubens Barrichello, and accidentally injured Ferrari's British chief mechanic Nigel Stepney during a first pit stop.
A carefully planned two-stop strategy turned into three when a rear tyre began to deflate.
And then Briton David Coulthard accused him of unsportsmanlike conduct after he tried to cut him off with 18 laps still to go.
But afterwards, when he had finished fifth and McLaren's Finnish world champion Mika Hakkinen had won to cut his lead in the championship to 14 points, Schumacher appeared in a light-hearted mood.
He said the championship had always been open and made light of the incident involving Stepney.
"I suppose Nigel's got big feet now. I'll have to organise some shoes in a bigger size," he said.
Stepney needed medical attention when he was knocked over by Schumacher's car which was given the all-clear to leave by the mechanic holding the "lollipop" at the front before he had finished the refuelling.
The injury was not serious and he later returned to the paddock in a wheelchair."Just stretched or broken a ligament," he said. "It's just swollen a little bit."
"Obviously I did realise something had happened," said Schumacher.
"The 'lolly' was lifted up and then down but you can't stop that quickly. I looked in the mirror and saw one mechanic was down."
Italian mechanic Andrea Vaccari took Stepney's place in a nightmare 17.5 second pit stop.
Ferrari said Vaccari had done the best job he could at short notice and Schumacher did not blame him either.
"The second pit stop was delayed because of the first pit-stop. The damage that was caused had to be closed -- which made it slower. The tyres went on quickly but I could see fuel was not going in fast," he said.
"I was sure I was going to win because there is no overtaking possible here and I was controlling the race. All I needed was a good pit-stop and I would have gone on to win the race," he reflected.
Schumacher, who admitted at the previous British Grand Prix that he had backed off for his brother in a way that he would not for rivals, had evidently decided not to concede any ground on Sunday in a race watched by their father Rolf.
Fighting for third spot in the middle stages of the race, Michael bumped and shunted his brother before Ralf, who appeared less than happy later, got past with Barrichello taking both of them in the process.
"I don't know what he's got to complain about. Racing is racing even if it is your brother," Michael said.
Barrichello sounded amazed by it all.
"I was behind them, and thought, 'you are going to crash'. I don't know what their father must have felt," he said.
---