Zonta Fastest on Day Two of Jerez Testing
Thursday May 11th, 2000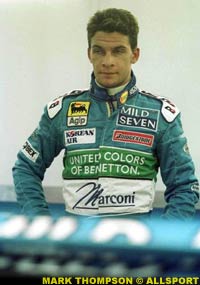 BAR's Ricardo Zonta was fastest at the second day of testing at Jerez yesterday in changing weather.
Zonta was slightly faster than Benetton's Giancarlo Fisichella during a day which was wet in the morning and sunny in the afternoon.
Fisichella was joined at the test by German F3 Championship driver Giorgio Pantano, who had his first test in a Formula One car as part of an evaluation for the role of test driver for the team, running 12 laps.
Arrows continued their tyre, software and mechanical chassis set-up work with Pedro de la Rosa, setting the ninth fastest time. de la Rosa will continue testing today after Jos Verstappen was sidelined with the 'flu.
Sauber continued their aerodynamic testing and development of control systems development, but were hampered by an engine failure in the afternoon, leaving Diniz without a chance to improve his 11th fastest time set in the morning.
Yesterday's times:

Pos  Driver        Team                Time    
 1.  Zonta         BAR-Honda           1:24.45
 2.  Fisichella    Benetton-Playlife   1:25.39  
 3.  Hakkinen      McLaren-Mercedes    1:25.66
 4.  Wurz          Benetton-Playlife   1:25.68  
 5.  Irvine        Jaguar-Cosworth     1:25.87  
 6.  Frentzen      Jordan-Mugen Honda  1:25.99  
 7.  Panis         McLaren-Mercedes    1:26.16
 8.  R Schumacher  Williams-BMW        1:26.21 
 9.  De La Rosa    Arrows-Supertec     1:26.22  
10.  Herbert       Jaguar-Cosworth     1:26.28  
11.  Diniz         Sauber-Petronas     1:26.98
12.  Button        Williams-BMW        1:27.22
13.  Trulli        Jordan-Mugen Honda  1:27.86
14.  Lemarie       BAR-Honda           1:28.06 
15.  Pantano       Benetton-Playlife   1:29.51 

The 2000 fastest testing time is 1:23.241 (E. Irvine)
The 1999 fastest testing time is 1:24.276 (R. Schumacher)
---