Timothy Collings' European GP
Friday Practice Report
Friday May 19th, 2000
By Timothy Collings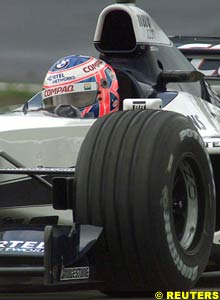 Briton Jenson Button responded to doubts about his future at Williams on Friday by setting the fastest time in opening practice for Sunday's European Grand Prix.
The 20-year-old Englishman, who had never even seen the Nurburgring track before arriving on Thursday, clocked the best time of the day with just a minute of the session remaining.
Button lapped in 1:19.808 to outpace second-placed Austrian Alexander Wurz in a Benetton by four-tenths of a second.
"It's a great boost for my confidence being top of the list, but you cannot say much about it because I think a lot of people weren't trying," said Button.
The Briton was signed by Williams this season as a replacement for Italian Alex Zanardi but, with Colombian Juan Pablo Montoya waiting in the wings, Button has yet to be confirmed for next season.
"In qualifying, when everyone is running in the same way, it will give a real picture of what is happening," added Button. "I thought we were going to be quite close to the front, but I am not going to get too excited. This is only practice after all."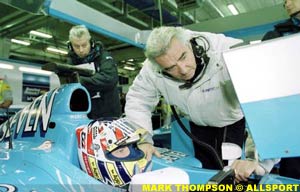 "It is a good feeling, of course, and I am feeling quietly confident. To be top is a real surprise, to be honest, but hopefully we can do it again in qualifying."
Wurz Gets A Boost
Button did only 42 laps to make his big impact ahead of Wurz. The Austrian had been under pressure to produce a competitive performance this weekend amid rumours that his seat with the Benetton team is under threat.
"I know all of that stuff, but for me it is just a good feeling to get on with my job and do it well," said Wurz. "I have had a lot of great support in Austria and in the team."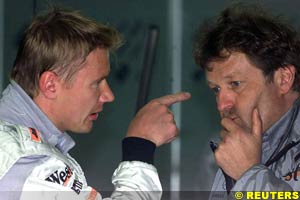 Both of the two unexpected top men delivered times which lifted them ahead of world champion Mika Hakkinen of Finland in a McLaren and his teammate Briton David Coulthard.
World championship leader Michael Schumacher of Germany, who leads Hakkinen by 14 points, and his brother Ralf filled the fifth and sixth places for the Ferrari and Williams teams.
Hakkinen said: "We can definitely improve our car for certain sectors of this track. The changing conditions didn't affect us much apart from the loss of a bit of track time."
Coulthard, who spun off early in the afternoon session without damaging his car, said he felt no severe discomfort from ribs he cracked in his recent plane crash and was able to concentrate easily on his job.
Michael Schumacher, who was nine places ahead of his 14th placed teammate Brazilian Rubens Barrichello, said the conditions on a day of rain, wind and low temperatures meant he was not able to do as much preparation as he had hoped.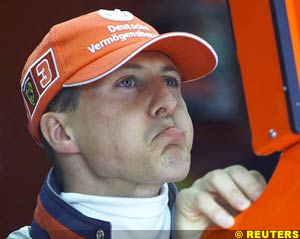 "The weather does not really affect our reliability and the car works just as well here in the cold as it did in the hot conditions we experienced in Barcelona. We can improve the set-up still further, so I am reasonably happy."
Ralf Schumacher, who swept aside suggestions that the pair were at odds with each other after their determined battle at Barcelona two weeks ago, suffered an engine problem which prevented him from improving his time in the final minutes.
"It was a disappointment for me because generally the car felt pretty good and it was great to see Jenson doing so well," he said.
Button added: "I think this is a great kart-type of track, a short circuit compared to most used in Formula One and for me quite easy to learn.
"And there's obviously a lot more to come from me because of my 40 laps I did 10 of them in the wet. The car is working well. I'm not saying I will win or even get on the podium, but I think I can get a point and do what I did at Silverstone."
---