Heidfeld Hoping to Finish on Home Debut
Friday May 19th, 2000
By Denes Albert
The Schumacher brothers and Heinz-Harald Frentzen all have a good chance of a podium finish in Sunday's European Grand Prix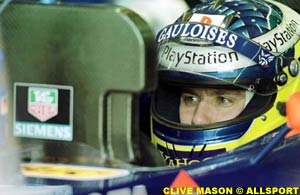 But Germany's fourth and youngest Formula One driver, newcomer Nick Heidfeld, is just hoping to complete the race after a difficult start to the season.
"First of all, I hope to finish the race and have a good show," Heidfeld said after Friday's opening free practice in which he was an encouraging ninth fastest -- his best performance of the season.
"(And then) some good fights and a good result."
The Nurburgring has been good to the 23-year-old as he moved up through Formula Ford, Formula Three and F3000 and it also gave Heidfeld's Prost team their best ever result last year when Italian Jarno Trulli, now with Jordan, came second.
Heidfeld, last year's F3000 champion, and his veteran French team mate Jean Alesi have had a hard time at the Peugeot-powered Prost team this season.
While compatriots Michael and Ralf Schumacher and Frentzen have all been on the podium this season, Heidfeld has yet to come close to a point.
His car has suffered problems with reliability and understeer and he has had three retirements in five races.
In the other two, he was classified ninth in Australia and 16th in Spain -- although in both those races he was several laps behind the winner.
Heidfeld said the French team's problems mainly stemmed from a lack of testing time before the season started which had left them still struggling to catch up.
"It's not an easy time at the moment, but I concentrate on improving the car with the team," he said.
"It is something special for me to race here, although you concentrate too hard to actually see the public. It still is a very nice feeling to drive in front of a home audience."
Alan Jenkins, technical director of the Prost team said Heidfeld did some extensive testing at the Magny Cours track, a low-grip circuit similar to Nuerburgring, on some new aerodynamic components for the car.
"In general the test was successful, although some time was lost because of reliability problems," added Jenkins.
Jenkins said the team had been very competitive in last year's changing weather conditions but nobody could predict whether the weather would help them again this year.
"We expect that Nick Heidfeld, on his home circuit, and Jean Alesi will be looking forward to a good performance."
---