Villeneuve Seeks Improvement from BAR
Friday May 19th, 2000
By Marcus Lee
Former world champion Jacques Villeneuve said on Friday he wanted improvement from his British American Racing (BAR) team despite their impressive start to the 2000 season.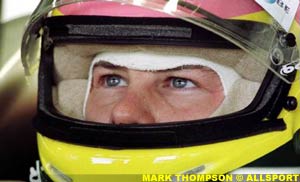 The Canadian, who finished 10th-quickest in opening free practice for Sunday's European Grand Prix, said he did not know if he would stay with the British-based team next year.
"I haven't had any real discussions with anybody concerning next year and it is still too early to say how we will perform for the rest of the season," Villeneuve said.
"A driver's career is not that long and first of all it would depend on who wants you. A lot of drivers will be contracted for another year, so I will wait to see how we perform."
BAR failed to score a single point in their debut season in Formula One last year but Villeneuve has already had fourth and fifth-placed finishes this season.
But the 29-year-old Canadian said BAR needed to move up to another level to challenge the likes of Ferrari and McLaren.
"What we have achieved so far is nothing special," he said. "It is still less than what was promised last year.
"It's a big improvement from last year but we were supposed to be winning last year, so it's nothing to be impressed about.
"If you begin getting impressed then you will stop going forward but I am very happy with Honda, who have done a great job.
"We need to get to the level where we can fight to win races and that will be the key for next year."
---