Wurz Answers Critics
Friday May 19th, 2000
By Timothy Collings
Austrian Alexander Wurz answered critics who believe he will be replaced in the Benetton team next year with a committed fast showing in Friday's opening practice for Sunday's European Grand Prix.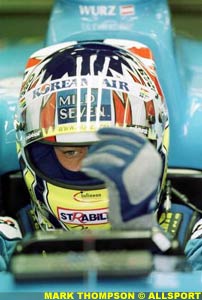 Enjoying a burst of new-found confidence instilled by the decision to use the team's technical director Pat Symonds as his race engineer, Wurz regained some of the vim he demonstrated in his early days with the team in 1997.
"Today, I feel quite happy," he said. "At the beginning, my set-up wasn't good, but we worked on it in a very logical way and in the end my car was really nice to drive.
"We still need to improve the rear end because it is still a bit unstable, but it's certainly nice to have finished today towards the top of the list."
Wurz's efforts landed him the second-fastest time behind Briton Jenson Button, 20, driving a BMW-powered Williams.
Asked how he felt about the mounting speculation surrounding his future, Wurz said: "Of course, my fans are as upset as I am when the results are not coming. So, yes, the rumours have hurt me.
"But now I am here and I am focussing on my job and on meeting my obligation to Benetton to drive around the circuit as fast as I can. Wurz thinks the upcoming circuits will suit him and Benetton better than those from earlier in the season.
"From now on, I think we can be stronger," he said. "We can get top 10 grid positions, like this weekend, and maybe even move further up the grid at Monaco.
"We can fight for points and that could make everything seem completely different."
---