Timothy Collings' European GP Race Report
Sunday May 21st, 2000
By Timothy Collings
Michael Schumacher tightened his grip on the Formula One championship on Sunday with his first victory in Germany for Ferrari and his fourth win in six races this year.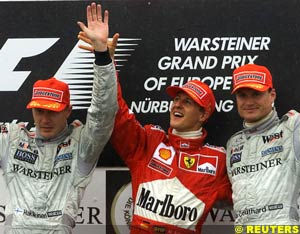 The 31-year-old, who last won at the Nuerburgring with Benetton on the way to his second crown in 1995, moved 18 points clear in the championship after beating McLaren's Mika Hakkinen into second place in the European Grand Prix.
David Coulthard, Hakkinen's British team mate who had started on pole but made a poor start, finished third.
Schumacher said winning at the Nuerburgring, in front of so many rain-drenched but ecstatic compatriots, was one of the great moments in his career.
"This is my first win for Ferrari in front of a German crowd and that is great for me," he said.
"Look at all these guys here who have been here this weekend in the wet weather -- I hope it has warmed up their hearts a little bit. I have really enjoyed it, myself. I hope they have too," he said.
Schumacher scored the 39th win of his career in his 134th race with great style, showing his mastery of the wet weather conditions in a 67-lap race that turned into a battle for survival once heavy rain began to fall.
"I always knew what to expect this weekend," said Schumacher. "We knew it would be difficult, but the car ran very well and it turned out the way we wanted it to in the end.
"I am very happy because it is clear we have got a strong car, a good team and a lead in the points. To be honest, it is how I dreamed it might be now at this time of the season as we prepare to go to Monaco."
Hakkinen Gets Away Fast
Schumacher won in one hour, 42 minutes and 0.307 seconds at an average speed of 179.540 kph.
He finished 13.821 seconds ahead of Finland's Hakkinen, the world champion who made a great start in powering through from the second row on the grid to take the early lead until Schumacher caught and passed him after 11 laps.
Brazilian Rubens Barrichello was fourth in the second Ferrari ahead of fifth-placed Italian Giancarlo Fisichella in a Benetton and Spaniard Pedro de la Rosa, who was sixth for Arrows.
It was de la Rosa's best result since Australia early last year and Arrows' first point of the season.
On a day that saw the entire field diving into the pits to switch from dry tyres to wets after a dozen laps, only nine of the 21 starters were left running at the finish.
Coulthard's poor start also meant that it has been 11 races since the driver on pole position has gone on to win a race. The last was Hakkinen in Hungary last season.
"I was just grateful to finish in the points as I have and not to have the kind of problems I had last year," said Coulthard, who cracked three ribs in a plane crash before the last Spanish Grand Prix.
"I was in my own race most of the time, but it was okay. I was just concentrating on bringing the car home."
Problem with Back Markers
Hakkinen complained about being blocked by back-markers during his race and particularly when he was attempting to eat into Schumacher's lead.
"They don't concentrate enough and take enough care," said the disappointed Finn.
Schumacher, winner of the opening three races, has 46 points to Hakkinen's 28 with Coulthard on 24. "There is still a long way to go," said Hakkinen. "Anything can happen."
The race was littered with incidents but the most spectacular came after 29 laps when Dutchman Jos Verstappen attempted to pass Briton Eddie Irvine's Jaguar.
In the ensuing chaos, Irvine collided with German Ralf Schumacher's Williams.
The accident saw Irvine and Schumacher's cars lose their rear wings and spin off while Verstappen survived a little longer before he too spun out of the race with a front wheel ripped off.
Both Jordan drivers retired early. Italian Jarno Trulli went out after a first lap incident with Fisichella and then German Heinz-Harald Frentzen suffered a blown engine a lap later.
Schumacher, apart from some trouble with aquaplaning, drove through it all to endorse his position as favourite to bring Ferrari their first drivers' title in 21 years.
---