Michael Schumacher Wins the European GP
Sunday May 21st, 2000
Michael Schumacher dominated the rain-hit European Grand Prix on Sunday to open an 18-point lead in the Formula One title race after his fourth victory in six races this year.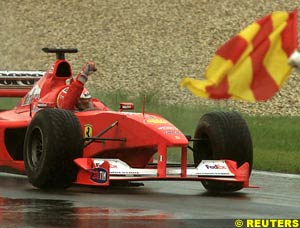 The German, putting in a flawless demonstration in the difficult conditions, brought his Ferrari home comfortably ahead of world champion Mika Hakkinen of Finland in a McLaren.
Hakkinen's team mate Briton David Coulthard finished third after holding off a late challenge from Brazilian Rubens Barrichello in the second Ferrari.
Italian Giancarlo Fisichella finished fifth in a Benetton ahead of Spaniard Pedro de la Rosa who came home sixth and gave the Arrows team their first point of the season.
It was also the Spaniard's best result since he took a point at the Australian Grand Prix last year.
Schumacher's victory was the 39th of his career and lifts him to a total of 46 points in the drivers' championship. Hakkinen now has 28 and Coulthard 24.
Schumacher's win was his first at the demanding and technical Nuerburgring circuit since he won there for Benetton on his way to his second drivers' world title in 1995.
His total tally of wins leaves him only two short of Brazilian Ayrton Senna on 41 and 12 behind the all-time race winner Frenchman Alain Prost on 51. However, in the total tally of WC points, Schumacher now moves to second overall, ahead of Ayrton Senna.
Coulthard started from pole position but was beaten cleanly at the start by both Hakkinen and Schumacher.
His third place extended the number of races in which the pole-setter has failed to win to 11 since last year's Hungarian Grand Prix when Hakkinen triumphed from pole position.

PROVISIONAL RACE RESULTS

European Grand Prix
The Nurburgring, Germany;
67 laps, 305,235 kms.
Weather: Dry start, rain midway.

Classified:

Pos  Driver         Team                                 
 1.  M.Schumacher   Ferrari               1h 42:00.307   
 2.  Hakkinen       McLaren Mercedes           + 13.800  
 3.  Coulthard      McLaren Mercedes           + 1 Lap   
 4.  Barrichello    Ferrari                    + 1 Lap   
 5.  Fisichella     Benetton Playlife          + 1 Lap   
 6.  de la Rosa     Arrows Supertec            + 1 Lap   
 7.  Diniz          Sauber Petronas            + 2 Laps  
 8.  Mazzacane      Minardi Fondmetal          + 2 Laps  
 9.  Alesi          Prost Peugeot              + 2 Laps  
10.  Button         Williams BMW               + 5 Laps *
11.  Herbert        Jaguar Cosworth            + 6 Laps *
12.  Wurz           Benetton Playlife          + 6 Laps *

* Retired after clash

Fastest Lap: M. Schumacher, 1:22.269 (199.365 km/h), lap 8

Not Classified/Retirements:


Driver         Team                On Lap  Reason     
Zonta          BAR Honda             51    spun off   
Gene           Minardi Fondmetal     47    accelarator
Villeneuve     BAR Honda             46    engine     
Irvine         Jaguar Cosworth       29    accident   
Verstappen     Arrows Supertec       29    accident   
R.Schumacher   Williams BMW          29    accident   
Salo           Sauber Petronas       27    spun off   
Frentzen       Jordan Mugen-Honda     2    engine     
Trulli         Jordan Mugen-Honda     0    accident   


Lap Leaders: Laps 01-10, Hakkinen; 
             Laps 11-15, M.Schumacher; 
             Lap  16,    Barrichello; 
             Laps 17-35, M.Schumacher; 
             Laps 36-45, Hakkinen; 
             Laps 46-67, Schumacher.


World Championship Standing, Round 6:                

Drivers:                     Constructors:             
 1.  M.Schumacher  46        1.  Ferrari             62
 2.  Hakkinen      28        2.  McLaren             52
 3.  Coulthard     24        3.  Williams-BMW        15
 4.  Barrichello   16        4.  Benetton-Playlife   10
 =   R.Schumacher  12        =   Jordan-Mugen Honda   9
 6.  Fisichella    10        6.  BAR-Honda            6
 7.  Villeneuve     5        7.  Sauber               1
 =   Frentzen       5        =   Arrows               1
 9.  Trulli         4                                  
10.  Button         3                                  
11.  Zonta          1                                  
 =   Salo           1                                  
 =   de la Rosa     1                                  

All timing unofficial

---