Arrows See Breakthrough after First Point
Sunday May 21st, 2000
By Denes Albert
Spaniard Pedro De La Rosa gave Arrows their first point of the Formula One season on Sunday and hoped it would lead to greater things for the British-based team.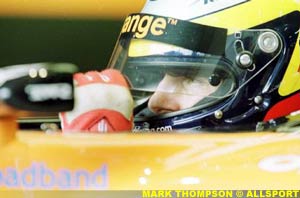 De la Rosa's sixth place at the rain-hit European Grand Prix was the second of his career after a sixth place in the season-opening Australian Grand Prix of 1999.
That first point failed to translate into any further success for Arrows last year but the Spaniard and his team boss Tom Walkinshaw were buoyant on Sunday after a race that saw Ferrari and McLaren fill the top four places.
"We were right there fighting with the top teams, and Pedro did a good job to bring the car home without making any mistakes," said Walkinshaw.
"It now lays a good foundation for the team to aspire to do better."
"We will try now, we will have to do it," added De La Rosa, who had started 12th on the grid and drove impressively in his first race in wet and slippery conditions.
"I had some very good first laps and was always with the group but not because of drivers going out -- this was just a deserved point."
"The team have had a bad start to the season so this result is very good for the team."
Arrows looked good in testing but had failed to score points, despite Dutchman Jos Verstappen running third at one point in Brazil in March before suffering neck pains that pushed him back to eighth place.
Only nine of the 21 drivers finished the race won by Michael Schumacher and one of the casualties was Verstappen, who collided on lap 30 with Jaguar's Eddie Irvine when he tried to overtake him.
"I got the opportunity to pass and he obviously braked very late and we touched each other," Verstappen said.
"For the next four corners the steering was quite heavy, I'm not sure why, and the rear of the car went out and I spun off."
---