Another tough test for Coulthard
Sunday May 21st, 2000
By Marcus Lee
David Coulthard said on Sunday that third place in the European Grand Prix was a fair reward for one of the toughest races of his Formula One career.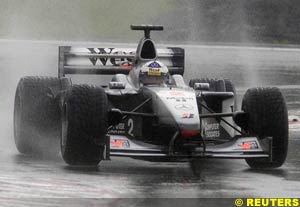 The 29-year-old Scot, still recovering from rib injuries sustained in an air crash 19 days ago in which the two pilots died, suffered constant handling problems with his McLaren throughout the race.
"That was a very difficult race. The fact that I finished a lap down is psychologically bad but I'm very happy with the result," Coulthard said.
The result left him third in the championship, 22 points behind race winner Michael Schumacher.
"I was unable to deal with the balance of the car throughout the race and it was the best result I could have hoped for," said Coulthard, who qualified on pole position.
"The car didn't feel right all weekend and there was definitely something mechanical that prevented me from driving quickly."
Coulthard was forced to allow team-mate Mika Hakkinen past in the early stages and was under pressure from Ferrari's Brazilian Rubens Barrichello at the finish.
"I wasn't paying too much attention to Rubens as it took all of my concentration just to keep the car on the track. If he had been able to challenge me he would have got past but luckily the chequered flag came first," said Coulthard.
"I ended the first lap in trouble and when it started to rain it got even worse. I was forever battling to keep the car in a straight line.
"I was unable to look in my mirrors anyway so I just drove as fast as I could and hoped nobody would catch me up."
Despite the ninth pole of his career Coulthard made a poor start as he watched Hakkinen and Schumacher move past him.
"I was very slow to react at the start and completely misread the lights. The visability was very bad and I couldn't control the rear of the car at all.
"We need to have a good look at the car and fix the problem and if we can do that I will be confident of winning the next race in Monaco," said the Scot.
---