Wednesday-Five Press Conference - Monaco GP
Wednesday May 31st, 2000
Participating: Giancarlo Fisichella (Benetton), Mika Hakkinen (Mclaren), Michael Schumacher (Ferrari), Gerhard Berger (BMW) and Ross Brawn (Ferrari)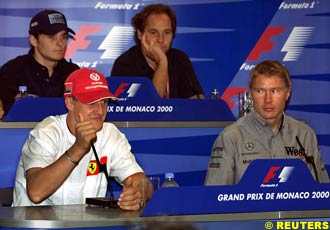 Q. Addressing myself to Mika and Michael, what is the challenge of Monaco? What is the big thing about winning this race?
Mika Hakkinen: This Grand Prix offers a lot of challenges. The most important are to stay focused, and to stay calm and consistent - both on the track and off it. There is also the challenge of avoiding mistakes which can cost a lot of time and slow down [the process of] developing the car.
Michael Schumacher: It is not a normal procedure for us to be driving that close to barriers. It is a very high challenge for all of us to get the best lap times out of the car. And as Mika says, mistakes not only cost you time, but they usually mean an accident when [under normal circumstances you would only] end in the gravel.
Q. You have been testing at Fiorano. Is that an ideal circuit on which to prepare for this race?
Michael Schumacher: It's not the only one [available], but it is ideal because we just drive the car out of [factory] and then we can go. It's a tight circuit with a couple of tight corners like Monaco. Therefore it is good for us. Whenever you test, you always try to test in the configuration you will have for the race weekend.
Q. Last year, you took advantage of the free Friday to go back to Fiorano for some additional testing. Do you plan to do the same again this year?
Michael Schumacher: Ask Ross Brawn, he's the one who tells us. (Brawn nods affirmatively).
Q. Can you please tell us a little about the testing at Fiorano?
Michael Schumacher: As we know, Monaco is a special circuit which requires changes to the car. I don't want to get into detail, but we change [the car] to adapt to the circumstances here. That is what we did to the car, and what we tested for, in the three days we spent at Fiorano last week. As usual, we started early and finished late, but we didn't do as many laps as [we planned to do] because there was rain and certain other things which stopped us from doing everything we wanted to do. But before that Luca [Badoer] had already spent two days testing, for certain items. That meant a total of five days' testing.
Q. Mika, what about your preparations for here?
Hakkinen: We were testing at Silverstone, doing some work for this Grand Prix. Some of it was aerodynamic work, and also some mechanical work. It a bit difficult there because of the [cold weather] conditions. On the personal side, everything is cool.
Q. You give the impression that maybe your team is not as well prepared for this race as it might be ...
Hakkinen: We could be better, certainly. There are always areas in which you can be better prepared, and more competitive. There are some things [we have developed] which we can't use for racing yet. But we have a strong package at the moment and we think we can do a very good job with it.
Q. Ross, some of us remember one of your cars appearing here with as many as ten elements in the rear wing. The rules have become more restrictive since then, but how has that changed your task here?
Ross Brawn: It's simpler in some senses, because you generally tend to run the maximum you can. Monaco is one of those rare circuits where we run maximum downforce, almost regardless of efficiency. We run to the limit in terms of wing settings.
Q. Is the pace of development at Ferrari fairly constant at the moment?
Brawn: Yes. [Being able to maintain the] rate of development has always been one of our strengths. There was some criticism last year of the rate of change, but I know that everyone was working just as hard as ever. Although there are factors in favour of Fiorano and against it, it helps to have the circuit in preparing for this race. But coming to this race, it is a very useful facility.
Q. In terms of the atmosphere within Ferrari, is everyone still on a high? Or is it constant again?
Brawn: It does it go up and down a little bit. Obviously the first three races were great for us, but we also knew that McLaren had made some mistakes in those races. So we were waiting for them to come back, which they did at Silverstone and Barcelona. That's why I was so pleased to see Nurburgring, because it lifted everyone a little bit to see us reverse the trend. I am sure McLaren will be trying to that do to us again this weekend. I am expecting the whole season to be like that: it will be a closely fought up-and-down season. Our people are not overconfident but there is a good feeling in the team. Rubens has settled in very well and Michael is driving well. This is probably the best car we have produced since we have been together at Ferrari. But it won't be easy by any means - and even the Nurburgring was a close win. You can say we are quietly confident without becoming complacent.
Q. You were a little bit criticised for the tactics that you ran Rubens under at the last race. What is your response to that?
Brawn: A couple of things here. There were some scurrilous comments that we ran those tactics to try to spoil Mika's race. I can assure everybody that there was never any question of that. I was very pleased in the race to see that McLaren took care to move Coulthard out of the way when Michael came up to him. We would certainly do the same: somebody who is being lapped should not be part of the race [for the lead]. If somebody is racing for [a leading position], he is racing. But there was no attempt to spoil Mika's race with our tactics for Rubens. The facts were simple: we really screwed up by staying out too long on dry tyres. So then we were in quite a difficult situation with Rubens because he had dropped a long way back, he was in 8th position when he came back due to having stayed out too long on dry tyres.
When we came to the pit stop on lap 32 or 33 we had the choice of filling Rubens' car with fuel and trying to go all the way to the end. At that stage we were, I think, 12 seconds behind Coulthard. [The alternative] was to take a chance on going to three stops, because we knew he would be much quicker with a lower fuel load, to see if Rubens could do anything with that [temporary advantage]. As it happens, the weather got worse, and unlike the beginning of the race - when he had passed a lot of other drivers - the spray was so bad that it became impossible for him to overtake. So the strategy simply didn't work. Having said that, he finished right behind David. I don't know whether he would still have been able to do that if we had put him on a full tank of fuel and run him all the way to the end without a third stop. So the strategy was speculative, and it didn't work, but we had very little to lose. It was just an opportunity that we decided to take - even though it didn't work.
Q. Giancarlo, we all know about that very alarming accident you had at the new Valencia circuit. How are you now? Has the accident had any after-effects?
Giancarlo Fisichella: I am very pleased to be able to say that I have no problem with my body. I cannot tell you much about the accident because I don't remember much about the dynamics. Looking at the pictures, though, I could see that it was a very big accident. I feel very confident about Saturday and Sunday. I feel very fit after some special training from Friday until yesterday.
Q. You have done well here in the past. Is the Monaco GP a race which you particularly enjoy?
Fisichella: Yes. I like to drive at Monaco. In the last three years I have done a very good job here: with Jordan in 1997 I finished 6th, then 2nd with Benetton in 1998, and 5th last year. I also hope to score points again this year. My target is obviously to get on the podium, and our car is getting better. There have been little improvements and already in Nurburgring I was quite pleased with the balance of the car. Unfortunately I had the accident in Valencia after just one and a half days' testing. We had already improved a little bit there, but we were not able to do the whole job we had been expecting to do.
Q. Was it a good track for testing?
Fisichella: It's too tight, and it is quite technical. But although it is quite close to Monaco [in layout], it is still very different.
Q. Gerhard, one of your drivers is tackling Monaco for the first time. Do you remember your own first experience here?
Gerhard Berger: I can remember exactly what happened all the way to the first corner. Then I didn't have good feelings anymore, because everything had been destroyed. Monaco is not an easy race to be doing the first time. You need to know a few things. On the other hand, it is entirely possible for talented new drivers to come here and do good lap times. It is certainly possible to show your potential here. I am sure you ask this question because you are wondering how well Jenson will be doing here. I am also looking forward to it, because he has never seen this circuit and he has never driven it. It will be interesting.
Q. What are the chances here for Ralf [Schumacher]?
Berger: It is very difficult to say. We were talking about it all through testing last week. I have been asking myself if it is really possible to simulate Monte Carlo somewhere else. [In my Ferrari days] we were always trying to do it at Fiorano, and some other circuits, but at the end of the day it is the slippery surface which is virtually impossible to simulate. It is always difficult to know which cars will work best here, but I expect McLaren and Ferrari to be setting the pace. Let's see then who is behind them.
Q. Are you pleased with the pace of development on the BMW engine?
Berger: Yes, it's going quite well. You always try to do more than you can. Even though we are getting close to half season, we are still focusing on reliability. On the other side, though, we are trying to improve the power a little bit. In the second half of the season we think we can do a step forward on the performance side. Overall, though, it has been a fantastic season for BMW and Williams. Williams has provided a great car this year, which means that most of the time our two drivers - especially Ralf - have been able to get the maximum from the package. We were a bit unlucky at the Nurburgring, where it was not our fault that we were unable to score points. But overall we are more than happy with what we have achieved until now.
---