Tuesday April 17th, 2001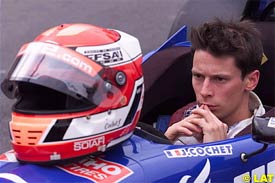 The Prost Grand Prix team announced on Tuesday the arrival of Frenchman Jonathan Cochet as official test driver for the 2001 season.
24-year old Cochet will join Stephane Sarrazin, the other official test driver for the French team. Cochet will be with the Prost team tomorrow at the Silverstone circuit for his first test at the wheel of the AP04.
Cochet was the 1997 French Formula Renault champion, and also won the French Formula Three championship in 2000.
"We are very happy to welcome Jonathan to our team "said team boss Alain Prost. "We have been following with much interest his career and remarkable progress, from karting to Formula Three".
"Taking him on as Prost Acer's test driver is part of our strategy of promoting young French talents. We are confident Jonathan will contribute efficiently to the team's efforts in the car's development."
Cochet will also compete in this year's Spanish Formula Nissan championship, and he will already race next weekend at the Estoril circuit in Portugal.
---