Leaving the "Green Hell" of the Nurburgring, Formula One moves to its most glamorous circuit: Monaco.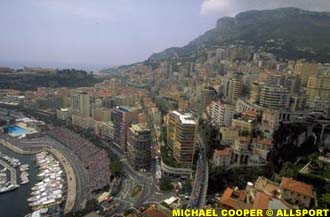 As always, the 58th Monaco Grand Prix is held on Ascension Sunday. At 3.367 Km, Monaco is the shortest and slowest Grand Prix circuit. The circuit is quite similar to the original 1929 circuit. In fact, Monaco is the only circuit that modern Formula One cars can truly follow the wheeltracks of the greats; from Nuvolari and Caracciola, Fangio and Moss, Hill and Stewart through to Senna and Prost.
The statistics of the Monaco Grand Prix speak for themselves. During the "Race of 1,000 Corners" the drivers make over 3000 gear changes at a rate of 26 gear changes per minute! It comes as no surprise that this circuit is hard on gearboxes and brakes. The biggest problem is "brain fade" - a momentary loss of concentration that has happened to almost all of the current Formula One drivers at some point around this circuit. BMW's Gerhard Berger remarked, "Almost every driver ends up against the guardrail."
The point with the highest incidence of "brain fade" is the first corner, Virage Ste Devote. A large number of drivers have come to grief here. Tabac is another. There are no sand-traps around Monaco and the Armco barriers can easily destroy suspension. Nowhere is the old saying "You must first finish before you can finish first" more true.
Jordan's Heinz-Harald Frentzen gives a driver's perspective of Monaco: "The track is unforgiving and there is no time to relax, the car needs constant attention. It's special and you want everything to run smoothly. In comparison you could almost fall asleep going around Barcelona! You need a huge amount of concentration to race in Monaco, and it is a very demanding circuit. It is risky, but that is what makes it so enjoyable. Monaco is definitely the highlight of the F1 calendar."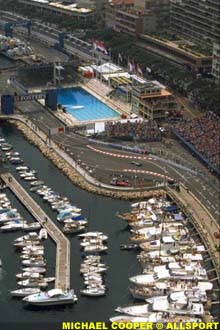 Six times winner Ayrton Senna once made this Zen-like comment about the Monaco circuit, "I felt that the circuit was no longer really a circuit, just a tunnel of Armco." Ferrari's Michael Schumacher added, "Probably the most important part of the weekend at Monaco is the qualifying session and, then, your start. If you are not up the front of the field going into the first corner, you can spend the rest of the race trying to pass the car ahead of you, while the man you need to beat is disappearing into the distance."
Jordan's Technical director Mike Gascoyne described some of the challenges of the race weekend at Monaco: "Monaco is unlike any other race and has its own distinctive flavour as well as having its own distinctive problems in terms of logistics. The teams operate out of temporary garages thus equipment has to be moved onto the race track every day. The narrow nature of the track means overtaking is impossible so qualifying will be key to the weekend. Monaco is unique and certainly a circuit where the drivers can make the difference!"
BMW's Gerhard Berger commented: "Monaco is the most unpredictable race of the calendar. The circuit is quite impossible to stimulate at tests because of the behaviour of the asphalt and the circuit itself, which looks like no other race track in the world. In the build-up to this street race, no team really knows if their car is well prepared or not. As a driver, you are aware of the added pressure as this race is attended by a relatively large number of special guests and VIPs."
A spokesperson for Benetton stated, "Due to the lack of overtaking opportunities, the majority of the teams will more than likely run with lower fuel loads from the start of the proceedings this Thursday as they hunt for the perfect set up that combines good traction while at the same time minimising understeer." BAR's Team Manager, Greg Field added "You also have to deal with the surface of the circuit being very dirty, It's market day in Monaco on Friday and the roads are re-opened to the public. As a result, there is no chance for the track surface to 'clean up'. The way to a good time around Monaco is generally to get out on the circuit and stay out, and then usually the lap times will come down consistently."
Pitstops and tyre strategies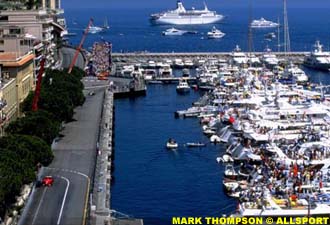 Only 9 cars were classified in last year's race and most of these finishers opted for a one-stop strategy, while Ferrari's Eddie Irvine and Prost's Jarno Trulli opted for a 2-stop strategy. Only 12 cars were classified in 1998, 10 cars finished in 1997 and although 7 cars were classified in 1996, only 4 cars were actually running at the end of the race. It would be no surprise if most teams adopted a one-stop strategy on Sunday.
Bridgestone will be offering teams a choice of the Soft and the Extra Soft tyres, with most teams expected to choose the Extra Soft compound. Last year, Technical Manager of Bridgestone Motorsport Mr. Yoshihiko Ichikawa, stated: "The street circuit character of the course and the smooth surface make Monaco very kind to tyres, because of the slow speeds, aerodynamic loads are low, despite the high downforce wings normally brought out for this one race, and this means that the teams will be seeking to find as much mechanical grip from their cars as they possibly can."
Wet conditions at Monaco are a possibility, the 1997 race was wet while 1996 race was damp and both races were stopped after two hours.
The Teams
Ferrari still lead the Constructors' Championship. Ferrari have won the Monaco Grand Prix 8 times and have scored 50 points at Monaco in the 1990s. In last year's race Ferrari scored an impressive 1-2 victory. The leader of the Drivers' Championship, Michael Schumacher, is the most successful and consistent driver at Monaco since 1994. He won this Grand Prix 4 times - in 1994, 1995, 1997 and 1999 - matching Alain Prost's record. Only Graham Hill and Ayrton Senna have more wins. He will want to equal Graham Hill's record by winning on Sunday. Schumacher set pole position in 1994 and 1996 and set fastest lap in 1994 and 1997.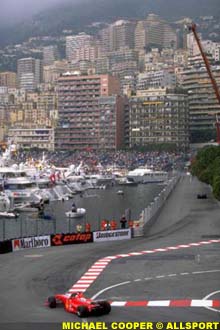 "Monaco has always been a good circuit for me," Michael Schumacher commented. "I am confident I can win again this year. We are in a good situation, we have a good car and we have some points in hand."
Rubens Barrichello is still 4th in the Drivers' Championship. Barrichello finished 2nd in the rain for Stewart in 1997 and his highest grid position was 5th in 1999 for Stewart.
McLaren trail Ferrari by 10 points in the Constructors' Championship after 6 Grands Prix. McLaren is the most successful team in the history of the Monaco Grand Prix, having won there 10 times and scoring 72 points at Monaco in the 1990s. Mika Hakkinen is second in the Drivers' Championship after his second place finish at the Nurburgring. Hakkinen holds the race lap record for Monaco, which he set last year on the way to finishing third, after also setting pole position. Hakkinen won the 1998 race from pole position and set fastest lap. Hakkinen took a long time to master Monaco, his only other classification was sixth in 1996.
David Coulthard is now third in the Drivers' Championship after picking up 4 useful points at the Nurburgring. Coulthard's only finish at Monaco was a second in 1996. In 1998, Coulthard was going well until his Mercedes engine exploded, and in 1999 his transmission failed. Coulthard's highest grid position was 2nd in 1998.
Williams are currently third in the Constructors' Championship, but they have under-achieved at Monaco. They have only won this race twice and it has been 17 years since Keke Rosberg drove a Williams to victory on this circuit. Williams have scored 36 points at Monaco in the 1990's but have only scored two points in the last 4 Monaco Grands Prix.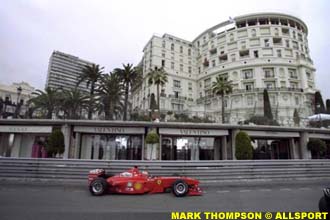 Ralf Schumacher is fifth in the World Championship. He needs to build on his solid start to the season but he has yet to finish at Monaco in 3 starts. Ralf Schumacher's highest grid position was 6th in 1997 for Jordan.
Jenson Button is still 10th in the Drivers' Championship. Button remarked, "Yet again, I'm racing on a completely unfamiliar circuit, but I'm planning to do a few laps of this street circuit in a BMW road car with Gerhard. His advice always proves invaluable during these exercises and of all the races on the calendar this is where I'll probably need it most. I have also studied in-board footage from last year's race and I have to admit, this circuit looks very tight indeed. There doesn't appear to be any scope for overtaking which makes a good qualifying position more important than ever. Given how much time I've spent in the FW22 during our recent Nogaro test, I feel good going into this race. Every racing driver dreams of competing at the Monaco Grand Prix and I can't until the red lights go out!"
Meanwhile, over in the USA, former Williams test driver and 1999 CART Champion Juan Pablo Montoya has won the Indianapolis 500. This increases his chance of driving for Williams next year but publicly he is committed to driving for Chip Ganassi in 2001. Montoya stated, "I hear many things and, yes, Formula One has always been my goal. All I know is that I've got a contract with Chip for next year. I'm not in any hurry either, it has to be the right opportunity for me to go." The price of Montoya's services has probably gone up after his Indy 500 victory, something that will not sit well with Williams.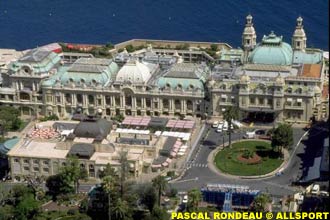 Benetton are now 4th in the Constructors' Championship and have done quite well at Monaco, scoring 40 points in the 1990's. Technical Director, Pat Symonds remarked: "In spite of the severe accident that Giancarlo Fisichella experienced on the second day, which reduced the amount of testing that could be done, the session ended up being very successful and some interesting improvements were made to the car which will be applied at the Monaco Grand Prix."
Giancarlo Fisichella's fifth place finish at the Nurburgring took him to 6th in the Drivers' Championship. Fisichella will be driving with a thumb injury following his frightening accident during testing at Valencia. Fisichella finished second in 1998 and 5th in 1999 for Benetton. Fisichella's highest grid position was 3rd in 1998. Alexander Wurz finished 6th in last year's race. Wurz's highest grid position was 6th in 1998. Most of us will remember his spectacular crash in 1998 at the exit to the tunnel, follow his wheel-banging escapade with Michael Schumacher.
Jordan have slipped to 5th in the Constructors' Championship after two more retirements at the Nurburgring. Apparently Mugen-Honda have tracked down the engine problem that caused Heinz-Harald Frentzen's retirement and Technical Director Mike Gascoyne is confident that this will not recur at Monaco. Mugen-Honda also have an upgraded engine that Jordan will use for qualifying. Jordan have not gone consistently well at Monaco scoring only 7 points here.
Heinz-Harald Frentzen is 7th equal in the Drivers' Championship. Frentzen holds the qualifying lap record for Monaco which he set in 1997 for Willliams. Frentzen's best finishes were 4th positions in 1999 for Jordan and in 1996 for Sauber. Frentzen commented," Every year you want to improve on the last year's performance. The feeling I had when I achieved pole position in 1997 is a feeling I definitely would like to experience again." Jarno Trulli's best finish at Monaco was 7th in last year's race for Prost after also qualifying 7th.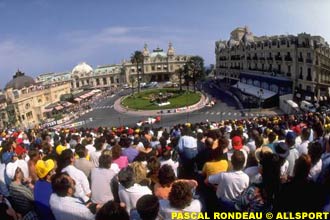 BAR are still 6th in the Constructors' Championship after 2 more DNFs at the Nurburgring. Managing Director of Honda R&D, Takefumi Hosaka, stated: "Monaco is unlike any other circuit in Formula One. We are normally looking for outright power improvement, but we know that additional power is not necessarily a big advantage in this race. We have been testing with new engine maps to ensure that the drivers are able to get the maximum benefit out of the Honda engine at lower speeds and revs."
Jacques Villeneuve is still 7th equal in the Drivers' Championship. Jacques has outperformed his own father in almost all benchmarks but he has never won the Monaco Grand Prix, the race Gilles Villenueve won in 1981. This is surprising given his CART experience on street circuits. Jacques Villenueve's only finish at Monaco was fifth in 1998 from 4 starts and his highest grid position was 3rd in 1997. Ricardo Zonta was sidelined from last year's race due to tendon injuries.
Sauber are now 7th equal in the Constructors' Championship and have scored 8 points at Monaco in the 1990s. Sauber's performance at the Nurburgring showed that the C19 is a handful in the wet. Mika Salo has gone consistently well at Monaco in uncompetitive cars, finishing fourth in 1998 for Arrows and was fifth in 1997 and 1996 for Tyrrell. Salo's highest grid position was 8th in 1998. Salo commented, "For me Monte Carlo has always been a favourite circuit. It's difficult, and any mistake puts you into the wall, so it demands excellence. I have gained some of my best results there, so I am really looking forward to the race. Our car should be strong there, if Valencia is any guide, so I am hoping that we can add to our tally of World Championship points."
Pedro Diniz scored a single point at Monaco in 1998, finishing sixth and his highest grid position was 12th also in 1998. Pedro Diniz is a Monaco resident who likes his "second home" Grand Prix, "The C19 feels good in high downforce trim, so I am hoping that we can be competitive on this difficult street track. I really like the challenge that Monaco presents, and it will be nice to be racing in my adopted home town."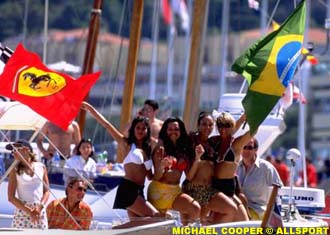 Arrows are now 7th equal in the Constructors' Championship after Pedro de la Rosa's sixth finish at the Nurburgring. Arrows have scored 6 points at Monaco in the 1990s. De la Rosa is now 11th equal in the Drivers' Championship. In last year's race, de la Rosa did not finish after qualifying 21st. De la Rosa stated, "Monaco is a very difficult circuit and one where teams don't expect to achieve great speed. I think the race will be very open as anything can happen on this circuit, but the team is working to get more down force and we are already in the top 12 so can do a good job. Monaco is also a drivers' circuit so we must really concentrate".
Jos Verstappen's only finish at Monaco was 8th in 1997 for Tyrrell and his highest grid position was 12th in 1996 for Footwork. With the high rate of attrition, a finish in the points for either Pedro de la Rosa or Jos Verstappen is a possibility.
Jaguar has yet to score a point in the Constructors' Championship despite making significant improvements in reliability. This team will be trying to recapture the glory of 1997 when both Stewarts finished with Rubens Barrichello taking second place in the rain. Both Stewarts retired with suspension failure in the 1998 and 1999 races.
Eddie Irvine has gone consistently well for Ferrari at Monaco. He was second in 1999, third in 1998 and in 1997, although he became the most unpopular driver in Finland in 1996 when both Mika Salo and Mika Hakkinen collided with his stranded Ferrari. Irvine's highest grid position was in 4th in 1999. This will be Johnny Herbert's 10th Monaco Grand Prix. Herbert finished third in 1996 for Sauber and fourth in 1995 for Benetton and his highest grid positions were 7th in 1995 for Benetton and in 1997 for Sauber.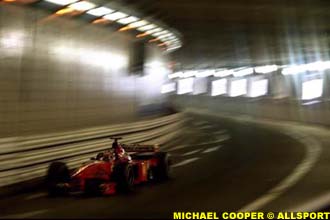 Prost has had mixed results at Monaco, having only scored 3 points with Olivier Panis 4th place finish in 1997. Team principal, Alain Prost has won here on four occasions. This will be Jean Alesi's 11th Monaco Grand Prix. He finished second in 1990 for Tyrrell in his Monaco debut, was third for Ferrari in 1993 and was fifth in 1994. Alesi led the later stages of the 1996 race before his Benetton's suspension broke. Alesi set the fastest lap in the 1995 and 1996 races and his highest grid positions were 3rd in 1990 and in 1996. Nick Heidfeld missed some valuable experience by his disqualification at the Nurburgring. Heidfeld won the 1998 F3000 race at Monaco and set pole position in last year's F3000 race.
Minardi have scored 3 points at Monaco in the 1990s, but they have not scored a point since Michele Alboreto's sixth place in 1994. In last year's race Marc Gene did not finish after qualifying last. Gaston Mazzacane finish 12th in the 1998 F3000 race at Monaco.
My Predictions
In the event of rain, anything can happen at Monaco so it would be rash even to suggest a qualifying or finishing order. If it is dry during qualifying, I'm picking Ferrari, McLaren and Williams as the top three teams.
Starting grid:
Michael Schumacher,
Mika Hakkinen,
David Coulthard,
Rubens Barrichello
Ralf Schumacher
Heinz-Harald Frentzen
Jarno Trulli
Jacques Villeneuve
Giancarlo Fisichella
Mika Salo
The Monaco Grand Prix Preview in a Nutshell:
Overtaking is very difficult and attrition is very high at Monaco.
There seems to be very little difference in performance between Ferrari and McLaren under the high-downforce conditions at Monaco.