Wednesday April 18th, 2001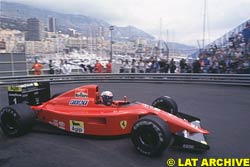 Four-time Formula One World Champion and current team boss Alain Prost has revealed he was close to returning to Grand Prix racing as Michael Schumacher's team mate at Ferrari in 1996.
Prost retired from Formula One after winning his fourth title with the Williams team at the end of 1993, three years before Schumacher joined Ferrari after achieving his first two championships with Benetton.
The Frenchman, now owner of the Prost Grand Prix team, revealed he and Ferrari's sporting director Jean Todt had reached an agreement to partner Schumacher in 1996, but in the end, Prost changed his mind and turned down the offer.
"In 1995, two years after I quited racing, Jean Todt contacted me and explained his plan," Prost said in an interview with French newspaper Le Figaro. "Then, the following season, I was ready to become Michael's team mate to help him become world champion.
"I was ready to return to the wheel, and I would have done it, but people would have tried to play us against each other, and at that time I wouldn't have stood a chance against him."
Prost raced for Ferrari from in 1990 and 1991, but the 'Professor' was sacked after he made some controversial comments about the 1991 car's performance. However, he admitted he would have liked to return to the Italian team.
"I would have loved racing at Ferrari with Jean Todt, Ross Brawn and Luca di Montezemolo," he added.
---