Monday March 7th, 2005
By Dieter Rencken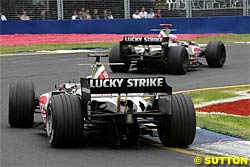 A team manager expressed surprise that only BAR stopped their cars during the final lap to exploit a rule which enables non-finishing cars to change engines ahead of the second race in a set.
"We all told [race director] Charlie [Whiting] during the team managersí meeting that we would do so as long as the rule allows it without penalty," the manager told Atlas F1. "And, we canít see the rule changing this year because it would require agreement from all the teams to do so, and we would not agree to something we may wish to exploit at some stage."
A team boss, who saw both his cars finish the race in Australia, admitted that they would retire their entries should they be running out of the points. "We run within the rules, but we need to take advantage of the rules wherever possible, and wherever we can take advantage, we will."
* * *
Despite rumours that Michael Schumacher and Rubens Barrichello would be heading back to Europe to test Ferrariís F2005 in preparation for an earlier introduction (Bahrain) than expected (Spain), sources within Ferrari are adamant that their driversí plans between the first two races are unchanged.
"Michael and Rubens are not returning to Europe before Malaysia, and the new car will be tested by Luca (Badoer) in Jerez on Thursday/Friday. There is no change to our plans," said a Ferrari spokesman in Melbourne on Sunday.
Further rumours suggested that tyre supplier Bridgestone was pressurising Ferrari to introduce F2005 ahead of the Spanish Grand Prix, but the company spokesman clarified: "We donít pressure or demand. We are a technical partner of Ferrari, and we do discuss these things, but it is Ferrariís call when they will introduce the new car. All we would like to see is a thoroughly tested car introduced when ready."
* * *
Colin Kolles, managing director of Jordan/Midland, has confirmed to Atlas F1 that they are sending engineers from their Silverstone base to Dallaraís facility in Varano, Italy, to "interface" with engineers designing the teamís 2006 challenger.
But Kolles denied that the transfers were in any way permanent. "It is normal to send people who work together to meet each other. They have been emailing and faxing and speaking on the telephone, and they need to meet each other. It is normal, and we are not demanding that people move permanently to Italy," the German former dentist said.
Published at 06:11:09 GMT
---