Thursday April 26th, 2001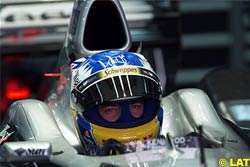 Austrian driver Alexander Wurz has admitted he turned down an offer to race for the Prost team at the San Marino Grand Prix at Imola two weeks ago.
Wurz, who joined the McLaren team as test driver at the end of last year after being dumped by Benetton, would have replaced Gaston Mazzacane at the French team, only a few days before the Argentine driver left Prost to make room for Brazilian Luciano Burti.
Despite the offer to return to racing, Wurz decided to continue with his testing role with McLaren, hoping to get his career back on track after a disappointing 2000 season.
"As it was reported in the media, I had an offer from the Prost team to race in Imola," said Wurz. "Together with McLaren we decided to turn down the offer, so I could concentrate fully on my role with McLaren.
"I made my new plans at the end of the last season and I am convinced they are right for me."
---