Monday April 30th, 2001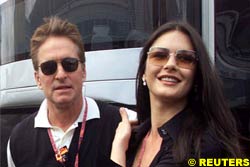 Stewart Returns to the Paddock
Former team chief Paul Stewart returned to the Formula One paddock in Barcelona as he continued his recovery from cancer of the colon. Sporting long hair and a black jacket, the son of former world champion Jackie Stewart looked well as he threaded the paddock greeting old friends.
Meanwhile, filmstars Catherine Zeta Jones and husband Michael Douglas were also present to add their personality status to the Formula One paddock as stars came from all areas to add some glitz and glamour to the normally bleak Circuit de Catalunya.

The New "Mr Burns"
Formula One boss Bernie 'Mr Burns' Ecclestone is reportedly set to become the star of a new Simpsons-style cartoon series based around Formula One. The cartoon, which will be set 300 years in the future and feature Grand Prix races between different universes, has been set up by Ecclestone himself after he contacted Chrysalis Television about the idea. It has an F1 license to help worldwide sales, and around £8 million (pounds) will be invested in the project.
Cosgrove Hall, the animation company which produced Dangermouse and Bill and Ben will begin production of the new cartoon in the summer and although the scriptwriters have already started, the series will not debut until 2003. Ecclestone was sceptical over his appearance in the programme, but was convinced and will make it into the character line-up having been cryogenically preserved!

Toyota Taste Paddock Life
Formula One's 12th team Toyota, who are spending this year testing in preparation for their full-scale arrival in the sport next year, now have a presence at Grand Prix events. Toyota are not allowed to have a presence inside the paddock because they do not race in this year's championship, but they now have a small motorhome located near the F3000 area.
"This year we need to learn all about the infrastructure and how we are going to fit in," said a team statement regarding the motorhome. "We need to find our way around, understand local rules and regulations and meet authorities as well as the other 11 teams. Because Toyota is not racing this year, our policy was to keep a low profile at races."

Barrichello Super Fast
Ferrari star Rubens Barrichello would have received a stop-go penalty if he had managed to keep going in the Spanish race after being forced into the pits with a problem. Barrichello shot into the pits when something at the right rear of his car forced his front left into the air. The team, suspecting a puncture, sent Barrichello out again, and he broke the 80 km/h speed limit as he left the pits. However, he retired one lap later when it transpired the problem was suspension failure, and all he was given for his infringement was a $5,250 (dollars) fine.
---