Saturday February 10th, 2001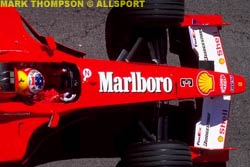 According to a report published in the German magazine Focus, tobacco brand Marlboro is planning to withdraw from Formula One at the end of the 2002 season, after more than 30 years in the sport.
Marlboro, part of the Philip Morris group and probably the most popular sponsor in Grand Prix racing since they entered the sport in the seventies, currently sponsors the Ferrari team.
With this decision, according to the report, Philip Morris aims to cut down the sponsorship expenses, thought to be around $150 million per year in motorsport categories such as Formula One, CART, Rallying and Motorcycling.
Marlboro's decision to leave Formula One could also be related to a record-setting smokers' trial in Florida at the end of last year, when Philip Morris was forced to pay $73.96 billion as damage award after a court ruled against the company.
The sports' governing body, the FIA, will enforce a worldwide tobacco advertising and sponsorship ban in Formula One and other motorsport from the end of 2006, and some teams are already searching for alternative ways of completing their budgets.
Currently, Ferrari, McLaren, Benetton and BAR have a tobacco brand as their main sponsor.
---