Monday February 12th, 2001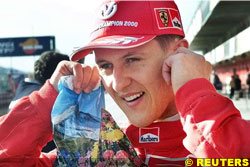 Aspiring Formula One drivers can now literally take the Michael Schumacher road to the race track.
The German triple Formula One world champion had a street named after him on Monday in his home town of Kerpen.
"It will be a great feeling to drive down that street," said the proud Ferrari driver, who was greeted by some 500 fans as he arrived.
The street leads to the Schumacher family's karting circuit, just outside town, where he honed his skills before embarking on his Formula One career.
"It's always comforting to see how much support I get every time I come home," said Schumacher, who now lives in Switzerland. "It increases my motivation to try to win as many races as I can."
---