Thursday March 8th, 2001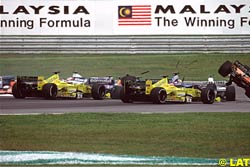 The Malaysian Grand Prix organisers are to ban the country's television stations from broadcasting live the second event of the Formula One World Championship in an attempt to boost the ticket sales.
The decision, which is expected to be highly unpopular among Malaysian fans, was announced by Basir Ismail, chairman of Sepang International.
"We want to encourage more people, especially locals, to come to the Sepang F1 Circuit to catch the event live. Ticket sales so far have been very slow," Ismail said.
"There will be no live telecast during the three days of the event."
According to Basir, the tickets sold for this year's Grand Prix amount only a 30 per cent of the 100,000 available, while in 1999 and 2000, 70 per cent of them had been sold three weeks before the event.
The Malaysian Grand Prix, which was the final race last season in October, has been moved to March 18 this season.
---