Wednesday May 30th, 2001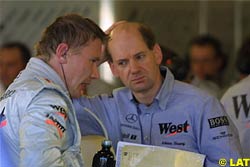 Both McLaren and Jaguar have denied speculation about technical director Adrian Newey having reached an agreement to join the Ford-owned team when his contract expires at McLaren in August next year.
42-year old Newey, who joined McLaren back in August 1997 on a 5-year contract that reportedly is worth £10 million, was rumoured to have agreed a £17.5 million five-year deal to go to Jaguar, but both teams have denied the rumours.
A Jaguar spokesman refused to comment specifically on Newey. But he said: "The team are trying to put together the building blocks for future success, and that includes attracting the best people. We are being bombarded by media speculation - and I say speculation because nobody has said anything official yet."
Meanwhile, a McLaren spokesperson said: "Adrian has got more than a year to run on his contract with McLaren. We are currently negotiating with Adrian in good faith - and, based upon what he has told us, we don't believe he has signed for Jaguar Racing."
Newey, according to insiders at McLaren, has a clause in his contract that forbids him from negotiating with other teams while his McLaren contract is more than 12 months long, and therefore Newey could not legally be reaching any agreement with any team before the coming month of August. McLaren are therefore keen to sign Newey on an extension now, before the 12-month term begins.
Rumours about Newey moving to Jaguar were fired off ever since the Ford-owned team signed Bobby Rahal last year. However, in recent days these rumours intensified, with respected journalist Alan Henry now reporting the deal is in fact sealed and will be announced in the next few days.
However, Henry is also quoting McLaren's managing director, Martin Witmarsh, which unequivocally denies these stories. "I can confirm that Adrian has not resigned from the company," he said today. "From the discussions we have had with him, the indications are that he might be staying beyond his current contract."
Newey was also linked to Ferrari a few years ago, and although both sides denied those rumours, Newey said he did not rule out working for the Italian outfit at some point.
---