Wednesday February 13th, 2002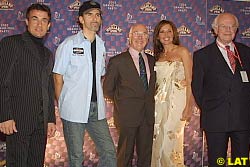 A star-studded line-up of team bosses and drivers were in attendance as the annual Grand Prix Party was held at the Royal Albert Hall in London on Tuesday evening in aid of Professor Sid Watkins' charity the Brain and Spine Foundation.
Ron Dennis, Eddie Jordan, David Richards and Paul Stoddart were joined by the likes of Ross Brawn and Adrian Newey - together with the now-traditional on-stage appearance by Damon Hill and his band. A crowd of 6,000 bought tickets for the charity event as the 'Bernie's' - Formula One's equivalent to the Oscars - were handed out.
Young Finn Kimi Raikkonen claimed the 'Rookie of the Year' award, while Michael Schumacher once again carried off the 'Driver of the Year' trophy. Minardi boss Stoddart was given an 'Outstanding Contribution in 2001' award as Jean Alesi picked up a statuette for his 'Contribution to F1'.
"All the years I've been in Formula One Professor Watkins has looked after us so to speak," Frenchman Alesi said. "This is the first opportunity I've had to attend the event and I'm delighted to be here."
Ross Brawn landed the 'Award for Technical Excellence' before Sir Frank Williams won the final 'Award for Lifetime Achievement'. An auction of Grand Prix memorabilia raised more funds for the Brain and Spine Foundation - of which FIA Medical Delegate Watkins is a patron.
Published at 10:08:02 GMT
---