---
Sunday August 15th, 1999
Hakkinen head McLaren double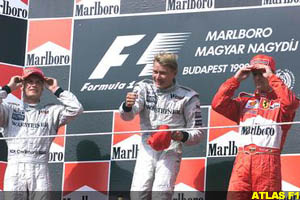 Mika Hakkinen scored an impressive flag-to-flag victory in the Hungarian Grand Prix to put his Championship hopes back on track with what was a convincing demonstration of his McLaren-Mercedes' superiority when everything runs according to plan. At one stage, the Finn was holding a 30 seconds lead over his rivals, "Which is a huge advantage in Formula One. The car was perfect and I had to tell myself to slow down and not push so hard and keep pulling further and further ahead," said Hakkinen later. He finished the race with 10 seconds in hand over his own team-mate David Coulthard at the flag.
Ferrari's Eddie Irvine put up a spirited chase until lap 64 of the 77-lap race when a trip across the grass under pressure from Coulthard saw him slip back to third place.
"I didn't want David right up my gearbox in the final laps of the race, so I was pushing as hard as I could to open up a gap. Unfortunately, I had a tyre problem with all three sets. They were OK to start with and then the rears went off big time causing the car to oversteer badly. That's why I lost the rear end and slid off," explained Eddie.
"There were a couple of things we didn't get right this weekend. We are going to have sit down and go over the data and see if we can find out what went wrong. I was surprised we were not more competitive, we didn't do particularly well, but it's the first time I have scored points here and I am still leading the Championship, so things could have been worse," he added.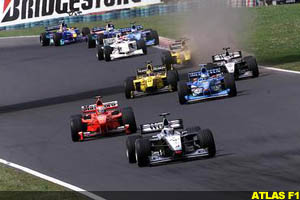 Teammate Mika Salo was unable to contribute to the team's points total at this race. Starting from a distant 18th on the grid after a disappointing qualifying he slipped back to 20th off the line running a heavy fuel load in a one stop race strategy. He got stuck behind slower traffic for the early part of the race and even though he was able to make up places as cars ahead pitted twice or retired, he finished a distant twelfth at the flag, two laps behind the winner.
Ferrari's lead over their McLaren rivals is now back to just 4 points, wile Irvine leads the drivers' championship by two points over Hakkinen.
Heinz Harald Frentzen, who had led Coulthard until the first round of pit stops, ended up in fourth place for Jordan-Mugen Honda, well clear of the Stewart Ford of Rubens Barrichello who profited from being one of the few cars to make only one pit stop instead of two like the leaders.
The final point of the day, in what turned out to be a very processional race around the hard to overtake upon Hungaroring track, went to Damon Hill, who started sixth and finished sixth with the second Jordan.
Despite the warm weather and tricky track, only six cars failed to reach the flag, Giancarlo Fisichella the unluckiest of the bunch after a great start and holding an initial third place behind Irvine.
He dropped back to fourth spot when Coulthard moved ahead of both Frentzen and Fisichella at the first round of pit stops, but then the Italian was out for good on lap 52 when his engine died with a low fuel pressure problem.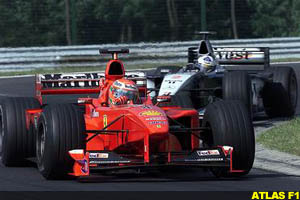 Jacques Villeneuve continued his season long record of non-finishes when he stopped on lap 60 with a clutch problem while both the Sauber's dropped out of the race, Diniz after a spin and Alesi with a fuel pick-up problem which left the Frenchman so angry that he prematurely announced he would be leaving the team at the end of the year! Where to? To the Prost team, according to paddock rumours.
Race Facts:
Mika Hakkinen makes a good start to lead into the first corner with Eddie Irvine on his tail but David Coulthard does not get away as well and is overtaken by both Giancarlo Fisichella and Heinz-Harald Frentzen before they get to the first corner. Further back Jacques Villeneuve also makes a bad start and drops from ninth place to 13th. This proves to be a disaster for the Canadian as he is on a three-stop strategy.
In the early laps the order remains unchanged as Hakkinen begins to build a lead, clawing a gap of five seconds by the end of lap seven. Irvine is able to get clear of Fisichella but the Benetton driver is under considerable pressure from both Frentzen and Coulthard.
Alessandro Zanardi becomes the first man to retire when he comes into the pits with a differential problem on lap 10. The second retirement is Pedro Diniz who spins out on lap 20, while running in ninth position. On lap 23 Villeneuve is the first man to pit and he drops back to 18th. Most of the field has decided to adopt a two-stop strategy and the first to stop is Fisichella on lap 28. He is followed on lap 29 by Irvine, Hill and the seventh-placed Wurz. On lap 30 Frentzen stops and on lap 31 the leader Hakkinen comes in. He has a big enough lead to re-emerge still ahead. Coulthard stays out until lap 33 and he is able to run fast enough to get ahead of both Fisichella and Frentzen. Unfortunately he finds himself stuck behind Rubens Barrichello who has decided on a one-stop strategy in his Stewart-Ford. He runs in third place until lap 40.
The other men on one-stop strategies are Johnny Herbert, Olivier Panis and Mika Salo, who are all running in the midfield. The Ferrari driver does not stop until lap 44 and this clearly worries McLaren as they estimate that it might be possible for Irvine to run to the finish without a second stop. Hakkinen is given a pitboard to "push". Hakkinen quickly builds his lead to half a minute while Coulthard is able to chase after Irvine once he is clear of Barrichello. The second pit stops begin on lap 48 when Hill stops. He rejoins but goes off soon afterwards. Fortunately he gets back onto the track having lost only one place to Barrichello. On lap 50 Frentzen pits and he is followed by Fisichella on lap 52. The Italian's race ends in the pits however with an engine failure. On lap 54 Alesi stops but he is caught speeding in the pitlane and is later given a 10-second stop-go penalty which destroys any chance of a good result. He retires in the closing laps with mechanical trouble.
Hakkinen stops on lap 55 and is able to stay in the lead again although for a few laps he has the duelling Irvine and Coulthard in his mirrors. Both men stop on lap 58 but the stops are identical and they re-emerge nose-to-tail again. On lap 62, however, Irvine runs wide out at the back of the track and Coulthard is able to get ahead. He pulls quickly away. Frentzen runs to the finish in fourth with Barrichello fifth, although Rubens has to fight off a challenge from Hill for the last part of the race.
Race Results:

Hungarian Grand Prix
World Championship of Drivers, round 11;
Hungaroring, August 15th, 1999;
77 laps, 305.844 kms
Weather: Sunny and warm

CLASSIFIED

Pos  Driver        Team               Time          
 1.  Hakkinen      McLaren Mercedes   1h 46:23.536  
 2.  Coulthard     McLaren Mercedes    +    09.706  
 3.  Irvine        Ferrari             +    27.228  
 4.  Frentzen      Jordan Mugen-Honda  +    31.815  
 5.  Barrichello   Stewart Ford        +    43.808  
 6.  Hill          Jordan Mugen-Honda  +    55.726  
 7.  Wurz          Benetton Playlife   +  1:01.000  
 8.  Trulli        Prost Peugeot       +     1 Lap  
 9.  R.Schumacher  Williams Supertec   +     1 Lap  
10.  Panis         Prost Peugeot       +     1 Lap  
11.  Herbert       Stewart Ford        +     1 Lap  
12.  Salo          Ferrari             +    2 Laps  
13.  Zonta         BAR Supertec        +    2 Laps  
14.  Badoer        Minardi Ford        +    2 Laps  
15.  de la Rosa    Arrows TWR          +    2 Laps  
16.  Alesi         Sauber Petronas     +    3 Laps *
17.  Gene          Minardi Ford        +    3 Laps  

* Retired due to fuel pick-up problems


NOT CLASSIFIED / RETIREMENTS

Driver        Team               On Lap   Reason                 
Villeneuve    BAR Supertec         60     clutch                 
Fisichella    Benetton Playlife    52     fuel pressure          
Takagi        Arrows TWR           26     gearbox                
Diniz         Sauber Petronas      19     spun out               
Zanardi       Williams Supertec    10     electronic differential


Fastest Lap: David Coulthard, lap 69, 1:20.923 (177.236 kmph)

Lap Leaders: Laps 1-77, Hakkinen


Drivers Points Standings after 11 rounds:

 1. Irvine        56        2. Hakkinen      54
 3. Frentzen      36        =  Coulthard     36
 5. M.Schumacher  32        6. R.Schumacher  22
 7. Fisichella    13        8. Barrichello   12
 9. Salo           6        =  Hill           6
11. Diniz          3        =  Wurz           3
13. Herbert        2        =  Panis          2
15. Alesi          1        =  Trulli         1
 =  de la Rose     1                           

Constructors' Points Championship:

1. Scuderia Ferrari           94
2. McLaren-Mercedes           90
3. Jordan-Mugen Honda         42
4. Williams-Supertec          22
5. Benetton-Playlife          16
6. Stewart-Ford               14
7. Sauber-Petronas             4
8. Prost Peugeot               3
9. Arrows TWR                  2

All Timing Unofficial

---
[ Previous | News Index | Next ]