Ferrari Chief Mechanic Hurt in Schumacher Pit Stop
Sunday May 7th, 2000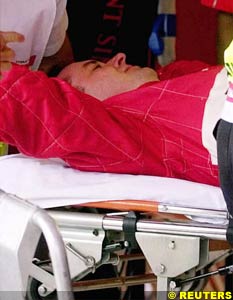 Ferrari's British chief mechanic Nigel Stepney was injured while refuelling Michael Schumacher's car during Sunday's Spanish Grand Prix.
Stepney was taken to the medical centre after being apparently hit by the left rear wheel of the car during Schumacher's first pit stop but appeared in the paddock later in a wheelchair.
"Just stretched or broken a ligament," he said. "It's just swollen a little bit."
Television replays suggested the former double world champion was mistakenly given the all-clear to rejoin the race before the refuelling nozzle had been fully detached.
The mechanic holding the start "lollipop" in front of Schumacher banged it down hurriedly on the car's nose as the German sped out into the pit lane.
Stepney was carried into the Ferrari garage before team mates removed his protective helmet but he reappeared later in a wheelchair with his left leg in a cast.
Italian Andrea Vaccari took his place and was then involved in a nightmare second pit stop for Schumacher, with the mechanics taking 17.5 seconds.
"I saw what happened," said Stepney of the lengthy second stop.
---