1960
Stirling Moss scores first ever win for Lotus when he wins the Monaco Grand Prix driving Rob Walker's Lotus 18.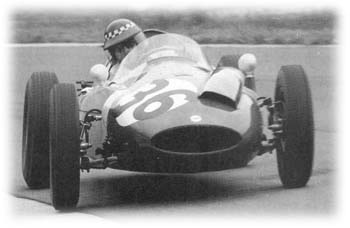 Jim Clark makes Formula One debut driving works Lotus at the Dutch Grand Prix.
Tragic Belgian Grand Prix cost the lives of two promising young British drivers, Chris Bristow and Alan Stacey. Stirling Moss breaks both legs in practice accident.
Italian Grand Prix is held on the Monza banked track, British teams boycott the race on safety grounds. Ferrari score hollow victory - the last ever front engined Formula One win.
Jack Brabham successfully defends his world drivers' title driving a Cooper-Climax.
1961
Start of 1.5-litre engine formula.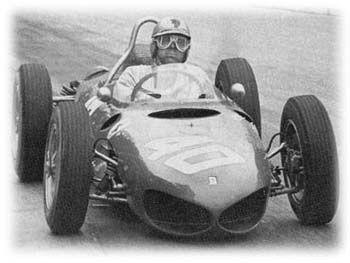 Stirling Moss wins an epic Monaco Grand Prix driving outdated Lotus 18.
Ferrari dominate season with the classic "sharknosed" rear engined car.
Giancarlo Baghetti wins the French race for Ferrari at Reims, the only driver to win a Grand Prix on debut to this day.
Wolfgang von Trips and twelve spectators are killed at the title deciding Italian Grand Prix. Phil Hill becomes the first ever American world champion in his Ferrari.
Innes Ireland scores first ever official Team lotus win at American Grand Prix, he is sacked just weeks later.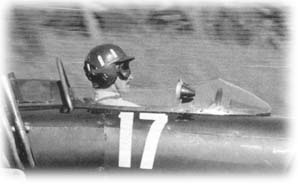 1962
Stirling Moss suffers career-ending crash at pre-season Goodwood meeting driving Rob Walker's Lotus.
British teams commence long period Formula One domination. Graham Hill wins Dutch Grand Prix for BRM. Tabloid Daily Express headline reads, "its V8 for victory"
Lotus introduce ground-breaking new model, the 25, with a monocoque chassis making the standard space frame designs obsolete overnight.
Jim Clark scores first ever win at Belgian Grand Prix.
Porsche score maiden Formula One win when Dan Gurney takes French Grand Prix at Rouen.
Jack Brabham enters German Grand Prix with a car of his own construction.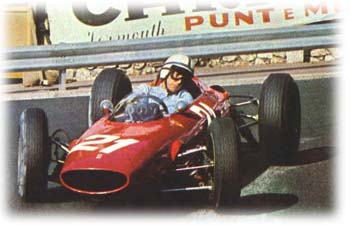 Graham Hill wins world title driving for BRM.
1963
Porsche withdraws from Grand Prix racing.
Graham Hill wins the first of his five Monaco victories.
John Surtees scores his first ever championship victory for Ferrari when he wins the German Grand Prix at the Nurburgring.
Jim Clark totally dominates the season scoring seven wins to secure his first world drivers' championship.
1964
Dan Gurney repeats his earlier feat for Porsche when he scores Brabham's first ever win at the French Grand Prix at Rouen.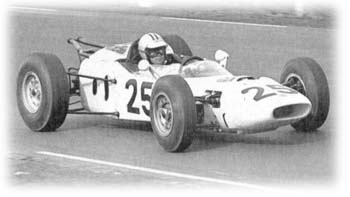 Jim Clark wins the first ever Grand Prix to be held at Brands Hatch.
Honda's RA271 makes low key debut at the German Grand Prix with inexperienced American Ronnie Bucknum at the wheel. He is running in eleventh place when he crashes out four laps from the end.
Jochen Rindt makes Grand Prix debut driving Rob Walker's Brabham-BRM in the inaugural Austrian Grand Prix held at the Zeltweg airfield circuit. Lorenzo Bandini wins to score his sole Formula One victory.
John Surtees secures the drivers' title and so becomes the first (and only) man ever to win world titles on both two and four wheels.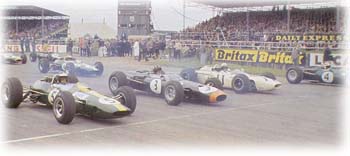 1965
Jackie Stewart makes Grand Prix debut for the BRM team. He finishes sixth in his first race (South Africa) and scores his maiden win at the Italian Grand Prix at Monza.
Team Lotus miss the Monaco Grand Prix to concentrate on the Indianapolis 500. Jim Clark wins and scores first ever rear engined victory at the Brickyard.
Richie Ginther wins the Mexican Grand Prix to give Honda its first ever Formula One victory. It is also tyre supplier Goodyear's first ever win.
Jim Clark and Team Lotus are totally dominant all year and Clark secures his second (and last) world drivers' crown.
1966
Start of the 3-litre engine formula.
BRM produce their H16 engine.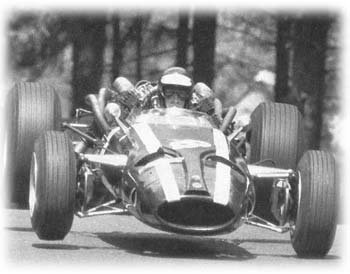 It proves to be heavy and complicated and ironically scores its one and only victory in the back of Jim Clark's Lotus at the US Grand Prix.
Jackie Stewart is trapped in his car after crashing out of the rain-affected Belgian Grand Prix. This experience would lead him to commence his safety campaign that would eventually transform the sport's attitude to all aspects of driver safety.
Jack Brabham wins the French Grand Prix at Reims to become the first driver to score a race win in a car bearing his own name. He would go on to secure his third world drivers' title.
Bruce McLaren forms his own team. The first McLaren is powered by a Ford engine and is not successful.
Dan Gurney joins the growing band of driver-constructors forming his All American Racers team which produces the Eagle Formula One car.
1967
Italian Lorenzo Bandini dies of the injuries he received after crashing whilst leading the Monaco Grand Prix in his Ferrari.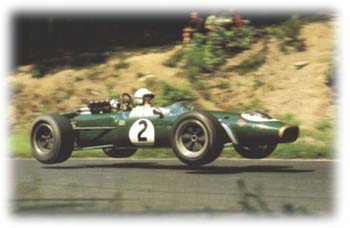 The ground-breaking Lotus 49 wins on debut at the Dutch Grand Prix with Jim Clark at the wheel. The car is powered by the Ford-financed Cosworth-built Double Four Valve (DFV) engine.
Honda scores their first ever 3-litre formula win at the Italian Grand Prix. John Surtees is at the wheel.
First ever Canadian Grand Prix is held at Mosport park. Brabhams finish first and second.
New Zealander Denny Hulme wins world drivers' crown in a Brabham.
1968
Sponsorship makes its first appearance in Formula One. It is the end of the era of national racing colours.
Wings appear on Grand Prix cars for the first time to aid down force. The DFV engine is now available to all.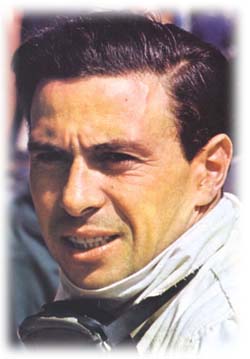 Jim Clark is killed in a Formula Two race at Hockenheim in Germany. The greatest driver of his era is lost to the sport. BRM Formula One driver Mike Spence is also killed at Indianapolis.
McLaren scores its first ever Formula One win at the Belgian Grand Prix with team founder Bruce McLaren in the cockpit.
Jackie Stewart leaves BRM to join Ken Tyrrell. This partnership would win three drivers' titles over the next six years.
Graham Hill in a Lotus wins his second drivers' title.
1969
The DFV powered teams dominate. The Cooper-Maserati and Eagle-Weslake teams withdraw from Formula One.
Four Wheel drive is tried by Matra, Lotus and McLaren, but it is not a success.
Piers Courage finished second at Monaco driving a Brabham entered by Frank Williams.
Jackie Stewart wins his first drivers' title.